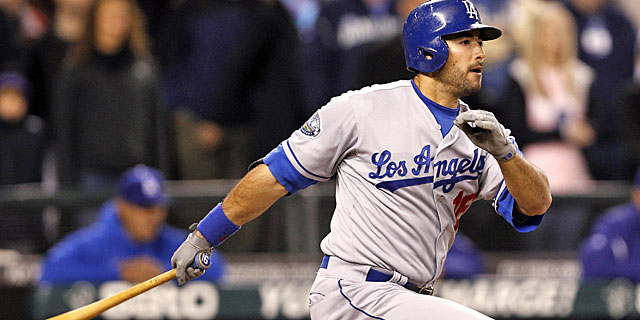 Andre Ethier grounds out for the last out and Seattle's first no-hitter since 1993.
(US Presswire)
You know the old story about Sandy Koufax and Don Drysdale, and Koufax's 1964 no-hitter in
Philadelphia
.
The
Dodgers
were a notoriously weak-hitting team back then. When Drysdale, away from the team for the day, heard that Koufax had thrown a no-hitter, he said his first thought was, "Did he win it?"
Well, my first thought when the Dodgers were no-hit Friday night in Seattle was, "Did they win it?"
After
getting a taste of their magic act
this week in Philadelphia, that's all I could think of. This was a team that would get no-hit and still win.
More on Dodgers-Mariners
Related links
Didn't happen.
What did happen Friday night was that the
Mariners
got a no-hitter that will go down in history only for being odd. Six pitchers contributed, because starter
Kevin Millwood
had to leave the game after six innings because of an injury.
A questionable call contributed, with Dodger speedster
Dee Gordon
called out on a bang-bang play at first base in the ninth inning.
Some will claim that this was another reason to expand replay, but none of the replays shown on either broadcast were anything near conclusive. This wasn't
Carlos Beltran
's fair-but-called-foul line drive off
Johan Santana
.
This wasn't first-no-hitter-in-50-years-of-club-history stuff, either. The Mariners have had two conventional no-hitters, one by Randy Johnson in 1990 against the
Tigers
and one by Chris Bosio three years later against the
Red Sox
.
It was just the 10th combined no-hitter in history, and also just the second six-pitcher no-hitter (the
Astros
had one against the
Yankees
in 2003).
Other than that, it was notable only because of the team on the losing end. The Dodgers, remember, had the best record in baseball Friday morning.
They still do.
The Dodgers had already had a game this year where they had just three hits and still won. The Dodgers had a game this week where
Cliff Lee
had 12 strikeouts and they still beat him.
The Dodgers, perhaps, were a candidate to get no-hit, because their Matt Kemp-less lineup really isn't that good.
But the Dodgers were also a candidate to get no hits and still win the game.
They had no hits Friday. They didn't win.
I checked.