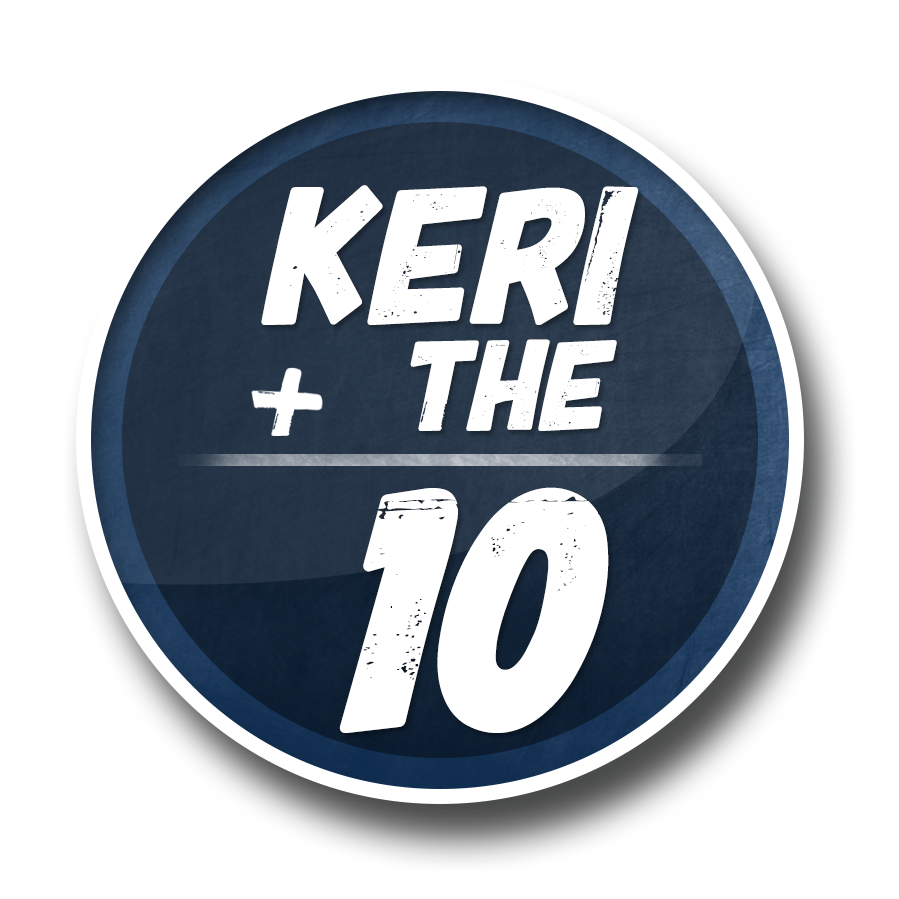 Welcome to this week's edition of Keri The 10! As always, we'll go around the majors with 10 stories that caught our eye from the past seven days. There will be numbers, and occasionally, memes. As always, we will have fun.
You might not find a better baseball story all year than Scooter Gennett blasting four home runs in one game.
Gennett smashing four long balls Tuesday marked just the 17th time in major-league history that a player had pulled off that feat, making it a rarer occurrence than a perfect game. Gennett also becomes one of the most obscure players ever to hit four in a game, and one of the least accomplished hitters to do so: Even including that incredible performance, Gennett is still a fairly modest .281/.319/.431 career hitter, with his 42 homers ranking well below any of the other 16 players ever to match his one-game power prowess (Bobby Lowe hit 71 in his career, but also did so at a way, way, way less homer-filled time in baseball history, in 1894). We can also simply point out that a man named Scooter (Ryan Joseph Gennett, the story of why he's called Scooter is a lot of fun) became just the sixth player ever to compile 17 or more total bases in a game (he added a single to his four home runs).
Now here comes the best part: Brandon Phillips has to be losing his mind right now. As ace Reds beat writer Trent Rosecrans wrote, Phillips complained for the second time in his career about receiving a "slap in the face." The first time was when the long-time Reds second baseman complained that his contract was only worth $72.5 million. The second time came after the Reds traded Phillips to Atlanta, then gave Phillips' old uniform number to his replacement.
Let the word now go forth throughout the land: No. 4 belongs to Scooter Gennett.
2. What a difference two years make
In 2015, Jean Segura laid an egg. Known more for his speed than his bat, the young shortstop hit just .257/.281/.336 that year. That made Segura the third-worst-hitting everyday player in all of baseball -- after Segura finished fourth-to-last in park-adjusted offense in 2014. A year and a half after completing that second straight miserable season, Segura now has a five-year, $70 million contract. As rare as quality 27-year-old shortstops in their prime might be, and as much as revenue has exploded across the sport, that's still an incredible progression. It also starts to look reasonable, once you see how thoroughly Segura's batted-ball profile has changed since the end of that ugly 2015 campaign.
Of the 141 players to qualify for the batting title in 2015, Segura ranked 138th by making hard contact just 19.7 percent of the time. Everything changed last season. Segura's hard-hit rate spiked to a career-best 29.7 percent. His line-drive rate jumped to a career-high 19.1 percent. He also pulled the ball more frequently and hit fewer ground balls. All of that progress produced big results at the plate: Segura set career highs in batting average, on-base percentage, slugging average and home runs. Though currently healing on the disabled list, Segura has actually improved this season. He's batting .341/.391/.462, making him the third-most potent offensive shortstop in the majors on a park-adjusted basis. He has flashed another round of batted-ball improvements, trimming his ground-ball rate again and making even more hard contact.
Granted, Baseball Info Solutions doesn't think much of Segura's defense, ranking him 31st by Defensive Runs Saved for shortstops. Still, a 27-year-old shortstop cranking line drives all over the park while averaging 31 steals over the past four seasons warrants a real investment. With Segura getting a big contract so soon after muddling near the bottom of the league, the M's locking up one of the most young offensive shortstops in the game looks like an ideal win-win situation.
3. Don't try to get cute anymore against Jon Lester
When it comes to holding runners close to first base, the left-hander who was once so rattled he couldn't even toss the ball to first is now through messing around. Now, he is actually one of the toughest pitchers to run against in baseball. 
4. Dusty Baker, lame duck?
The Nationals manager is in the second year of the two-year deal he signed after the 2015 season. Since taking the gig, Baker has guided the Nats to a 95-67 record and division title, and followed up by leading this year's club to a 104-win pace and an almost certain NL East repeat. Yet so far, Baker hasn't netted the contract extension that successful managers typically get either during or before entering the final year of their contract.
CBS Sports' Matt Snyder offers additional insight on the situation, quoting Nationals beat writer Chelsea Janes' piece on the team's owners (the Lerner family) often being cheap with their handling of managers, as they were with Jim Riggleman and Davey Johnson.
What would really be unfortunate is if the Lerners judge Baker based on one player, one series or even one game. As talented as the Nats are, there's no curse that has held them back from making the deep playoff run that their talent suggests they have in them. These things often come down to simple luck, and a manager rarely does anything positive or negative enough to sway a season-deciding moment. If Baker is a good manager now, then he's also a good manager if Bryce Harper strikes out in a big October moment.
5. He didn't strike out here, though
It wasn't quite Roy Hobbs in "The Natural". Still, Harper tearing a piece off the ball after fouling it off, then culminating the moment with a jaunty hair flip, was a thing of beauty.
6. Five things to know about Edinson Volquez's June 3 no-hitter:
7. Minervousini!
The man who snagged the first Volquez postgame interview was veteran Marlins sideline reporter Craig Minervini. Busy week for Minervini. The night before the no-no, Minervini was standing in the camera well behind third base when a line drive came screaming toward him. Using lightning-quick reflexes, Minervini waved his clipboard in front of groin, preventing what could have been a catastrophe.
8. Not bad
Kenley Jansen, 2017: 24 1/3 innings pitched, 41 strikeouts ... zero walks.
9. Will the real Jose Quintana please stand up?
Few pitchers in baseball were more consistent from 2013 through 2016 than Jose Quintana. The White Sox left-hander notched 200-plus innings in each of those four seasons, posting similar strikeout and walk rates and remarkably steady ERAs: 3.51, 3.32, 3.36 and 3.20. This year, everything has changed: Quintana's strikeout, walk and home-run rates have all swelled to career-high levels, and his ERA has ballooned to an ugly career-high 5.30.
For some perspective on what's going on with Quintana, let's turn to our weekly pitching analysis correspondent, Nick Pollack of PitcherList.com.
First, the stats:
2015 + 2016 combined:
22-22 record
7.77 K/9, 2.04 BB/9
3.28 ERA, 3.37 FIP, 3.77 xFIP, 1.22 WHIP
77.6 percent LOB rate, 30.1 percent hard contact, 17.6 percent soft
9.1 percent HR/FB rate
2017:
2-7 record
9.17 K/9, 3.62 BB/9
5.30 ERA, 4.18 FIP, 4.34 xFIP, 1.41 WHIP -- 15th-worst ERA in majors among qualified starters
67.4 percent LOB rate, 28.2 percent hard contact, 21.3 percent soft contact
12.3 percent HR/FB rate
Then, the culprit, per Pollack:
There is a clear difference between prime Quintana and 2017 Quintana, and the answer lies in his curveball. In 2015, Quintana's curve ranked fourth best in the league according to PitchF/X's Pitch Value with a 13.3 mark. It was his money pitch, the one he would turn to in any count as it induced a .179 batting average and allowed just 11 extra-base hits in 1,033 pitches thrown across 2015. In early 2016, it was more of the same, with his curve quickly earning a 6.3 Pitch Value through his first 14 games of the season, en route to sparkling stats across the board – 8.48 K/9, 1.75 BB/9, and a 2.63 ERA.

But then something happened. Quintana's stellar breaking ball quickly became his worst pitch. In the final 18 games of the year, Quintana held a 3.66 ERA, with a 7.31 K/9 and 2.49 BB/9 as his curveball registered an atrocious -- 11.6 Pitch Value mark. Not the worst overall numbers, but Quintana was forced to make an adjustment to compensate for an abysmal breaking ball.

What went wrong? Quite simply, Quintana's curveball lost vertical movement … a lot of vertical movement. Here's a chart detailing the amount of vertical drop Quintana's curveball has gotten since the start of the 2016 season with the larger negative numbers equating to more drop for the pitch:

From early April we can see a steady climb as Quintana gradually lost as much as six inches of vertical drop by the end of 2016 and the lack of movement has continued through the 2017 season. Here's a visualization of what that added depth can do. First is a curveball at the ankles to Torii Hunter back in 2015:

And here's that same pitch this season to JaCoby Jones, who is able to take the ball into the left-field seats:
Quintana has dealt with other issues too. In particular he's running up deeper counts, which helps explain the spikes in both strikeout and walk rate, and also Quintana is not going as deep into games as he has in the past. His most recent start was a successful one, with Quintana allowing just one run on four hits Tuesday against the Rays. But even then, he lasted just 5 1/3 innings, needing a huge 114 pitches just to get those 16 outs, with seven strikeouts and four walks in that stretch.
The hope is that both the break on Quintana's curve and his old, more efficient way of pitching return. He has shown flashes of both this season, and lots of both over the previous four years. If the White Sox want Quintana to become an elite trade commodity again, they'll be pulling for both to happen at the same time.
10. Burning Question of the Week
What is more likely: Sabathia regresses or Tanaka returns to form? #KeriThe10

— Brendan Sheehan (@BrendanTSheehan) June 9, 2017
Have to go with Sabathia here, Brendan. The big lefty's giving up more hard contact than ever before. Moreover, his strand rate has jumped to 77.1 percent, about five points higher than league average and the highest he has put up since 2008, a troubling sign considering how big an impact luck has on strand rate, and what can happen once that luck stops. Put all those factors together and sadly I don't like Sabathia's chances of keeping his 3.66 ERA (the lowest it would be in five years) going.
Tanaka's velocity is as strong as it has ever been in the majors, and he has the recent track record of success to suggest that a rebound is possible -- maybe a mechanical tweak or some other adjustment could help solve his problems. Sabathia giving up more runs going forward, though, especially in hitter-happy Yankee Stadium, looks like something close to a foregone conclusion.
Send a Tweet to @jonahkeri using hashtag #KeriThe10  to submit questions.