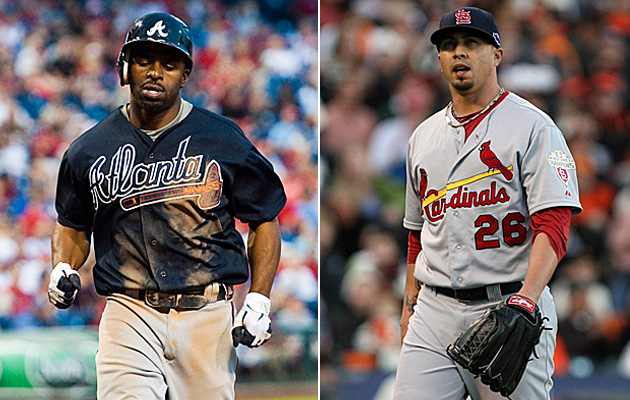 Camp starts in about two weeks, but Bourn and Lohse are still looking for work. (US Presswire)
Monday is Jan. 28. Pitchers and catchers report to big-league camps from Feb. 10-13, depending upon the team. So that means we are basically two weeks away. And yet there are still a decent amount of name players looking for work. Just for fun, let's make an "All-Star team" of the guys still sitting there on the open market.
Please note this does not include arbitration-eligible players who still haven't agreed upon a contract and I've also excluded players like Scott Hairston and Kelly Johnson who have reportedly signed contracts but have yet to see the club officially announce the signing. These are just guys who we know are still looking.
Without further ado ...
Catcher -- Kelly Shoppach
He's 32 years old, has decent power and can still be helpful in terms of throwing out would-be basestealers. The Mariners would be a good fit due to needing a veteran catcher who can defend well.
First base -- Casey Kotchman
He's only 29 and in 2011 hit .306 with a .378 on-base percentage for the Rays. Last season, however, Kotchman was awful for the Indians (.229/.280/.333). Given that he lacks power as a first baseman, it's not too surprising he's lasted this long on the market, and it's likely he'll have to settle for a minor-league deal.
Second base -- Ryan Theriot
He was recently getting looks from the Giants and Phillies, so odds are Theriot will find work within the next two weeks, even if it's not on a big-league deal. He's 33 and hit .270/.316/.321 last season. Possibly of note: Theriot was a member of the World Series champions in each of the past two seasons.
Third base -- Scott Rolen
The hold up here is whether or not Rolen will retire. He'll turn 38 the first week of the season and hit .245/.318/.398 last year for the Reds. The Dodgers have recently popped up in the rumor mill for Rolen, but, again, he may decide to retire.
Shortstop -- Alex Gonzalez
A torn ACL ended Gonzalez's 2012 campaign with the Brewers after just 24 games. He's 35 but could still be a decent power source and makes sense as a backup with the Brewers, who seem open to bringing him back.
Left field -- Grady Sizemore
Once one of the most promising young players in baseball, it's a shame what injuries have done to Sizemore. He actually averaged 160 games per season from 2005-08, but since then his career has been decimated. Now he's recovering from September knee surgery and will likely begin the season unsigned. It's hard to know where he'll end up, because it could be dicatated by in-season needs in May or even June. And, yes, I know he plays center. I moved him to left to save his legs.
Center field -- Michael Bourn
He's 30, a premier defensive center fielder, good base stealer and proven leadoff man. But whatever team signs him will have to forfeit a draft pick, and his agent, Scott Boras, has a gigantic asking price. There's no obvious fit, but watch the Mets, Rangers and Mariners.
Right field -- Carlos Lee
He hasn't played outfield since 2011, but I needed a body to throw out here. Lee hit .264/.332/.365 with nine homers and 77 RBI last season. He's 36 and really hasn't been mentioned much in rumors this offseason.
Designated hitter -- Jim Thome
The choice here was between Thome and Travis Hafner. I'm fine with either option, but Thome is still my choice by a nose. He may retire, but he hasn't ruled out a return and still seeks that elusive championship ring.
Starting pitcher -- Kyle Lohse
He's 34 and is coming off a season where he went 16-3 with a 2.86 ERA and 1.09 WHIP. It's amazing he's still on the market. At this point, the best guess is he gets a one-year deal (Brewers? Mariners?) and tries to make another go at free agency next year, much like Edwin Jackson did last offseason.
Starting pitcher -- Freddy Garcia
The 36-year-old right-hander may be forced into retirement after a 5.20 ERA and 1.37 WHIP last season with the Yankees. UPDATE: I guess I was good luck for Freddy. Just a few hours after posting this, he signed a minor-league deal with the Padres.
Starting pitcher -- Joe Saunders
Considering he's left handed, not old (turns 32 in June) and had decent success with the Orioles late in the season (3.63 ERA, 1.28 WHIP and then two serviceable playoff starts), it's a bit surprising Saunders hasn't picked up a one-year deal yet.
Relief pitcher -- Francisco Rodriguez
K-Rod's only 31 and has 294 career saves. He set up for the Brewers most of last season, putting together a 4.38 ERA and 1.33 WHIP with 72 strikeouts in 72 innings.
Relief pitcher -- Brian Wilson
"Fear the Beard" seems to now be the catch phrase of prospective suitors. Wilson is 30 and was one of baseball's best closers in 2010, but he took a step backward in 2011 and had season-ending surgery in 2012. He's certainly worth a look on a cheap, one-year deal but still remains unsigned. The Mets continue to be connected with Wilson in rumors.
Closer -- Jose Valverde 
He's 34 and was a perfect 49 for 49 in save chances in 2011, but he completely melted down in the playoffs last season and now it seems no one wants him.
Again, just for fun, here's how our batting order shakes out:
1. Bourn, CF
2. Sizemore, LF
3. Rolen, 3B
4. Thome, DH
5. Lee, RF
6. Gonzalez, SS
7. Theriot, 2B
8. Kotchman, 1B
9. Shoppach, C
SP: Lohse
Obviously that's not very good, but it isn't quite as awful as one might expect, considering these are free agents and camp is two weeks away.
For more baseball news, rumors and analysis, follow @EyeOnBaseball on Twitter, subscribe to the RSS feed and "like" us on Facebook. Also, individually interact with us on Twitter: @MattSnyder27, @daynperry and @mikeaxisa.