It's somewhat dangerous to do a winner and losers column only halfway through the winter. After all, there around 100 free agents still unsigned, so by the time spring training starts exactly two months from now, this could all be reversed. Or at least wildly different. But here goes, with one minor adjustment, rather than "losers" we'll have non-winners. That's only fair as there's still plenty of time to go.
Winners
1. Red Sox: New GM Dave Dombrowski has made an early mark, acquiring not only the ace pitcher they desperately needed but also the star closer that should turn the bullpen from a detriment to a strength. David Price got his money, and then some ($217 million), but he's the guy who's thrived not only in the American League, but also the AL East. As a bonus, he's a guy Dombrowski is familiar with from his Tigers days. Depending on one's perception, they may have gotten the top game-changing starter and reliever thus far. Craig Kimbrel after a so-so start in San Diego was back to his unhittable self in the second half, and he gives the Red Sox the closer they absolutely had to have. Ex-GM Ben Cherington left the club with the best stash of prospects in baseball, so Dombrowski didn't even have to trade one of their top four prospects to get Kimbrel (though outfielder Manny Margot and shortstop Javier Guerra are ranked No. 1 and 3 among Padres prospects).
2. Diamondbacks: The way D-backs honchos Ken Kendrick, Derrick Hall, Tony La Russa, Dave Stewart, DeJon Watson and Co. came in late to steal Zack Greinke from division foes Los Angeles and San Francisco may be the story of the winter. Arizona got the ace it absolutely had to have. Though $206.5 million is no small amount of money, the deal enabled the D-backs to stamp themselves a contender while also setting the hated Dodgers back (the pool incident is still not quite forgotten). Shelby Miller then came for three very good young players to stretch out a rotation that suddenly looks very good to go along with Arizona's excellent everyday team. Sure, the price of Ender Inciarte, Dansby Swanson and Aaron Blair was steep, but Miller's arrival gives Arizona a chance over the next three seasons, while stars Paul Goldschmidt and A.J. Pollock are into their prime years.
3. Giants: There was early noise they'd add two significant pieces to their rotation, and they did just that with the free-agent deals for Johnny Cueto and Jeff Samardzija. Cueto got an unfair knock with a couple of off games in the playoffs, when he actually outpitched Price and won the two games he absolutely had to win, and let's not forget, only Clayton Kershaw had a better ERA from 2011 until Cueto's trade to the Royals. Samazrdzija has a big arm, and he has an arm that's thrown fewer innings than most his age, thanks to his early football and relief days. He had a rough year in 2015, but if anyone can judge pitching, it's the Giants. They think they got relative bargains off questionable walk years, and who's to doubt them?
4. Cubs: They won three key players despite being outbid for all three, as Jason Heyward, Ben Zobrist and John Lackey all decided to sacrifice millions to join the party at Addison and Clark. Can't blame 'em. Heyward may not be a middle-of-the-order bat, but he's one of the best defensive outfielders in the game, an excellent baserunner and a clubhouse plus. He and Lackey also diminish the rival Cardinals by moving 200 miles to the north. The Cubs gave Price a shot, too, bidding $165 million, with the promise to go to $175 million if he would sign. But alas, $50 million plus buys a lot of lobster, so he went to Boston.
5. Tigers: New GM Al Avila did what he had to do. Like his predecessor did for Boston, he got the front-line starter and excellent closer he absolutely had to have, bringing in Jordan Zimmermann and Francisco Rodriguez at a cost that isn't unreasonable. Justin Wilson should be a big help in the pen and Mike Pelfrey brings innings to the rotation. Plus, don't count out the Tigers for one of the big outfielders, either. While Avila said they weren't currently eyeing a big bat at the Winter Meetings, no team is more known for lying in the weeds, then striking late. Justin Upton and especially Yoenis Cespedes could make sense.
6. White Sox: Todd Frazier is just the sort of personality and power the South Siders need at a time the crosstown Cubs are all the rage. The White Sox were a lot better on paper than they played last year, so just the addition of Frazier alone could put them in the AL Central contention. They also kept shortstop prospect Tim Anderson in a deal that pleased them all from the Loop on down. And they may not be done, GM Rich Hahn hinted.
7. Mariners: New GM Jerry Dipoto is showing what he can do with the support of the organization. He can make a deal every other day, it seems. The late re-signing of Hisashi Iwakuma after his three-year, $45 million Dodgers deal gives the Mariners some kind of great rotation depth and adds to a brilliant winter in which Dipoto's revamped a team that needed it to better fit its big park. Nice work.
8. Braves: They turned one year of Heyward into a year of Miller plus a haul, as they got five years of Inciarte ("a very good player," one competing GM says) plus potentially six years of Blair and Swanson, a local kid from Marietta, Ga. Who should become an excellent player, as Jonah Keri of ESPN pointed out. "He probably won't be Derek Jeter, but he could become Brandon Crawford," one rival GM said of Swanson. That's not too bad, at all. One downer: They probably won't be quite ready to win when the new suburban stadium opens.
Non winners
1. Cardinals: They'll probably figure it out, they always do. But insult was added to injury when Lackey and Heyward both bolted for less loot with the rival Cubs. Lance Lynn needed Tommy John surgery, Yadier Molina needed a second thumb surgery and Randal Grichuk had a sports hernia. While only Lynn is expected to miss time (he'll be out for all of '16) that's a lot of pain. GM John Mozeliak says not to expect a "dynamic" signing now after offering $190 million for Price and $200 million for Heyward. But the Cardinals look significantly weakened from a year ago.
2. Reds: The cancelled trade of Aroldis Chapman due to his alleged domestic incident was a major blow. Of course, they would still like to trade him, but now that the dynamic reliever is tainted, the price will presumably have to be considerably lower. It isn't known if anyone's seriously considering Chapman at the time, but some believe the Nationals, with new manager Dusty Baker (Chapman's old manager in Cincinnati) and GM Mike Rizzo, might eventually consider him. They did land speedy infielder Jose Peraza, who was part of the cancelled Chapman package, in the deal for star third baseman Todd Frazier. While the Reds are generally being panned for not just taking the White Sox's trio rather than letting them go to LA, one scout said he believes Scott Schebler, who came with Peraza, will be a player. They would like to complete the deal with Washington to send them second baseman Brandon Phillips, yet another polarizing figure. Baker likes him, and there should be no good reason to think he wouldn't just waive his 10-and-5 rights and accept a trade to a contender with a manager he likes, but Phillips has tried to extract extra money in proposed trades before.
3. Rockies: Jose Reyes' alleged domestic case is the biggest thing that has happened so far, and that's not a good thing. Reyes could become the first MLB player subject to the new domestic abuse rules, and this would be unwelcome news indeed, as Reyes was the centerpiece of the deal that sent franchise player Troy Tulowitzki to Toronto. Other than that, they signed Mark Reynolds, who provides veteran first base insurance in case Ben Paulson doesn't work out, and they overpaid for a pair of relievers, Jason Motte ($10 million, two years) and Chad Qualls ($6 million, two years).
4. Dodgers: They have one of the smartest front offices in baseball, so they'll probably work it all out in the end. But man, have they ever been snakebit so far. They did seem to make out big with the exchange of prospects in the three-way trade, perhaps setting themselves up for a bigger deal (more likely Jake Odorizzi than Jose Fernandez) but for now they've seen their two main NL West competitors, the Giants and D-Backs, considerably strengthen themselves while they've taken an obvious step back. Their offer of close to $160 million for five years for Greinke wasn't unreasonably low, and while it's a surprise they were outbid by about $50 million, they still need to do some work to make up for that huge defection. Whatever alleged issue scuttled the Iwakuma deal has left baseball's biggest spenders woefully short in the starting pitching department. Perhaps they can piece things together until Hyun-Jin Ryu and Brandon McCarthy make it back to full health. Odorizzi, who was reported here first to be a target, would be a nice start. But he obviously isn't Greinke. Beyond that, there are suddenly too many question marks. Third baseman Justin Turner had microfracture knee surgery, so perhaps they should have taken Frazier in a straight-up deal instead. Or perhaps they didn't want to move Turner to second, where his knee could be exposed to oncoming baserunners. Either way, the lineup also needs a little sprucing up. As does the pen after the trade for Aroldis Chapman fell through. Dodgers people told folks at the owners meetings they want to get the payroll down to $200 million from $300 million. Hey, maybe they weren't kidding. Maybe that was the big goal all along. But meantime, they still have not been back to the World Series since 1988.
5. Orioles: They had a difficult winter in store with more and better free agents than anyone else, and they are probably just getting started. They did fight off Beltway neighbor Washington to retain set-up man extraordinaire Darren O'Day, who landed the biggest non-closer relief contract ever. And they did add a couple of potential pieces by bringing back L.J. Hoes and adding Korean outfielder Hyun-Soo Kim, who's perhaps underestimated. However, they are still engaged in a staredown with star slugger Chris Davis, who hasn't yet taken their $154 million offer. He's exactly what they need, too: a big lefty threat. In the meantime, they've looked at Carlos Gonzalez, Justin Upton and Pedro Alvarez, among others. Alvarez would seem to be a possibility to fill a need much more cost efficiently than Davis. There is faith here in GM Dan Duquette to figure it all out, there's just a lot of work to do.
6. Angels: New GM Billy Eppler looked like he was just getting started when owner Arte Moreno inexplicably announced they were no longer looking at a big bat. Never mind that this announcement came within a day after Eppler told Angels reporters he was talking to the outfielders, presumably the big outfielders. The problem is that the Angels absolutely need another big bat, and preferably a left-handed one at that. Either Gordon or Chris Davis (Moreno did meet with with Boras) would do. They have signed Craig Gentry and Daniel Nava for left field, so they do have bodies for the key position. But they still lack a lefty threat (Kole Calhoun is the only lefty in the regular lineup as things stand), a leadoff hitter or even a third baseman. The pickup of shortstop extraordinaire Andrelton Simmons did serve notice Eppler meant business. But of course he soon got a reminder it isn't his business.
7. Nationals: It's not for a lack of trying, either. They gave it a clandestine try at Heyward and also made runs at Zobrist, O'Day and others. But so far, they've mostly added relievers -- signing Shawn Kelley, Yusmeiro Petit and Oliver Perez and landing Trevor Gott in the Yunel Escobar trade. Brandon Phillips will be a National if his deal can be completed, and there's no reason he shouldn't approve a trade to a contending team with a manager he loves in Dusty Baker. But he's turned down opportunities to leave the Reds before (the Yankees two years ago). And even if he comes, there is plenty more to be done. They need an outfielder, preferably a left-handed hitting one who can play some center field (Dexter Fowler or a return of Denard Span would make sense). They still are holding Drew Storen, who would prefer to be closing elsewhere, plus Jonathan Papelbon, who filed a grievance against them.
8. Padres: The Kimbrel trade was a nice one. Margot could be a good one, though he lacks power to this point (six home runs in 2015), and Guerra should be the shortstop of the future. But who's the shortstop of now? At the moment it looks like Alexi Amarista, again. Meantime they are trying to move several veteran pieces, including even Matt Kemp, who somehow isn't creating much buzz even after garnering 100 RBI in his first season in San Diego. The goal seems to be to undo what was done the year before. And while that might be a worthy one, it isn't necessarily a good look at the moment.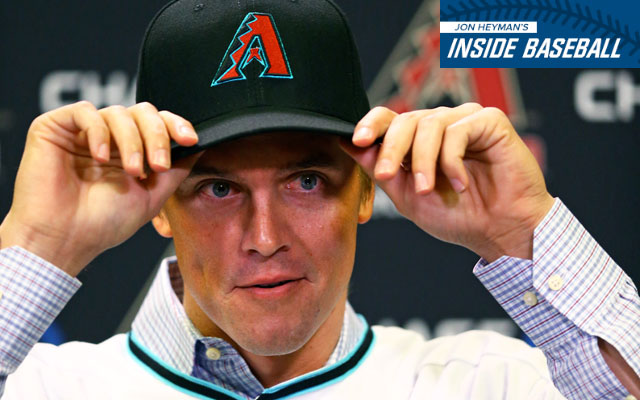 Around the majors...
Team
News

Atlanta Braves News

Congrats to Chipper Jones (@RealCJ10), new special assistant to GM John Coppolella.

Baltimore Orioles News

While it has been said that the Orioles have "pulled" the $154 million, seven-year offer to slugger Chris Davis, owner Peter Angelos and Davis' agent Scott Boras continue to have dialogue by phone and continue to debate whether that is the appropriate offer; they spoke as recently as midweek. More on the on-going talks here ... The Rockies wanted Colorado product Kevin Gausman in a package for slugger Gonzalez, but Baltimore is making clear it doesn't want to part with Gausman ... The Orioles are perhaps the team that likes Andre Ethier best. They made the only significant run at him last spring before the Dodgers ultimately decided to hold onto him, and he could still fit as a lefty outfield bat ... Kim could be a major bargain at $7 million. C.J. Nitkowski of FOX Sports, his former teammate in Korea, provided a glowing report on him ... Alfredo Marte has an interesting clause in his contract that allows him to sign with a Japanese or Korean team if he isn't on the MLB roster by April 3, or 100K in Japan and 75K in Korea is he's not on the roster after April 3 ... Wei-Yin Chen seeks a six-year deal, though it's quite possible a five-year deal at a big number could do the trick, as Roch Kubatko of MASN reported.
There was talk the Red Sox didn't like Cespedes, but they offered him an $80 million, five-year deal as an opening bid, just before he decided to change agents. Talks ended then. The market for Cespedes has been mostly a mystery, but considering his almost unmatched power, speed and arm, the bet here is he still gets a good deal somewhere.
They are still taking offers on Jorge Soler. If they deal Soler, Heyward can move to right field, where he is nothing short of brilliant. They seem to match up decently with the Indians, who have Carlos Carrasco and Danny Salazar available (though the value of pitching is up at the moment) ... Theo Epstein and Jed Hoyer head into the final years of their deals, which is very good timing for them. The Cubs look like the team of the future, especially after signing big-time free agents Jason Heyward, Ben Zobrist and John Lackey after they were offered bigger contracts elsewhere. Lackey was offered "significantly more" elsewhere, his agent Steve Hilliard said ... Counting the deferred monies, the Heyward deal is figured to be worth $179,885,463.

Chicago White Sox News

GM Rick Hahn suggested they could make another big move after landing Frazier, and the belief is that move could be in the outfield. Cespedes would be an interesting fit ... They couldn't make a direct deal with Cincy because the Reds were insisting on shortstop prospect Tim Anderson. The White Sox can actually use help at shortstop, but some think they will save money there. They like Tyler Saladino's defense. Maybe a veteran presence could help. There are worse ideas than Jimmy Rollins, though it isn't known whether he could become a consideration.

Cleveland Indians News

The Reds asked their cross-state rival for either Danny Salazar or Cody Allen in early talks involving Frazier, then requested top prospects Bradley Zimmer and Clint Frazier as part of a package that would have included another prospect from a list that included Justus Sheffield and Juan Hillman, Paul Hoynes of the Cleveland Plain Dealer reported ... There is concern that star left fielder Michael Brantley might be out until June, or perhaps even longer, after winter shoulder surgery. An issue was discovered after Brantley felt discomfort in a winter workout. The Indians already needed bats, so they got a start with deals for Mike Napoli and Rajai Davis. But they have more work to do ... The Indians talked to Austin Jackson about a deal before signing Davis, but decided to save a few bucks and take Davis.

Houston Astros News

Houston has already acquired Ken Giles and Tony Sipp at big prices ($18 million for Sipp, a big prospect stash for Giles) but is looking for more relief help. They also seek a corner bat.

Kansas City Royals News

Kansas City has its eye on lefty starter Wei-Yin Chen, as well as fellow free agents Yovani Gallardo and Scott Kazmir. The Royals like all three but may make a push for Chen, probably the top lefty still unsigned. He could represent the biggest outlay ever for the Royals if they were to do it, but in light of their back-to-back World Series appearances and Series victory this year, they are said to have some "flexibility" ... The Royals have made it a priority to try to keep star left fielder Alex Gordon. But so far the sides appear to have a sizable gap in talks. Word is, the Royals made a four-year offer, but Gordon's camp is believed to consider it a proposal that's too great a hometown discount, and has sent back discouraging words about the initial try. Gordon is thought to seek a deal closer to $20 million annually, but the Royals may view that figure as far too rich for their blood, even with added flexibility. It would be nice to see Gordon, a homegrown player from Nebraska, remain a Royal for life. But at the moment, that seems to be far less than a certainty ... The Royals have opened extension talks with star catcher Salvador Perez, and both sides would like to do something equitable that makes Perez a Royal for life. His first deal, which guaranteed $7 million over five years, has turned out to be one of the most team-friendly deals in baseball history, especially since it includes multiple team options. The Perez camp has mentioned deals for stars such as Troy Tulowitzki, Evan Longoria and Ryan Braun as comps in the early going for Perez, but Kansas City considers those deals to be "bad deals." ... Dillon Gee, if healthy, could be KC's latest gem. He is to make $1.75M if he makes the big-league team ... One deal the Royals need to make is an extension for GM Dayton Moore, who has done a brilliant job and whose contract is up after 2016. He is said to make in the low seven figures, which may be the biggest bargain in baseball. He certainly should make a lot more than Dillon Gee, for instance.

Los Angeles Angels News

Owner Arte Moreno said aloud it's not likely they sign a big bat, though that seems to be a remaining need, especially a lefty bat. Two big ones remain available -- Chris Davis and Alex Gordon -- and Davis' agent Scott Boras did quietly meet with Moreno at some point. Moreno seems to have a thing about going over the luxury-tax threshold, as the Angels annually approach it, but never go over. They are close again. Meanwhile, he is getting lambasted out in LA (Anaheim, too).

Los Angeles Dodgers News

The Dodgers are talking to the Rays about a possible deal for young starter Odorizzi, as was reported in this space Thursday ... Jake McGee could work, too, perhaps as part of a package deal ... Frankie Montas could be the bait. Montas throws 96-100 mph and if he doesn't prove to be a big-time starter, he should at least be an impact arm out of the pen ... The Dodgers weren't as confident in Johnny Cueto's flexor issue as are the Giants, who believe he is completely healthy ... The Dodgers are one of presumably many teams that will visit with Japanese pitcher Kenta Maeda, who should draw the $20 million posting fee from multiple teams before picking a club. He is described as a solid mid-range starter by a couple scouts ... There is some belief that the initial TMZ report about Yasiel Puig's incident might have been exaggerated. Yeah, it happens. More on that here ... Word is that the Dodgers would trade Puig, but only if they can get a good pitcher back. They are not to the point of giving him away, as he obviously has the potential he showed his first year before regressing. Their main efforts are being directed toward getting the best out of him, not trading him.

Miami Marlins News

It's still hard to see the Marlins trading Jose Fernandez, a 23-year-old superstar. While the Dodgers have the need and interest, unless they want to trade Corey Seager (they don't, much to Marlins manager Don Mattingly's dismay; Mattingly has told folks he sees Seager as potentially the "next Jeter") the Dodgers don't have the type of young major leaguers to tempt the Marlins. Miami may have had its best chance when it was asking the D-Backs about Patrick Corbin and other young major leaguers. Dodgers lefty wunderkind Julio Urias is an exceptional talent, but he would be hard to sell as the centerpiece of a trade for an established young superstar. Meanwhile, owner Jeffrey Loria has told some folks he would be "run out of town" if he dared to trade Fernandez ... The Marlins and Dee Gordon are taking about a possible very long deal that could keep Gordon in Miami well into his free-agent years. The Marlins, according to sources, have offered a five-year deal, with Gordon seeking a deal of seven years. While things are said to be moving slowly, at least they are moving. Gordon has become a key part of their core, and he did it in a hurry -- one big year in which he became both an offensive and defensive star. Gordon won a Gold Glove and a Silver Slugger his first year in Miami ... Whatever happens with the Gordon talks, kudos to Marlins infield coach Perry Hill for his work with Gordon. Hill might be the best in the business.

New York Mets News

The Mets have interest in re-signing Tyler Clippard, but Clippard seeks two years, one more than the Mets would go ... The Mets are going to be great, thanks to their amazing quintet of kid starters. But they look like they're letting their Nos. 3 and 4 hitters, Daniel Murphy and Yoenis Cespedes, go. Michael Conforto and Travis d'Arnaud have potential to fill those spots, but it appears the Mets are going to count on a long lineup to back up their pitching rather than a great lineup ... Asdrubal Cabrera and Neil Walker make a decent DP combo, but how much better is that than Murphy and Flores? ... They were smart to bring back ageless wonder Bartolo Colon. And they might still get someone to share center with Juan Lagares, with Span, Gerardo Parra and the more likely Will Venable (Span and Parra should get jobs as starters somewhere) mentioned as possibilities. But there's no hint at this point they are seriously considering Cespedes, their MVP through the summer and a bona fide cleanup hitter, or any other established mid-order bat. They should be an excellent team, but there's a bit too much corner cutting going on here.

New York Yankees News

There are questions about Starlin Castro, who comes to play second base. He looked good for a half-year in Chicago and certainly rebuilt his trade value, but he has been known to be prone to lapses ... The loss of Wilson in the pen for prospects will hurt. But the main issue is a rotation that remains full of question marks. GM Brian Cashman is often able to make things work in winters where they don't have the budget. But they look like they need to do more, especially to the rotation, and especially with the rival Red Sox improving so much.

Oakland A's News

Ex-A's star Kazmir is said to have multiple three-year offers, probably in the $12-13-million range, with the A's, Royals and Orioles among interested teams (plus the Dodgers, according to Ken Rosenthal of FOX Sports). Quite likely, he will jump at the first reasonable four-year offer he gets ... There's no room for legendary Oakland product Jimmy Rollins, an A's person said.

St. Louis Cardinals News

Matt Holliday is working hard at first base in Jupiter, Fla. According to spies who have seen workouts up there, Holliday is doing it on his own to try to lengthen his career, but if he looks really good there, maybe they would still consider Alex Gordon. In any case, with the losses of Heyward, Jon Jay and Peter Bourjos, there isn't much outfield depth. So they'll need to sign someone for the outfield, preferably someone who can play center field ... Carlos Martinez is said to look fantastic up in Jupiter. He's in the best shape of his life, according to Cardinals people, and will be ready for spring.

San Diego Padres News

While they've talked to Ian Desmond, sources suggest it's still hard to see San Diego doing a big deal in a rebuilding year. The shortstop market has been a tough one, as the names of Desmond and veteran star Jimmy Rollins haven't been heard much. It's hard to see Desmond getting anywhere near the $90 million or so extension he turned down now, though he is an exceptional talent and could make it up in future years if he does a shorter deal ... A couple of teams are said to have kicked the tires on Kemp, though there's no buzz anything's happening there at the moment. He had a quiet 100 RBI last year with virtually no one batting around him. But one rival exec said, "He's not a risk based on performance, he's a risk based on health." ... It doesn't seem like there's much interest in James Shields at the moment, but perhaps at the deadline he'll be in demand ... The Padres won't trade Tyson Ross unless they get a big-time prospect back in a package ... Fernando Rodney is a consideration on an incentive-laden deal.
The Giants are carefully monitoring the outfield market and could still be a big player for one of the big stars out there, though with a $150 million deal said to be very unlikely, they may look to a second-tier free agent or maybe a trade ... Reports of a $195 million, six-year offer for Zack Greinke were said to be "wildly inaccurate." The Giants' offer, while not known, wasn't anywhere near that high, sources said ... There apparently isn't rotation room for Tim Lincecum but the Giants still have a soft spot for Lincecum so they'd still consider bringing him back, most likely as a reliever to start. Of course, if his hip heals as doctors predict, though, he'll probably have starting chances elsewhere.

Washington Nationals News

Phillips has a chance to play for a winner, and for a manager he loves, yet once again he is said to be trying to wrangle some financial inducement to leave Cincinnati. He should just be thankful there's a trade for him to a better place. But of course, he has done this before -- he wanted money to accept the Yankees a couple years ago. So even though he's overpaid, he wants more. Nice ... The Nats could still use another outfielder after failing to land Heyward. Dexter Fowler or their own Denard Span could fit ... Could the Nationals be a possible landing spot at some point for Aroldis Chapman? It isn't known whether the Reds and Nats have spoken about Chapman since news surfaced about the alleged domestic incident involving Chapman, and the Nats could very well want to see how the case plays out before making any move, but folks around the game are speculating Washington may ultimately be the best hope for the Reds to trade their star closer. Nationals GM Mike Rizzo didn't respond to an inquiry Wednesday regarding Chapman. Nothing should be read into his non-response since GMs don't like to talk about other team's players. In any case, rival executives opine Washington may still make sense for Chapman. The Dodgers aren't going to be the team for Chapman, as they put off their agreed-upon trade for Chapman indefinitely and there's no belief the Dodgers will seriously re-consider that decision anytime soon (and, in fact, on Wednesday, the Dodgers sent infielder Jose Peraza, who had been in the agreed-upon Chapman deal, to Cincinnati in the three-team trade that sent star third baseman Todd Frazier from Cincinnati to the White Sox). While the Nats and Reds have been discussing a trade that would send Phillips from Cincinnati to Washington, as Ken Rosenthal of FOX Sports reported, there's no indication yet that Chapman's name is in any way prominent in these talks. The speculation involving the Nats and Chapman -- and at this point it may only be speculation -- may be about little or nothing more than the belief that Nats decision makers are big fans of Chapman. And that goes well beyond manager Dusty Baker, who said aloud he is a believer in Chapman and "would like to have him on my team." GM Mike Rizzo is also said to be a huge fan of Chapman's pitching, and Nats assistant GM Bob Miller was also in Cincinnati when that team signed Chapman out of Cuba. Chapman had a 1.63 ERA last year and struck out 116 batters in 66 1/3 innings ... Trying to take advantage of the skyrocketing prices on top starters, the Nats have made lefty pitcher Gio Gonzalez available in trade. But the asking price isn't exactly low. They asked the Marlins -- Gonzalez is a native of Hialeah, Fla. -- for top young outfielder Christian Yelich. That proposal was quickly rejected.

Major League Baseball News

Commissioner Ron Manfred made the right call to keep Pete Rose out of the game. But Rose still belongs on the Hall of Fame ballot. After 26 years, he deserves to have his chance to make it to Cooperstown. Nearly everyone in the world believes that, except of course apparently for the folks who run the Hall.