MLB Weekend Series Rankings: Battle in LA for Cards-Dodgers (again)
The best series of the weekend? Cardinals-Dodgers, Angels-Royals and Reds-Giants.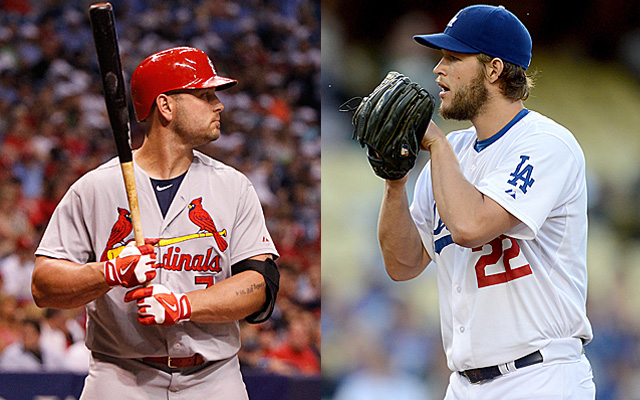 More MLB: Power Rankings | Expert Picks | Latest news & notes | Fantasy news
Hoagie Time!
Let's sort through the 15 "weekend" series provided to us by Major League Baseball and rate just how hungry we are to consume them. We'll start with a matchup that already provided us with a beauty of a game.

| | | |
| --- | --- | --- |
| | at | |
St. Louis Cardinals at Los Angeles Dodgers
Thursday: Dodgers 1, Cardinals 0
Friday: Carlos Martinez (1-3) vs. Hyun-jin Ryu (9-3)
Saturday: Lance Lynn (8-5) vs. Zack Greinke (9-4)
Sunday: Shelby Miller (7-6) vs. Clayton Kershaw (8-2)

A rematch of last season's contentous NLCS. Much of the battle was fought by the local media and the fan bases on the Internet, but there were a few issues between the two teams. It seemed a definite clash of styles, as, specifically, Yasiel Puig's Hollywood flare seemed to annoy many of the St. Louis faithful.
Thursday night was the first time the two clubs faced off since St. Louis dispatched of Los Angeles in Game 6, moving on to the World Series. And, man, did it live up to expectations. Adam Wainwright took a no-no into the sixth inning, but Josh Beckett was brilliant himself and the Dodgers found a way to scratch out a one-run win.
The Dodgers are going better right now and hold the pitching advantage in the remaining three games, but there's plenty of room for drama. The first game showed us just how much the "on-paper" pitching matchups mean, after all.
| | | |
| --- | --- | --- |
| | at | |
Los Angeles Angels at Kansas City Royals
Friday: Matt Shoemaker (5-1) vs. Jason Vargas (7-3)
Saturday: Hector Santiago (0-7) vs. Yordano Ventura (5-6)
Sunday: C.J. Wilson (8-6) vs. Jeremy Guthrie (5-6)

The Royals aren't quite the juggernaut they were a week ago, having lost six of seven since their 10-game winning streak. Still, they are definitely within contention right now and have shown they can make some noise against good teams.
Enter the Angels, now one of MLB's hottest teams with a six-game winning streak and sporting a 44-33 record.
The Royals are actually better on the road (21-17) than at home (19-21), but the Angels are much worse on the road (18-19) than at home, so no huge advantage here either way.
| | | |
| --- | --- | --- |
| | at | |
Cincinnati Reds at San Francisco Giants
Thursday: Reds 3, Giants 1
Friday: Johnny Cueto (7-5) vs. Madison Bumgarner (9-4)
Saturday: Alfredo Simon (10-3) vs. Matt Cain (1-6)
Sunday: Homer Bailey (7-4) vs. Tim Hudson (7-4)

Two teams going in different directions.
The Reds have won 11 of their past 15 after getting as close to being "completely healthy" as a team can realistically get.
The Giants, meanwhile, went from arguably the best team in baseball to a club that lost 11 of 14 before Tim Lincecum's no-no on Wednesday. And they lost again Thursday night.
Still, the Giants are leading the NL West while the Reds are still looking to get into a playoff spot just before the halfway point of the season. This is a quality matchup and the teams have recent history, too, as the Giants came back from a 2-0 deficit in the 2012 NLDS against the Reds to take three games in Cincinnati and eventually win the World Series. That series was probably the beginning of the end for former Reds (and Giants) skipper Dusty Baker.
Anyway, it's a tilt between two good teams in an excellent ballpark for a four-game series. What's not to like?

| | | |
| --- | --- | --- |
| | at | |
Cleveland Indians at Seattle Mariners
Friday: Trevor Bauer (2-3) vs. Chris Young (6-4)
Saturday: Josh Tomlin (4-5) vs. Roenis Elias (7-5)
Sunday: TBD vs. Felix Hernandez (9-2)

Did I overrate this one? Maybe, but I love it. The Mariners haven't been to the playoffs since 2001 and are really starting to resemble a playoff team. This series matches them up against last year's upstart AL playoff team (in fact, if not for the Pirates, the Indians would have been the biggest playoff story in 2013).
The Indians don't come in playing well, but does that even matter? In the past two seasons, they've ripped off some incredible stretches of winning baseball on a seeming whim.
Possibly only a gut feeling, but I'm calling a great series here.
| | | |
| --- | --- | --- |
| | at | |
Boston Red Sox at New York Yankees
Friday: Brandon Workman (1-0) vs. Vidal Nuno (1-4)
Saturday: Jon Lester (8-7) vs. Masahiro Tanaka (11-2)
Sunday: John Lackey (8-5) vs. Chase Whitley (3-1)

The TV networks that carry baseball are drooling. In fact, do I even have to tell you what series will have games carried by both Fox on Saturday and ESPN on Sunday night? Of course not. This goes without saying.
Look, I understand the rivalry history here and it is the biggest in baseball. There's no disputing that and it's why I have it ranked up here. There is a juicy Lester vs. Tanaka matchup -- roughly translated in baseball speak as "yes please" -- on Saturday and that also moves the needle. It's just that I'm looking at a third-place team against a fourth-place team. They have a combined run differential of negative-65. Hence the lack of top billing.
| | | |
| --- | --- | --- |
| | at | |
Chicago White Sox at Toronto Blue Jays
Thursday: Blue Jays 7, White Sox 0
Friday: John Danks (6-6) vs. R.A. Dickey (6-6)
Saturday: Chris Sale (6-1) vs. Marcus Stroman (4-2)
Sunday: Jose Quintana (4-7) vs. Mark Buehrle (10-4)

The White Sox are ripe for the picking here. They've lost 14 of 19 and are just 15-26 away from home. Not only that, but they are susceptible to the long ball -- especially in the late innings recently.
The Jays are one of the best offensive teams in the majors and only Sale appears to have the ability to keep them down in this one.
The reason for this being up here in the series rankings, though, is that the Jays only have a two-game lead in their division and the Orioles are playing well right now -- and face ...
| | | |
| --- | --- | --- |
| | at | |
Tampa Bay Rays at Baltimore Orioles
Friday: Alex Colome (0-0) vs. Kevin Gausman (3-1)
Friday: Jake Odorizzi (3-7) vs. Chris Tillman (6-4)
Saturday: Erik Bedard (3-5) vs. Wei-Yin Chen (7-2)
Sunday: Alex Cobb (2-6) vs. Miguel Gonzalez (4-5)

The Rays without David Price aren't exactly exciting, so this is all about the Orioles -- winners of six of their past eight games. They enter the series trailing the Blue Jays by two games in the AL East, but have the same number of losses. With four games in three days, they have a shot to pick up some ground, too.
With Gausman back in the majors thanks to Bud Norris' injury and the quirky doubleheader (Gausman was gonna start as the extra man, but now he might actually stay up thanks to the injury), that adds to the intrigue. The talented youngster threw six shutout innings against the Rays in his last start.
Also, we could throw a "hug watch" on here. You never know. There's always the possibility to see a camera shot of Price hugging teammates from the dugout -- meaning he has just been notified that he was traded.

| | | |
| --- | --- | --- |
| |  at  | |
Oakland Athletics at Miami Marlins
Friday: Jesse Chavez (6-4) vs. Anthony DeSclafani (1-2)
Saturday: Sonny Gray (7-3) vs. Nate Eovaldi (5-3)
Sunday: Tommy Milone (5-3) vs. Andrew Heaney (0-2)

The Marlins have now lost 10 of 15 -- a lot of that against the Cubs, Mets and Phillies, by the way -- and certainly appear to be regressing into the night. Still, they have some exciting young talent and we can't discount that 25-18 record at home. They'll put that on the line for three games against the best team in baseball. The A's are always worth watching.
| | | |
| --- | --- | --- |
| | at | |
Washington Nationals at Chicago Cubs
Thursday: Cubs 5, Nationals 3
Friday: Tanner Roark (7-4) vs. Jason Hammel (6-5)
Saturday: Gio Gonzalez (4-4) vs. Dallas Beeler (0-0)
Saturday: Blake Treinen (0-3) vs. Jeff Samardzija (2-6)

First things first, no, that's not a mistake above. There's a doubleheader on Saturday and no game on Sunday due to the city of Chicago having its Chicago Pride Parade on Sunday.
Anywho, the Nationals do sport a one-game lead in the NL East -- aka the division no one wants to win -- so this series matters. It's actually one of a plethora of series this weekend pitting a contender against a non-contender, but the Cubs haven't been bad for a while. They're 20-17 now since May 16.
Team that with a pitching advantage in the series finale for the Cubs, an arguable push on Friday's pitching matchup and a Cubs win Thursday and it's possible the North Siders make the Braves very happy in this one.
Then again, the Nationals are the better overall team.
| | | |
| --- | --- | --- |
| | at | |
Colorado Rockies at Milwaukee Brewers
Thursday: Brewers 7, Rockies 4
Friday: Tyler Matzek (1-2) vs. Kyle Lohse (9-2)
Saturday: Jhoulys Chacin (1-6) vs. Matt Garza (4-5)
Sunday: Jorge De La Rosa (7-6) vs. Yovani Gallardo (5-4)

The Brewers are the best team in the National League and head into Friday with the most wins in all of MLB. Given that they weren't expected to be even close to here heading into July, that means this series is at least worth a casual look.
But, man, the Rockies are awful and the Brewers manhandle them. After a good start to the season, the Rockies have gone 13-30. In the past week, the Brewers have outscored the Rockies 30-13 (eerie, by the way, huh?) in four Milwaukee wins.
Looking at the pitching matchups doesn't make things any better for Colorado, a club that is now 15-25 away from home.
This should be all Brewers, though I'm not sure that means it's boring. Go for the brats, stay for the exciting Milwaukee offense.
| | | |
| --- | --- | --- |
| | at | |
Atlanta Braves at Philadelphia Phillies
Friday: Julio Teheran (6-5) vs. Kyle Kendrick (3-7)
Saturday: Ervin Santana (5-5) vs. Roberto Hernandez (3-6)
Saturday: David Hale (2-2) vs. Brad Lincoln (0-0)
Sunday: Aaron Harang (6-6) vs. David Buchanan (4-3)

Despite being a mediocre team for much of the season, the Braves are only one game out in the weak NL East.
Despite being a bad team for much of the season, the Phillies are only -- seriously, only -- five games out.
This is an old-school rivalry, if we can consider anything "old school" when we're talking about the six-division format and either team would surely love to take a big bite out of the other in the standings. Amazingly, a four-game sweep here by Philly would have them in serious contention.
Don't believe it could happen? The Phillies won three in Atlanta last week and have won 11 of 17.
I still think the Braves are the better team here, but they haven't done anything to inspire confidence in a while.
| | | |
| --- | --- | --- |
| |  at  | |
New York Mets at Pittsburgh Pirates
Thursday: Pirates 5, Mets 2
Friday: Jacob deGrom (1-4) vs. Brandon Cumpton (3-2)
Saturday: Jonathon Niese (4-4) vs. Gerrit Cole (6-3)
Sunday: Bartolo Colon (8-5) vs. Edinson Volquez (5-6)

This avoids slider status because the Pirates are going to remain in contention moving forward, the Pirates outfield is as exciting as it gets, Cole is returning from injury and Colon is pitching as well as almost anyone right now.
Otherwise it shouldn't garner much intrigue.

| | | |
| --- | --- | --- |
| |  at  | |
Detroit Tigers at Houston Astros
Friday: Justin Verlander (6-7) vs. Brad Peacock (2-4)
Saturday: Max Scherzer (9-3) vs. Dallas Keuchel (8-5)
Sunday: Drew Smyly (4-6) vs. Scott Feldman (3-5)

The Tigers are the hottest team in the majors right now and one of the best overall. The Astros aren't going well now after a nice little surge in May/early June and are one of the worst teams in the league overall. Verlander and Scherzer are each coming off a bounce-back start, too, so I expect a bloodbath here.
| | | |
| --- | --- | --- |
| | at | |
Minnesota Twins at Texas Rangers
Friday: Kevin Correia (4-8) vs. Nick Tepesch (2-3)
Saturday: Phil Hughes (8-3) vs. Yu Darvish (7-4)
Sunday: Kyle Gibson (6-6) vs. Colby Lewis (5-5)

The Twins ride in on a three-game losing streak and sit five games under .500, but they're the better of the two clubs. The Rangers are on an eight-game losing streak and are eight games under the break-even point.
The saving grace for this one? The pitching matchup Saturday. Hughes is actually having a great season for Minnesota and we know all about what Darvish can do. Ignore the other two games and watch that, but only if you are a hard-core baseball fan and love pitcher's duels.
| | | |
| --- | --- | --- |
| | at | |
Arizona Diamondbacks at San Diego Padres
Friday: Brandon McCarthy (1-10) vs. Tyson Ross (6-7)
Saturday: Josh Collmenter (6-4) vs. Eric Stults (2-10)
Sunday: Mike Bolsinger (1-3) vs. Odrisamer Despaigne (1-0)

Aside from fantasy baseball interests and fans of either team here, I can't imagine why even the most die-hard baseball fans would want to bother with this. Maybe if it was the only game on TV at the time, but that won't be the case.
Wright was arrested at his home Friday

The former Tigers teammates were voted into Cooperstown by the 16-person Modern Era Commit...

The Yankees still have room for a good-sized signing even after Saturday's trade with Miam...
St. Louis gets some much needed help for their bullpen

Keep tabs on the top 50 free agents right here

Morrow thrived with the Dodgers last season