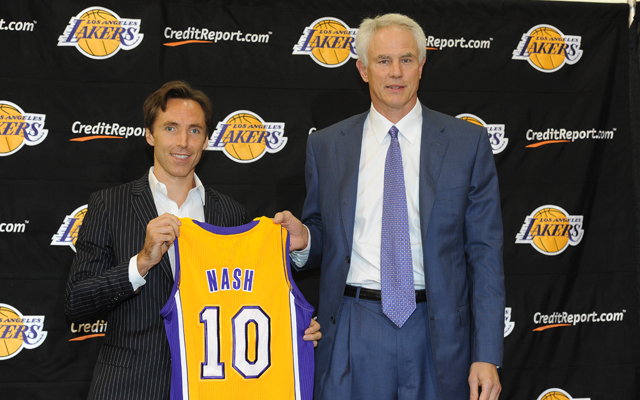 Steve Nash headed to L.A. as part of a crazy NBA free agency period.

(Getty Images)
NBA free agency has not calmed down since the new CBA. Cash is still getting slung around like suburban shoppers at outlet malls during the Christmas rush. Teams are being remade, teams are being retooled, many teams are staying pretty much the same.

But with free agency winding down, what lessons can we take away from the signing period to try and understand the league better? Here are a few.
For complete coverage of all the deals described below, check out our free agency tracker, updating as the last of the deals come in. 

1. Big men are still ultra-valuable

Omer Asik is waiting on a three-year, $25 million offer sheet from Houston. JaVale McGee landed a four-year, $44 million deal to re-sign with the Nuggets. Brook Lopez got a max deal. Chris Kaman landed just a one-year deal, but at a hefty price. Ersan Ilyasova got huge deal from the Bucks, though much of it is non-guaranteed, reportedly. Kris Humphries will be making $12 million a year for the next two years.

Roy Hibbert is now a max player. He's an All-Star, and gets a bad rap for how good he is overall, but that says a lot about where we are in this league.

The reality is that without stellar big men, and with the league having shifted to smallball, anyone with any semblance of size who can tie his own shoelaces is going to get big money. Are those players all worth that value relative to what other players of better talent get? No. But the value of size cannot be overstated. You can't teach size, but apparently you can buy it.

2. Old guys still make bank

Not enough was really made of the fact that the Celtics gifted a 36-year-old Kevin Garnett $34 millon dollars which will pay him through his 40th birthday. I cannot stress enough how good Kevin Garnett was last season. He was arguably an MVP candidate and was the best player of the playoffs for the first two rounds. He defended at an elite level (and should have been defensive player of the year runner-up), scored in the post and from mid-range, and generally was awesome.

$34 million at 36 years old.

Garnett will predictably talk about how people constantly dismiss him as old even though no one did last season, but this contract is going to be a lot of money by the end of next season. Yes, Garnett can likely be useful until he's 40. But eight figures? That's a lot.

Then again, Jason Terry got the mid-level from Boston, Steve Nash signed a new high-level deal, and Ray Allen was a big signing for Miami (though he took less money to play in Miami).

Veterans, like big men, will always have value, but this specific crop of players drafted in the late 90's makes up a whole other level, and many of them made huge bank this offseason. Experience matters, apparently.

3. Everybody needs a point guard

Good point guards at this point are like that line from "Other People's Money."

"Lawyers are like nuclear wepons. They have theirs so I have mine."

The point guard arms race continued in the offseason. The Suns, after gifting the Lakers their franchise point guard in a sign-and-trade to help him relocate where he wanted, signed Goran Dragic to a four-year, $34 million deal with a player option in the fourth year. It's a solid value for Dragic, but it's where Dragic came from that shows the real money thrown around.

Three-years, $25.1 million for Jeremy Lin, off of not even a third of a full season of play. Lisanity, indeed.

George Hill with five-years, $40 million is a high mark for a player who isn't elite at any one thing but is exceptional in several.

Point guards at this point if they have any worth at all get value simply by being areas in which teams aren't completely outclassed by the 10 or so elite players at that position. It's by far the strongest position in the league, and if you don't have one, you're in big trouble.

Look no further than deals for Jason Kidd, Raymond Felton, Ramon Sessions and Nash for proof.

4. Loyalty is, as always, a myth

Steve Nash is a Laker. That just feels dirty.

Ray Allen is a member of the Heat. Gross.

Jason Terry is in Boston, which is just weird, and Jeremy Lin is a Rocket.

In short, and this will not surprise you, the money talks, everything else walks. Loyalty has always been a myth in this league, (attention: Dwight Howard), but this year showed more than usual. It wasn't just players switching locales, it was teams not rewarding their own. Sure, there was the complicated situation between New York and Lin, but the Grizzlies let O.J. Mayo walk, the Lakers moving on from Sessions, and the Magic agreeing to a sign-and-trade for Ryan Anderson to the Hornets.

In years past, we've seen a bevy of re-signs, and this year was much more about not only player movement, but hurt feelings, as both the Celtics and Knicks were hurt by big free agent departures.

And how about the amnesty guys? Luis Scola, versatile, talented, respected power forwards cut loose. Elton Brand, former All-Star, shredded into the wind. Teams were able to get big upgrades this summer at key positions because their old teams dumped the guys they brought in.

5. The Lakers will be better

The Lakers were pretty good last year. Not great. Not elite. Pretty good. But they landed a top 10 point guard in Nash, despite his age, and improved their bench depth with Antawn Jamison. They're an older team, but older teams have also been shown to be title contenders. With Howard still a possibility, the Lakers could be right back in the title race next season and may have added the offensive firepower to compete with the Thunder.

6. The Suns are going to be weird

Goran Dragic, Michael Beasley, Luis Scola, and Marcin Gortat. That's the new core of the Phoenix Suns. And what a weird core it is. The Suns got younger, but not young, they got faster but not more efficient, they got more interesting but not necessarily better.

The Suns have one of the strangest configurations of talent imaginable, and that's not just because of the money spent on Beasley. The Suns are going to be able to score again. It's that other end of the floor that could be problematic, as always.

Weird new Suns, same strange team.

7. The luxury tax does have its impact ... unless you're the Mad Russian

James Dolan blinked. The famously hyper-spending owner of the Knicks cut Lin loose because of the money configured by Lin and the Rockets in his deal. Whether it was out of concern about his health, being hurt over his manipulations with the Rockets, or just the low sample size of his starts, Dolan could have, would have matched in most years, in most situations.

But that $14.9 million poison pill in the third year of his deal crushed that, and made the Knicks reconsider, pause, and let Lin go.

The new CBA was supposed to force big-spending teams to reconsider their approach. It seems to have worked ... unless you're Nets owner Mikhail Prokhorov

The Nets gave out $300 million in deals this summer. Think about that. That's just an absurd amount of money. If the investment pays off and gives the Nets a contending team, it will have been worth it with the market incentives.

If not, it's the start of a bad business plan. The third year of these deals will be crucial as the luxury tax will be crushing for the Nets unless they hold a firesale. But for right now, the Mad Russian is acting like he could care less about any punitive measures of the CBA.