As the great Jyn Erso said a long time ago in a galaxy far, far away, "Rebellions Upsets are built on hope." It's a mantra the Packers should embrace for a second straight game.
Once again, the Packers will travel to a hostile dome in which they'll assume the role of the underdog. A week after taking down the mighty Cowboys, the Packers head to Atlanta to confront the Falcons and their historically great offense, which just hung 36 points on the Seahawks. The Packers enter as five-point underdogs.
The two teams have a history. After the 2010 season, the sixth-seeded Packers knocked off the Eagles in the wild-card round, then clashed against the top-seeded Falcons. The Packers thrashed them, 48-21. Their run continued all the way through the Super Bowl.
Just earlier this season, the two teams met in Atlanta for what ended up being a nail-biter. The two quarterbacks, Aaron Rodgers and Matt Ryan, combined for 534 passing yards and seven touchdowns. Neither of them tossed an interception. The Falcons won, 33-32, when Ryan connected with Mohamed Sanu for a touchdown with 31 seconds remaining.
Bonus points for dodging the goal post:
This weekend's NFC title game should be another dandy between the red-hot Packers (winners of eight straight) and the remaining top-seed in the NFC (winners of five straight). It'll be a different game this time around, though, as their early meeting occurred at the end October. As expected, much has changed since Week 8.
This article will examine why the Packers can beat the Falcons in their rematch. To be clear, it won't examine why the Packers will win. The Falcons should be favored and with good reason -- their offense is the seventh-best scoring offense in the history of the NFL. If I had to bet on someone, I'd bet on the Falcons. But the Packers do have a chance to upset the Falcons.
Rebellions Upsets aren't just built on hope, they're also built on Aaron Rodgers.
1. Aaron Rodgers is on fire
Any argument for the Packers upsetting the Falcons begins with Rodgers.
The last time the two teams met, Rodgers experienced one of his typical Rodgers games. He went 28 of 38 for 246 yards, four touchdowns, zero picks, and a 125.5 passer rating.
That's bad news for the Falcons, because Rodgers is currently playing even better than he was in late October -- when he was stuck in a slump that had everyone (including me) asking if Rodgers' dominant days were behind him. In Rodgers' last eight games, he completed 68.9 percent of his passes, averaged 8.43 yards per attempt, and threw 21 touchdowns and just one pick.
There's reason to believe he can improve his numbers from the last meeting. Lost in his stat line from the game earlier this season is the fact that he averaged only 6.47 yards per pass. He hasn't had a lower average in a game since.
He didn't experience much success throwing downfield in that game, which is rare. Per PFF, Rodgers threw four passes at least 20 yards downfield, completing one for 58 yards. That 58-yard completion, which happened in the early going, was sick (for what it's worth):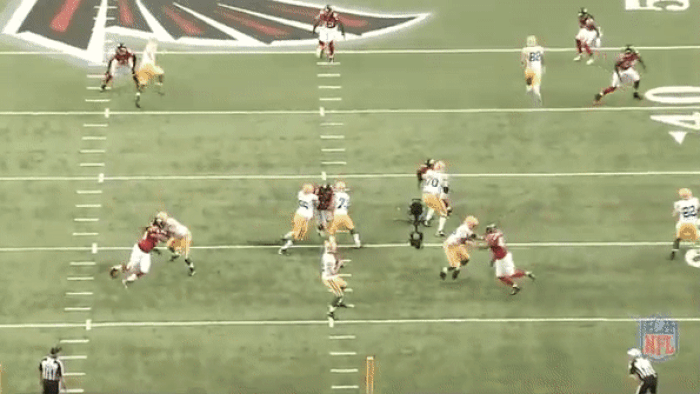 If the Packers have any shot at the upset, they'll need Rodgers' hot streak to continue through the weekend. The good news is that he's playing some of the best football of his career. The bad news is that the Falcons' defense has performed substantially better in the second half of the season. Since their Week 11 bye, they've allowed 20.43 points per game. Furthermore, the Falcons might have the pass rusher in Vic Beasley (15.5 sacks) to disrupt Rodgers' pocket.
It would help, obviously, if Jordy Nelson returns. Nelson fractured his ribs in the team's win over the Giants in the wild-card round and his status for the game seems bleak considering he said his goal last week was to breathe normally again. Still, he did say that he hoped to play this weekend.
Of course, it's worth noting that Rodgers tore up the Cowboys without Nelson. This was mentioned at some point during their win:
Since losing Jordy Nelson to the rib injury, Rodgers' #Packers have scored 66 points in 74 minutes

— Chris Wesseling (@ChrisWesseling) January 15, 2017
That's not bad.
Jared Cook, the Packers' tight end who was signed during free agency, appeared in the first three games of the season but didn't play against until Week 11. So, he wasn't there for the first meeting.
The Packers are 8-1 since he returned. In those nine games, Cook caught 35 passes for 475 yards and two touchdowns. In his last two outings, he's hauled in 11 receptions for 151 yards and a score.
And, of course, he did this to set up the game-winning field goal Sunday.
With Cook, Rodgers finally has a receiver other than Nelson who doesn't have to be actually open to be considered open. Cook has a big enough frame to ward off smaller defenders in the secondary and enough speed to burn linebackers. Of course, he still has issues with consistently catching the football (that's never going away), but for the most part, his positives have outweighed his negatives.
Consider this: In the six games that Cook missed, the Packers' tight ends caught a total of 17 passes for 141 yards -- or 23.5 yards per game. Since he returned, Cook's averaging 52.78 yards per game. So, the Packers' production at tight end more than doubled when Cook made his way back onto the field.
Back in March, Packers coach Mike McCarthy talked about the importance of having a big-bodied tight end in the middle of the field.
"Let's be honest, the middle of the field is open now," McCarthy said, per ESPN. "League rules. Big people running down the middle of the field, I'll make no secret about it. I think that's a key to offensive success, whether that's a big receiver or big tight end or a big man running down the middle of the field, making those safeties cover you. It's an important part of playing in today's NFL."
Yet when looking at where Cook is successful, it's not really up the middle. It's on the peripheries of the field. Within the numbers, Cook has caught 18 of 29 targets for 184 yards (10.22 yards per catch) and zero touchdowns. Outside the numbers, Cook has caught 23 of 40 targets for 345 yards (15 yards per catch) and two touchdowns -- all of those numbers were calculated using PFF.
The Falcons' defense did just limit Jimmy Graham (a much better player) to three catches and 22 yards, but he did reach the end zone. The Packers need Cook to experience a better outing than Graham if they want to leave Atlanta with a win.
3. Julio Jones isn't fully healthy
The last time the two teams met, the Packers held Julio Jones to three catches for 29 yards. They'll require a similar type of effort a week after Dez Bryant destroyed their thin secondary for 132 yards and two scores.
But Jones is hobbled with a toe injury (the same one that hampered his production during the regular season). He was on the field for just 58 percent of the team's offensive snaps against the Seahawks, per Football Outsiders. And according to Falcons coach Dan Quinn, he'll be limited during practice this week. He didn't practice Wednesday.
Jones isn't expected to miss the game, but he likely won't be 100 percent. That helps the Packers -- obviously.
4. Cobb, Matthews, and Montgomery matter
Cook isn't the only notable Packer who was absent the first time around. So were Randall Cobb, Clay Matthews, and Ty Montgomery.
Those three players matter to the Packers. Cobb caught seven of eight targets against the Cowboys. Matthews hasn't been at his best this year, but he still notched five sacks in nine starts in the regular season. And Montgomery -- who converted from receiver to running back -- rejuvenated a dead running game. He averages 5.9 yards per carry.
As Yahoo Sports' Eric Edholm pointed out, the Packers' used Don Jackson and Knile Davis when they lost to the Falcons. Those two backs combined for 14 yards on seven carries, as Rodgers and fullback Aaron Ripkowski handled the majority of the rushing duties instead.
Montgomery won't carry the ball 30-plus times, but he'll at least function as a dependable option when the Packers need to run the ball.
In their first meeting, Falcons defensive end Adrian Clayborn registered two sacks. Clayborn won't play Sunday, because he landed on injured with a torn bicep, which he sustained Saturday.
That sucks for the Falcons. We've all seen what Rodgers can do when he's afforded time in the pocket. According to PFF, when Rodgers isn't pressured, he's generated a 108.3 passer rating.
And that brings us to ...
6. Blitzing
The Falcons might be wise to blitz Rodgers. When the Cowboys blitzed him, Rodgers went 9 of 15 for 68 yards (4.5 YPA), a touchdown, a pick, and a 65.4 rating. When they didn't blitz him, Rodgers went 19 of 28 for 288 yards (10.3 YPA), a touchdown, and a 113.4 passer rating (statistics via PFF).
While that might provide the Falcons with a roadmap to containing Rodgers, it won't be an easy roadmap for them to follow. This year, they've blitzed 20.2 percent of the time -- league average is 30.4 percent. The last time they played, Rodgers attempted just five passes against a blitz. On those five passes, Rodgers generated a 85.8 passer rating. When he wasn't blitzed, his passer rating rose to 130.4.
The Falcons don't like to blitz, but Rodgers carves up defenses that don't blitz. That could spell trouble.
So, if you made it this far, you undoubtedly noticed that many of the six reasons were related to the Packers' offense against the Falcons' defense. That's entirely due to the fact that I don't think the Packers' defense can stop the Falcons' offense. The Falcons are going to score a ton of points. They've done that all season long and won't stop against the Packers' defense. To beat the Falcons, the Packers will need a flawless game from their offense.
It's a good thing then that they have Rodgers.