How April 16 isn't yet a holiday in New England remains one of life's great mysteries. St. Patrick's Day is in March, and Patriots' Day is the third Monday in April. But April 16 is the day the Patriots drafted Tom Brady.
Sure, it was with the 199th overall selection. And, yes, every other team passed on Brady six times or so. Whatever, the Patriots took him after six other quarterbacks had gone off the board, and it was the best decision in the organization's history.
Now, 16 years later, the Patriots have won four Super Bowls and Brady has been Super Bowl MVP three times, not to mention the myriad other awards and honors. But it all started, innocently enough, on April 16, 2000.
Boston should celebrate this date as if it were St. Patrick's Day pic.twitter.com/QS3aa9N75f

— Kevin Patra (@kpatra) April 16, 2016
Patriots.com has published coach Bill Belichick's comments right after the team drafted Brady.
"The next pick was Tom Brady," Belichick said at the time. "The value board at that point really clearly put him as the top value. Brady is a guy that has obviously played at a high level of competition in front of a lot of people and he's been in a lot of pressure situations. We felt that this year his decision-making was improved from his junior year after he took over for Brian Griese [at Michigan]. He cut his interceptions down. He's a good, tough, competitive, smart quarterback that is a good value and how he does and what he'll be able to do, we'll just put him out there with everybody else and let him compete and see what happens."
Yes, let's see what happens.
In case you're curious, here are the the six quarterbacks who went before Brady.
First round: Chad Pennington (18th overall to the Jets).
Third round: Giovanni Carmazzi (65th overall to the 49ers), Chris Redman (75th overall to the Ravens).
Fifth round: Tee Martin (163rd overall to the Steelers).
Sixth round: Marc Bulger (168th overall to the Saints), Spergon Wynn (183rd overall to the Browns).
To be fair, Brady didn't exactly blow people away at the combine, at least upon first glance. Here he is efforting to run 40 yards.
And here's the saddest combine-related photo you may ever see: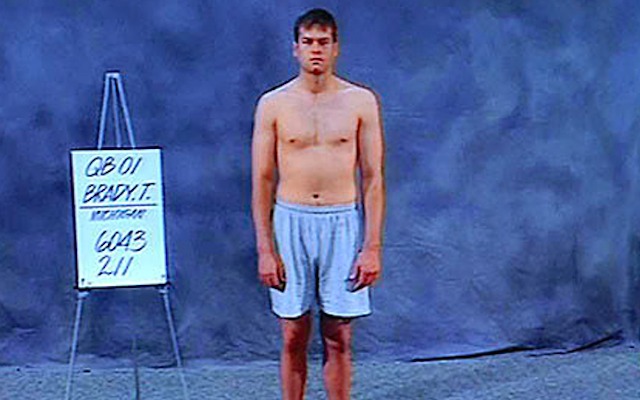 The joke's on us, of course. Belichick, Brady and the Patriots have dominated. The team has won at least 10 games every year but one since 2001 (the one year they didn't, 2002, they went 9-7), and have made the playoffs every year but two (in 2002, and again in 2008, when Brady was lost in Week 1 to an ACL injury). And in the past six years, they have finished 12-4 four times, 13-3 once and 14-2 once. 
If you're wondering, here's the list of every player selected 199th overall since 1970, including notable names like Ephraim Salaam and the other Adrian Peterson.