If the third week of the preseason is the dress rehearsal for the regular season, then the Patriots might be better off if Tom Brady doesn't dress for Week 1. 
Sounds crazy, but for the third week in a row Brady looked rusty and off his game. Only Brady knows if he's being distracted by all of his off-the-field issues, but if he is, that has to be a concern for the Patriots because that might not be going away for another week or two.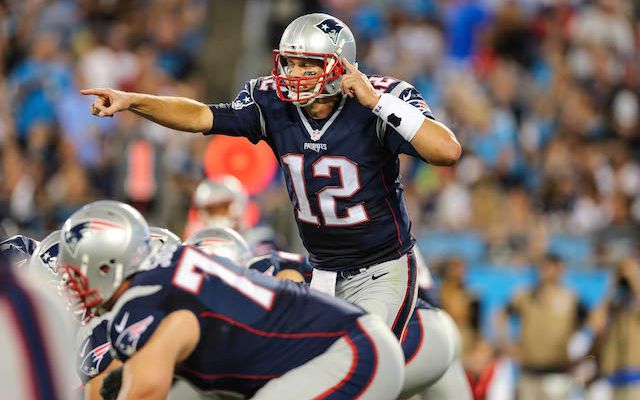 Brady definitely looked distracted in the first quarter against the Panthers on Friday as two of his first six passes of the night were picked off.
Ironically enough, one of Brady's best throws in the quarter turned out to be one of his two interceptions. 
.@peanuttillman. AKA... Mr. Take Your Football. #INT #NEvsCAR http://t.co/z0GHVKMhf6

— NFL (@NFL) August 29, 2015
The Patriots quarterback went 2 of 6 for 13 yards in the quarter. Brady did rebound with an impressive two-minute drive just before halftime. The veteran went 5 of 7 for 71 yards on an 80-yard scoring drive that only took 1:23 off the clock. 
The drive ended with an 18-yard pass to tight end Scott Chandler that you can see below. 
When Tom Brady heats up and beats airtight coverage with the perfect touch pass... #NEvsCAR http://t.co/30rHquErXx

— NFL (@NFL) August 29, 2015
When it comes to Brady's suspension, the quarterback's rust shouldn't be the team's biggest concern. Brady has been in the league for 15 years and a bad preseason game doesn't mean he'll struggle in Week 1.
However, if Brady can't play in Week 1, the Patriots are going to have a big question mark in Jimmy Garoppolo. The second-year quarterback didn't play until the second half against the Panthers and he didn't play the first series in either of the Patriots' first two preseason games. 
Overall, Garoppolo has seen about two total quarters of No. 1 defenses this preseason, which has to be at least a little concerning for Patriots fans if he's the starter in the team's Sept. 10 opener against the Steelers. 
Here are nine more takeaways from Friday night's action: 
2. Cam Newton has no No. 1 receiver. If Cam Newton never throws another pass to Corey Brown, well, you can't blame him. Newton tried his best to get the ball to Brown on Friday, but Brown didn't want it, dropping several easy passes in Carolina's 17-16 loss. 
One of the drops came on what would have been an easy 30-yard touchdown catch. 
Cam Newton finds Corey Brown for a wide-open touchdo- ... Oh. #NEvsCAR http://t.co/0uNXE670lI

— NFL (@NFL) August 29, 2015
Another drop came on what would've been the easiest third-and-4 conversion of Brown's life. 
Brown is supposed to be the guy who's going to replace Kelvin Benjamin, but right now, he's not playing like it. 
Despite the fact that Panthers receivers dropped five passes against the Patriots, Newton still finished 17 of 28 for 160 yards and a touchdown. 
3. Alex Smith might actually throw a touchdown pass to a wide receiver this year. If you followed the Kansas City Chiefs at all last season -- or even if you didn't -- you're probably aware that they became the first NFL team ever to make it through a 16-game schedule without throwing a touchdown pass to a wide receiver.
Thanks to Jeremy Maclin, it's looking more and more like that streak isn't going to extend too far into the 2015 regular season. Maclin caught an impressive 29-yard touchdown pass in the first quarter that gave the Chiefs an early 6-0 lead on the way to a 34-10 win. 
The touchdown catch marked the second week in a row that Maclin and Smith hooked up for a score. Now, if they can only do it when it counts.
Maclin finished the game with seven catches for 65 yards. 
4. Alex Amazing. Throwing a touchdown pass to a wide receiver wasn't the only impressive thing Alex Smith did Friday -- everything he did was amazing. Sure, it was the Titans defense, but Smith looked like a guy out to prove he's going to take downfield shots this year.
The Chiefs quarterback completed three passes of over 25 yards and finished the game 16 of 18 for 171 yards and two touchdowns. Smith was pulled after only THREE SERIES. The other five starting quarterbacks played at least the entire first half Friday. Smith was so good, Andy Reid obviously figured he didn't need to see anything else from his quarterback.
5. The Titans defense needs help. There was no pressure on Smith, which coach Ken Whisenhunt could probably have excused if the Titans would've stopped the run, but that didn't happen either. Tennessee stopped nothing.
Besides getting shredded by Smith, the Titans also gave up 8.7 yards per carry to Jamaal Charles. 
The good news for the Titans is that the defense won't face a stiff regular-season test until Week 3 when Tennessee hosts the Colts. Before that, the Titans play at Tampa Bay and at Cleveland. 
The Titans' defense was so bad that no one wanted to watch: The game was called due to weather about halfway through the fourth quarter. 
Final in Kansas City. Game called early due to weather. #TENvsKC pic.twitter.com/41UR4dRFoX

— NFL (@NFL) August 29, 2015
6. Marcus Mariota showed off some serious accuracy. It wasn't all bad news for the Titans on Friday. Yes, the defense looked like it has only been through one day of training camp, but the same can't be said for Marcus Mariota. After opening up the game with three straight incompletions, Mariota was on point. 
After the slow start, Mariota went 7 of 8 on his next two series and led the Titans on two scoring drives. Overall, Mariota completed 7 of 11 passes for 99 yards and had the Titans within seven (17-10) when he was pulled at halftime.
7. Blake Bortles starting to show why he was the No. 3 overall pick in 2014. The most impressive performance from any player in any game Friday night probably came from Jaguars quarterback Blake Bortles. 
Bortles threw the ball 29 times and seemed to look more and more confident with each throw. The Jaguars quarterback rarely hesitated and was willing to take risks, like the one below when he hit Rashad Greene for a 17-yard gain on third-and-6 in the first quarter. 
Yes, that ended up being a completion.
That third-down conversion led to a Jaguars touchdown that put them up 7-0 early. 
Not only did Bortles throw for 245 yards and a touchdown, but he also rushed for a team-high 38 yards. 
Someone forgot to tell Blake Bortles that it's preseason, dude is diving head first for first downs. #Lions #Jaguars pic.twitter.com/mbHOH0Xnhf

— John Breech (@johnbreech) August 29, 2015
8. Someone needs to tell the Lions defense that tight ends are eligible. Although Bortles was impressive, we have to give some credit for his big night to the Lions defense, which seemed to forget that tight ends were eligible. 
Of Bortles' 245 yards Friday, 123 of those went to tight ends. Marcedes Lewis led the way for Jacksonville with a team-high 51 yards on three catches. 
9. You might want to get Golden Tate on your Fantasy team. Golden Tate was a human highlight show against the Jaguars on Friday night. With Calvin Johnson out of the lineup, Tate put wowed the crowd with three catches for 91 yards and a touchdown. 
How do you wow the crowd with only three catches? 
You do this. 
DBs who try to tackle @Lions WR @ShowtimeTate in open space... sometimes tackle each other instead. #DETvsJAX http://t.co/8WZQIK9lQM

— NFL (@NFL) August 29, 2015
And then you catch a 62-yard touchdown. 
Friends don't let friends cover @ShowtimeTate without a safety over the top. 62-yard TDs happen. #DETvsJAX http://t.co/e28OC7bV12

— NFL (@NFL) August 29, 2015
If Megatron comes back 100 percent healthy, Tate should see a lot of one-on-one coverage this year and that should mean big games like the one he had against Jacksonville. 
10. A missed extra point is probably going to decide a game or two this year. Lions kicker Matt Prater and Chiefs kicker Cairo Santos both joined a club on Friday that no kicker wants to join: The "I missed an extra point" club. 
Although Santos' miss came in a 34-10 win and didn't really mean anything, Prater's miss came in a close 22-17 win and could've been costly if it had happened during the regular season. 
The missed kick turned a potential tie game into a 14-13 Jaguars lead and things got worse when the Lions missed a two-pointer they attempted on the first touchdown they scored after Prater's miss. 
Don't be surprised if we see a kicker or two lose his job this season over a missed extra point.