Time to pay college football players -- changing times, money say so
On the heels of the APU protest, it's time again to ask if college players should get pay. The equation: Coaches earn millions + people pay millions to watch = yes.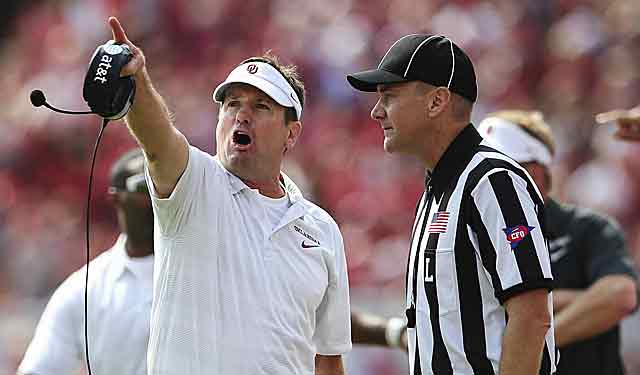 In 1950 Bud Wilkinson earned $15,000 to coach Oklahoma football. The Sooners played at Oklahoma Memorial Stadium, with most of its 56,000 seats available for less than $5. Players were given scholarships.
In 1971 Barry Switzer earned $35,000 to coach the Sooners. Oklahoma Memorial had grown to 62,000. Players were given scholarships.
In 1988 Switzer was bought out. He was making $88,000. The stadium seated 75,000. Players were given scholarships.
This year Bob Stoops will earn $4.55 million to coach in a stadium that has undergone $125 million in renovations in 1998 and now seats 82,112. Tickets are available online for Oklahoma's next home game, against TCU on Oct. 5. Two seats near the 40-yard line, about 30 rows up, are available for $650 on Stubhub.com.
Players are given scholarships.
See where I'm going with this?
The business of college football has changed dramatically -- especially in the last few decades -- and it has changed for damn near everyone. For everyone but the players, that is. Salaries, stadium seating and ticket prices have skyrocketed. The compensation for the athletes we're watching? Stagnated.
For more than 60 years, players have been given scholarships to play college football. Free room and board. Free tuition, books. In 1950 it was a great deal, the American dream. It was still a great deal in 1976, when my dad was a young attorney in Norman, Okla. My mom was a secretary at a bank. We lived in a three-bedroom house on Berry Road.
Barry Switzer was my neighbor. And he had just won back-to-back national championships.
I don't know where Bob Stoops lives, but I know what the $4.55 million coach thinks about the idea of paying players: He thinks it's stupid. This is what he said in April:
"I tell my guys all the time -- you're not the first one to spend a hungry Sunday without any money."
Let them eat cake. Right, Bob?
Coaches get millions and fans spend millions and players are still getting scholarships, and today it's not such a great deal. Arian Foster reinvigorated this conversation last week when he said he took money "on the side" at Tennessee, not because he was greedy but because he was hungry. A handful of active players -- at Georgia Tech, Georgia and Northwestern -- played Saturday with the handwritten letters "APU" somewhere on their body in solidarity for the fledgling movement All Players United.
Today the football coach at Oklahoma makes 300 times what he made in 1950. (Factor in inflation, and Stoops' $4.55 million annual salary is still 31 times what Wilkinson made in 1950.) Today the Sooners are playing in an NFL-caliber stadium and dressing in a 9,000-square foot locker room and working out in a 10,000-square-foot training area complete with hydrotherapy, whatever that is. They store their gear in a 6,500-square foot equipment room that goes through more than 1,400 pairs of shoes in a given year.
Who pays for this? TV does -- and Oklahoma fans do. Ticket prices. Parking. Concessions. Jerseys with their favorite OU player's number on the back.
Players get a scholarship.
Don't get stuck on "Oklahoma," because this story could have started with the evolving football businesses at Notre Dame or Florida or Texas or Alabama. In fact, watch this: In 1958 Alabama hired Bear Bryant away from Texas A&M for $17,500 a year. The Crimson Tide played at 31,000-capacity Bryant-Denny Stadium. Tickets were less than $10.
On Saturday, Alabama will play Ole Miss at Bryant-Denny. A crowd of more than 100,000 is expected. I found seven parking passes available on Stubhub.com, and the cheapest -- I kid you not -- was being offered for $90. The most expensive parking pass? There's one available in the West Ten Hoor lot for $705.
To park at one game.
I kid you not.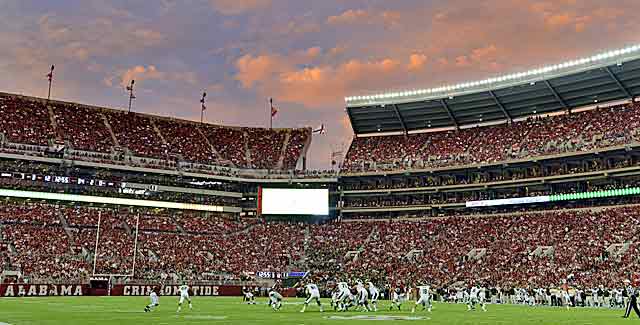 But listen, it takes a lot of money to support a program as good as Alabama football. And it takes a lot of money to pay the coach. Nick Saban is earning $5.3 million this year, which is 303 times the salary of a young Bear Bryant in 1950.
Players still get a scholarship.
This is where I hop off the bandwagon once and for all. For years I was right there with lots (most?) of you, insisting that college athletes -- specifically, football players -- don't need anything more than a scholarship. Here's what I wrote in 2010, sneering at the idea that these lucky campus gods deserved anything beyond room, board, tuition, etc.
A few years later I started to shift my position when it came out that college athletes -- specifically, football players -- were finishing their all-expenses-paid career without all expenses being, you know, paid. At the end of his career the typical college football player will be handed a piece of paper. A diploma? Man, I hope so. But the paper I have in mind is the bill these guys will owe for goods and services that weren't covered by their scholarship. The typical college football player will owe $3,222 when he's finished with school.
Anymore, players don't even get a scholarship. Not a full one, anyway. Not if they owe $3,222.
This is where lots (most?) of you scream at me that $3,222 is dirt cheap for four or five years of college, nothing compared to what the rest of us are paying. First, don't scream at me. Second, I know that. I have two sons in high school planning to go to a public university in Ohio, where the average cost will be $20,000. Annually. For each. That's a total of $160,000 -- payable by: me -- so I'm painfully aware that $3,222 is dirt cheap.
I'm also aware of this: Nobody is going to pay $705 -- or $90, or $1 -- to park their car and watch my kids. Nobody will buy a ticket, jersey or hot dog because of my kids. My kids? Your kids? Unless they're part of college football's billion-dollar machine, our kids have nothing to do with this debate.
Once upon a time college football was a quaint amateur exercise in school pride, but it has become a monstrous professional exercise in raising and spending money -- an epic transformation for a sport that started with humble roots at small stadiums with coaches being paid peanuts. If not less.
John Heisman, whose last name you may recognize, coached Auburn for five years and then coached Clemson for four years -- and grand total for those nine years he earned zero dollars, because coaches weren't paid at the turn of the 20th century. To pay his bills he worked as an actor in the offseason. He enjoyed Shakespeare. Really.
Now coaches earn several million a year, and they earn it because the football program can afford it. Texas A&M soon will renovate Kyle Field for an anticipated $450 million, but with a lot of help from Johnny Manziel the school has raised $740 million in the last year -- with $250 million given by fans wanting their donation to help pay for Kyle Field.
The money in this sport is obscene, but we allow it -- we subsidize it -- because we enjoy college football. But this sport isn't remotely close to what it used to be.
Now then, consider your opinion on paying players. Is that still what it used to be?
Why?
The video game takeover continues

What to know to catch a top-10 water polo matchup on Saturday

Everything you need to know to tune in for this week's critical Big East showdown
Everything you need to know to tune into this weekend's action

Justin Gallegos has a goal to finish a half marathon in under two hours, and Nike wants to...

Jody Demling cashed his trifecta and superfecta at the Pennsylvania Derby