More NBA: Staff picks for awards | Berger award votes
It's an honor just to be nominated.
There hasn't been much drama regarding the MVP of the 2015-16 season. Back at the halfway point of the season, it seemed like Kawhi Leonard and the San Antonio Spurs had closed the gap enough on Stephen Curry and the Golden State Warriors to make it a conversation, at least. Other than that brief moment of the season, Curry has run away with the award's top consideration as he leaves his mark on the league this year.
After the first quarter of the season and the third quarter of the season, Curry had such a sizeable lead on all consideration for the award, it seemed like being the MVP runner-up was a real honor. Last season when Curry won his first MVP and the first for the Warriors franchise since Wilt Chamberlain won it for the Philadelphia Warriors in 1960, there was often a spirited debate between giving Steph the award and giving James Harden the award for how he was keeping the Houston Rockets near the top of the West.
That's not the case anymore. Coming in second isn't a disappointment but a great honor.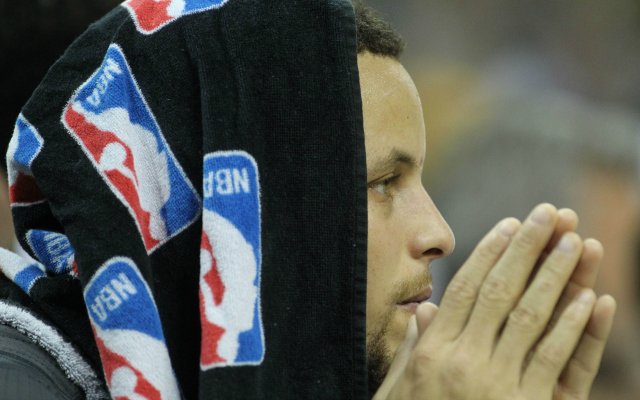 The crazy part about all of this is we have several players having historic seasons in their own right, and yet none of those players will even leave a dent when it comes to the race for MVP. That's how far out in front Curry is. That doesn't mean we can't be extremely selective and critical in how we round out this list. We've limited it to six players vying for runner-up MVP. 
Paul George of the Indiana Pacers is no longer in consideration for runner-up after struggling with his accuracy since early December. Kyle Lowry is having a very nice season for the 2-seed Toronto Raptors, but it's not quite enough to crack this list. Chris Paul's been very good in keeping the Los Angeles Clippers as a top 4 team in the West, but again we're being hyper critical in how we round out this list. 
Here are the six runner-ups for the MVP award as we informally concede the award ending up in Curry's hands again.
(The net rating shown in the stats below is the difference between their on-court team net rating and their off-court team net rating.)
6. Damian Lillard, Portland Trail Blazers
Damian Lillard 2015-16 Stats
PPG
RPG
APG
FG%
3FG%
TS%
PER
WS/48
RAPM
Net Rtg
25.1
4.0
6.9
41.9%
37.5%
56.0%
22.1
.163
1.58
+1.1
Previous rankings: N/R (first quarter), N/R (halfway point), 4th (third quarter)

Damian Lillard finally jumped into consideration in the three-quarter season update on the runner-up MVP rankings because the job he was doing leading this hot Portland Trail Blazers team was remarkable. They had won 16 of their previous 19 games and Lillard was a human flamethrower during that run. He had them headed toward the 5-seed in the West, despite many prognostications in the preseason that this could be one of the worst teams in the West as they attempted a quick rebuild/retool.
Since then, Lillard and the Blazers have cooled off a bit. They've gone 13-11, which is still good, and they're headed to securing that 5-seed, but that's mostly due to the cavalcade of injuries for the Memphis Grizzlies. During this 24-game stretch, Lillard isn't shooting all that well from the field, connecting on just 40.1 percent of his shots. But his 3-point shooting is up (38.2 percent) and he's averaging 25 points and 6.1 assists.
He's one of four players in the league this season averaging 25-6-4 with a true shooting percentage of 56 percent (LeBron James, Steph Curry, and James Harden are the others). The biggest concern with Lillard is his team isn't as effective over the last month and a half with him on the floor than at the three-quarter mark of the season. The advanced stats are down across the board, but he's done so much to help this team achieve beyond what most assumed was possible that he's still on this list.

5. Russell Westbrook, Oklahoma City Thunder
Russell Westbrook 2015-16 Stats
PPG
RPG
APG
FG%
3FG%
TS%
PER
WS/48
RAPM
Net Rtg
23.6
7.8
10.4
45.5%
30.1%
55.5%
27.6
.245
7.91
+12.9
Previous rankings: 5th (first quarter), 6th (halfway point), 5th (third quarter)

Is it crazy not to have Russell Westbrook higher on this list?
Since the NBA/ABA merger, the most triple-doubles in a season is 18, and Westbrook is tied for that record with Magic Johnson, who achieved that feat in 1981-82. Westbrook is averaging 23.6 points, 10.4 assists and 7.8 rebounds. Those are insane numbers. When you adjust for pace, Westbrook's stats actually stretch out much better than Oscar Robertson's stats in his season of averaging a triple-double. He's literally putting up numbers that only Robertson has ever averaged over the course of a season. The Big O put up 23-10-7.5 four different times in his career. Westbrook will be the only other player to do it in a few days' time.
So what's keeping him from being higher on this list than fifth? The post All-Star break stretch for Westbrook has been entirely confusing. The team is a minus-10.4 points per 100 possessions with him on the floor in fourth quarters during this time. He's shooting 34.1 percent from the field in the fourth quarter since the ASB and so much of a lack of confidence in this team contending is how they play in fourth quarters right now. Westbrook takes a lot of those shots and when they're not going in, it knocks down his value just enough.
It's nit-picking, but you have to nit-pick to figure out the order of this list. Historic season and we shouldn't kill him too much for the failures, but they'll have to correct their team-wide miscues in these tight situations. A lot of that comes from him playing better.

4. Draymond Green, Golden State Warriors
Draymond Green 2015-16 Stats
PPG
RPG
APG
FG%
3FG%
TS%
PER
WS/48
RAPM
Net Rtg
14.0
9.5
7.4
49.0%
38.6%
58.6%
19.3
.191
8.27
+26.0
Previous rankings: 6th (first quarter), 5th (halfway point). 6th (third quarter)

Draymond Green won't be able to match Westbrook's triple-double numbers this season, but he does have 13 of his own this season, which is the second most in the NBA. Much like Westbrook's season averages, Green's numbers jump off the historic page. In the history of the NBA, we've seen four players (eight times overall) average at least 14 points, 9.5 rebounds, and seven assists. Wilt Chamberlain did it twice. Oscar Robertson did it four times. Magic Johnson did it once. Now Draymond will get to add his name to the list.
Green will also be the first player to do this while also being a 3-point threat (no offense to Magic's 6-of-29 shooting from deep in 1981-82). For much of this season, he was shooting over 40 percent of the season. However, connecting on just 32.6 percent of his 3-pointers since the All-Star break now has him at 38.6 percent. It's still above league average by a couple percentage points, but we like those big round numbers like 40 percent from deep.
The reason Draymond makes it over Westbrook for the final tally is you factor in the defense. Green may end up winning Defensive Player of the Year. At worst, he'll finish second to Kawhi Leonard again. His defense is a huge catalyst for everything the Warriors have done in their historic season. When you subtract his off-court net rating from his on-court net rating, the Warriors are a difference of a plus-26.1 points per 100 possessions with him on the court. That's higher than anybody else on this list.

3. Kevin Durant, Oklahoma City Thunder
Kevin Durant 2015-16 Stats
PPG
RPG
APG
FG%
3FG%
TS%
PER
WS/48
RAPM
Net Rtg
28.1
8.2
5.0
50.4%
38.4%
63.2%
28.0
.265
6.42
+12.3
Previous rankings: 4th (first quarter), 4th (halfway point), 3rd (third quarter)

Why did Kevin Durant get to be higher on this list than Russ when the team has gone through those same problems with KD on the floor too? To be fair to Russ, Durant's net rating (minus-12.5 per 100) is worse in fourth quarters since the All-Star break than Westbrook, but KD gets to be two spots higher because I'm less convinced it's his fault than Russ's fault. While Westbrook has struggled to hit shots in those fourth quarters, Durant is shooting 48.2 percent from the field and 38.3 percent from deep.
As for the entire season as a whole, what Durant is doing is just stupid good. He's doing something that's only been done 14 times and hasn't been done since 1988-89. Here's the list of players who have averaged 28 points, eight rebounds, and five assists in a season: Oscar Robertson (five times), Larry Bird (three times), Wilt Chamberlain (twice), Elgin Baylor, John Havlicek and Michael Jordan. Durant is a couple games away from officially joining the list. Here's the kicker: he has the highest true shooting percentage on that list.
For the third time in his career, he'll finish the season with 28 points per game and a true shooting of at least 63 percent. Adrian Dantley has done it three times. Charles Barkley did it once. Steph Curry is about to officially join that list. If Curry didn't exist, we'd be talking about Durant having one of the best seasons ever.

2. LeBron James, Cleveland Cavaliers
LeBron James 2015-16 Stats
PPG
RPG
APG
FG%
3FG%
TS%
PER
WS/48
RAPM
Net Rtg
25.1
7.5
6.8
51.7%
30.2%
58.4%
27.3
.238
8.27
+16.5
Previous rankings: 2nd (first quarter), 3rd (halfway point), 1st (third quarter)

At the three-quarter point in the season, LeBron James was my choice for the MVP runner-up. I felt like his defense was being overlooked and his numbers were pretty similar to his incredible runs with the Miami Heat. It's important to recognize how good LeBron has been this season, even when we've become numb to how great he is and how normal his numbers look to us at this point in his career. And since the All-Star break, LeBron has really turned up his accuracy in scoring.
For much of the season, LeBron's jumper has been Big Foot. People swear it exists but we can't really find any true evidence of it. However, since the break, LeBron has been shooting the lights out (especially when compared to the rest of his season). He's putting up averages of 25.5 points, 8.1 rebounds and 7.3 assists while making 54.7 percent of his shots and 36.1 percent of his 3-pointers. It's been enough to get his 3-point percentage above 30 percent on the season, which looked to be impossible for a couple of months.
The tricky thing with judging LeBron and his MVP runner-up worthiness is judging the Cavaliers as a team. We're supposed to feel like they're building toward being a championship contender because they're that good and not by default of a relatively easy path to the Finals through the East. They're 18-10 since the All-Star break, which is good, but nothing feels consistent and building with them right now. Because of that, they'll finish with one of the best records in the NBA, and they're dominant with LeBron on the court, a losing team without him on the floor.
It's hard to knock him for the season he's had but team success does matter in these things.

1. Kawhi Leonard, San Antonio Spurs
Kawhi Leonard 2015-16 Stats
PPG
RPG
APG
FG%
3FG%
TS%
PER
WS/48
RAPM
Net Rtg
21.1
6.9
2.5
50.6%
44.8%
62.1%
26.1
.279
8.58
+6.3
Previous rankings: 3rd (first quarter), 2nd (halfway point), 2nd (third quarter)

The reason that team success matters is it adds a level of pressure to the success of the individual players shining. The Cavaliers haven't been really pushed by anybody this season. The Toronto Raptors have been close for parts of the season, but the East has always been the Cavs' conference to lose. On the flip side of that, the San Antonio Spurs have been chasing and pushing the Golden State Warriors all season long. They've been so good that it wasn't until the Warriors won their 70th game (against the Spurs) that they clinched home-court advantage in the playoffs. That's absurd.
The galvanizing player for the Spurs all season has been Kawhi Leonard. Whatever the Spurs have needed him to add over his career, he's managed to do. He needed a jump shot; he developed a jump shot. They needed him to become a better attacker off the dribble; he became a better attacker off the dribble. They needed him to become a playmaker; he became a playmaker. They needed him to become an elite 3-point shooter; he became an elite 3-point shooter. Most of all, the Spurs needed Leonard to become one of the best players in the world and he's done that.
He might be the Defensive Player of the Year, or like Draymond Green he'll finish second at worst in the voting. He's currently just behind Curry for second in 3-point percentage at 44.8 percent. He's got a chance to be just the third player (Steph Curry twice and Dana Barros once) to get 120 steals, 120 3-pointers and shoot 45 percent from deep in the season. I don't know if that stat even means anything, but it just sounds like a weird level of production. His incredible play has pushed the Spurs to their best record in franchise history and they'll become just the 19th team in NBA history to win at least 65 games in a season.
He's the runner-up to the MVP and he's been the best two-way player in basketball this season.
Curry will end up winning his second straight MVP award, becoming just the 12th occurrence in NBA history in which someone wins back-to-back MVP awards. But this may be the most celebrated or at least impressive second-place finish in decades. Kawhi Leonard deserves that to be an honor as much as Curry deserves the real award.
More NBA: Staff picks for awards | Berger award votes