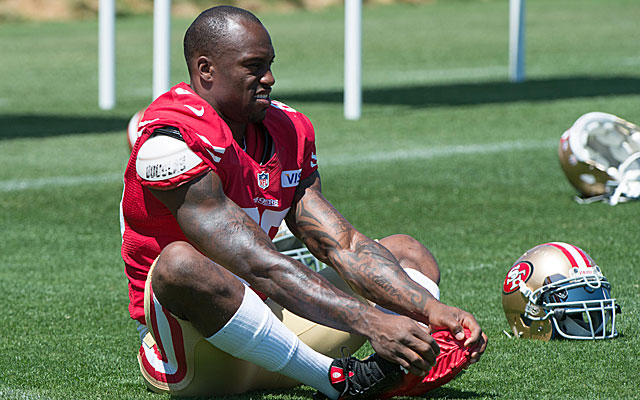 More NFL: Photos |   Videos & GIFs |  Stories | Training Camps | Manziel watch 
Every year when the beginning of training camp approaches, a few players are considered potential holdouts primarily because of unhappiness with their contracts. I was involved in two lengthy holdouts in my agent days with Jimmy Smith and Keenan McCardell. Smith held out for 38 days in 2002 before signing a new contract at the end of the preseason. McCardell's dispute with the Tampa Bay Buccaneers in 2004 lasted 82 days, which resulted in him being dealt to the San Diego Chargers right before the trading deadline.
Alex Boone, Vernon Davis, Justin Houston and Andre Johnson missed mandatory minicamp with their respective teams last month, leading to speculation that their absences could extend into training camp. A holdout should really be a last resort after all other options for a resolution have been exhausted.
Penalties
Teams prefer players to attend the offseason workout program, organized team activities and mandatory minicamp but usually aren't too concerned when they are missed. Skipping these activities isn't without consequences. Players who don't attend the three-day mandatory minicamp are subject to a $69,455 fine under the NFL Collective Bargaining Agreement (CBA).
Missing some or all of these activities can also have contractual ramifications. For instance, Davis lost a $200,000 workout bonus by not participating in the 49ers' offseason conditioning program. Johnson forfeited a $1 million first game of the regular-season roster bonus because of his absence from offseason activities. In order to earn the $1 million roster bonus, he was required to complete 90 percent of the workouts in the Texans' offseason workout program, report on time and fully participate in all of their organized team activities, mandatory minicamp and training camp. Johnson's contract expressly states that he can't earn the bonus if he fails to satisfy any of the conditions.
The penalties under the CBA are much more severe in training camp, which are an effective deterrent for most players. A team can fine a player a maximum of $30,000 for each day of training camp he misses. A player who signed his contract as an unrestricted free agent can be fined one week's base salary (1/17 of salary) for each preseason game missed in addition to the $30,000 per day. A year of service toward free agency isn't earned without a player reporting to his team at least 30 days prior to NFL's first regular season game (Aug. 5 reporting date this year).
A team can also recover a portion of a player's signing bonus. Fifteen percent of the prorated amount of signing bonus can be recouped on the sixth day of a training camp holdout. It's one percent for each additional missed day with a maximum of 25 percent of the prorated amount during training camp. An additional 25 percent can be recovered with the first missed regular season game. After four missed weeks, a team can recover 1/17 of the prorated amount for each additional week of the player's absence. The maximum a team can recover in a season is the entire prorated amount of the player's signing bonus in that contract year.
These penalties don't apply to unsigned draft picks, and players with restricted free agent, franchise or transition tenders who aren't under contract who miss training camp. Their attendance isn't required because of the absence of a signed contract, which essentially creates two categories of holdouts. Players under contract are withholding services they are contractually obligated to perform while these players have no such obligation.
Leverage
Players need to objectively assess their leverage and understand the risks and potential ramifications before deciding to hold out. When we had a client contemplating a holdout, we would arrange conversations between him and other clients we had who considered holding out or been through one and recommend that he speak with another NFL player he knew well who had been faced with the same decision. We would attempt to gauge the client's level of commitment beforehand by detailing the worst-case scenarios with his potential holdout because some players don't have the attitude or mind-set for a lengthy holdout. The client would be given his team's history with holdouts. We would also provide him a league wide analysis of holdouts over the previous five years and the success rate.
Vernon Davis: Davis reported to the 49ers' training camp but still wants a new contract. Changing his mind about holding out isn't a viable option. If Davis leaves training camp, the 49ers can send him a letter warning him that he can be put on the reserve/left squad list if he doesn't return within five days which would prevent him from playing for the rest of the season. The 49ers sent Kentwan Balmer a five day when he went AWOL from training camp in 2010 before trading him to the Seattle Seahawks. Davis stating that it wouldn't be the end of the world if he didn't get a new deal suggests that didn't have the right demeanor for a lengthy holdout.
Justin Houston: Houston reported to the Kansas City Chiefs' training camp even though missed Kansas City's offseason activities and isn't happy with his $1.406 million base salary. As a 2011 draft pick in the final year of his four-year rookie contract, Houston lacked leverage because it's important that he earn a year of service toward free agency. Missing the Aug. 5 deadline and playing out his rookie deal would have made Houston a restricted free agent in 2015. The Chiefs would have likely given him a restricted free agent tender where they would get a first-round pick, which should be between $3.27 million and $3.42 million next year, from a team signing him to an offer sheet that they don't match. Getting the year of service isn't a consideration with holdouts with four or more years of service. They already have enough service time to qualify for unrestricted free agency.
Andre Johnson: Johnson undercut any leverage he may have had to force a trade, get his $10.5 million 2015 base salary guaranteed or have an opportunity to earn back the $1 million bonus he forfeited, which have been mentioned as suitable outcomes for him, because of the contract restructures he did in 2011, 2012 and 2013.
Johnson converted $18.5 million of base salary into signing bonus to create salary cap room for the Texans during the three different restructures. Because Johnson didn't have the language allowing the team to recover the signing bonus removed from his restructured contracts or limit recovery to the particular year in which the restructure took place, the Texans have rights to money they wouldn't have otherwise. The CBA prevents teams from recovering base salary after it has been paid. Additionally, signing bonus language from a player's previous contract(s) with a team is typically incorporated into the contract covering the restructure.
The language in Johnson's 2013 contract restructure allows the Texans to recover a maximum of $4,444,583 from him in a holdout this year when it would have only been $469,583 (the prorated amount of signing bonus in 2014 from his 2010 renegotiation) if Johnson hadn't restructured the contract or gotten the more favorable signing bonus language. The Texans can recover $666,687 of signing bonus from Johnson with a six-day training camp holdout when it would have been $70,437 instead. Johnson is risking $1,111,145 of signing bonus if he misses all of training camp when it should have been $117,395 with the better language.
The team-friendly language also effectively removes retirement as an option for Johnson in forcing a trade as Carson Palmer did in 2011 with the Cincinnati Bengals. Players aren't subject to the daily fines for missing training camp with retirement but signing bonus recovery is more onerous on the player. A team can demand repayment of the signing bonus proration from the current contract year and the remaining years of the deal upon the retirement. Johnson's contract runs through 2016. If the player doesn't repay this money, the team can seek an award through arbitration. The Texans could demand $11,364,168 from Johnson if he retired when it should have only been $939,168. Additionally, Johnson would be foregoing his scheduled $10 million base salary for this year by retiring. Palmer didn't have to worry about signing bonus recovery because the proration with his 2005 contract extension ended in 2010.
Johnson's agent and the Texans have had dialogue recently. There are conflicting reports on whether the open lines of communication mean Johnson will report to training camp on Friday.
Holdout dynamics
A holdout is ultimately a test of both sides' resolve. Once a player misses the beginning of training camp, there usually isn't much dialogue with the agent and team early on when there is a contract impasse. If meaningful dialogue on a new contract resumes, it may not be until the middle of the preseason.
Savvy teams will refrain from talking to the media about the player besides an obligatory response to questions at the beginning of training camp about being unwilling to publicly comment on a player who isn't there or that the player's contributions are valued and welcome him returning to the team so that he can honor his contract. A high-ranking front office team executive once told me that since holdouts usually are more personal to players, a team should never publicly embarrass or humiliate a player during the process no matter how illogical his position may seem to them because they'll have to deal with the fallout once he returns to the team if he doesn't get a new contract.
Team comments can also give the agent or player an opening to start negotiating the contract in the media by making their position seem more equitable than the team's in an attempt to put public pressure on the team to give into their demands. In most cases, fans don't take a player's side in a contract dispute with a team. The public doesn't relate to a player being unhappy with what is a lucrative contract in their eyes or rejecting a substantial offer. Unusual circumstances are required for public sentiment to be with the player.
A major obstacle a player must overcome is a team's concern about establishing a precedent of giving into a player's demands for a new contract through a holdout. Although teams should be able to easily make distinctions based on each player's particular circumstances, they don't want to send a signal to the other team members that they could get rewarded by holding the team hostage. This is especially the case when there is a new owner, general manager or head coach with a hands-off owner.
Along those lines, some teams have a philosophy that they won't have discussions about a new contract with a player while he is a holdout. The team probably isn't going to disclose to a player or his agent trade inquiries or offers especially if it isn't inclined to trade the player. Other teams will take it step further by sending a message to holdouts by rewarding players that attend team activities. The Pittsburgh Steelers did this in 2012 by giving Antonio Brown a new deal while Mike Wallace held out. The San Francisco 49ers are the latest example with their re-working of Joe Staley's contract with four years remaining instead of Boone or Davis, who both have two years left on their deals.
In holdouts where the team takes a hard-line stance, it isn't uncommon for the player to eventually ask for trade. The team isn't necessarily forthcoming with a player on potential trades in these situations especially if it isn't inclined to trade the player. The agent should ask the team for permission to shop his client to other teams so he isn't relying on word of the team in assessing his client's potential trade market. A team may not give such permission but some teams won't be willing to have trade discussions with an agent out of fear of having tampering charges filed against them. Some teams view granting a trade as similar to giving the player a new contract where they are setting a precedent by rewarding negative behavior.
Holdout success/failure
A majority of holdouts don't result in the player receiving a new contract. Prominent players at impact positions have the best chance of success provided they remain patient and give the impression that they are willing to continue their absence into the regular season. The longer a holdout drags on, the more of a distraction it can become with coaches and teammates being constantly asked about it by the media before and after games and practices. It also helps to be on playoff contenders/teams with Super Bowl aspirations or teams where the coach or general manager is on the hot seat. A coach in this position may start putting pressure on his team's general manager and/or owner to do whatever it takes to get the player back into the fold as the regular season approaches. Smith's holdout was aided by Jacksonville's first team offense struggling to move the football without him (16 punts in 17 offensive possessions).
Boone didn't report for the start of the 49ers' training camp as expected. His is an interesting case. He has developed into a Pro Bowl caliber offensive guard, which isn't a premium position, after signing a four-year, $6.54 million contract extension (worth a maximum of $9.69 million through salary escalators and incentives) toward the end of the 2011 season when he was a seldom used backup tackle. As a reference point, the average salary for starting offensive guard in 2013 was $3.1 million. Boone has hired Neil Schwartz and Jonathan Feinsod to represent him, agents who have been in lengthy holdouts with clients Darrelle Revis and Vincent Jackson. The last time the 49ers had a bitter contract dispute was in 2009 with Michael Crabtree's rookie deal. The 49ers held firm before signing a team friendly deal to end his 71-day holdout.
Once a player decides to end his holdout, some teams will reduce the fines accumulated as a gesture of goodwill, especially with a player who is one of the most important players on the team or a veteran that commands a lot of respect among his teammates. Occasionally, the team will decide that a trade is in the best interest of all parties if too much damage to the relationship between the team and player was done during the holdout.
The last successful holdout was in 2011 by Chris Johnson when he got a four-year, $53.975 million contract extension from the Tennessee Titans after a 35-day absence. It remains to be seen whether Boone or potentially Johnson will get a favorable outcome by holding out.
---
Joel Corry is a former sports agent who helped found Premier Sports & Entertainment, a sports management firm that represents professional athletes and coaches. Before his tenure at Premier, Joel worked for Management Plus Enterprises, which represented Shaquille O'Neal, Hakeem Olajuwon and Ronnie Lott.
You can follow him on Twitter: @corryjoel
You can email him at jccorry@gmail.com