If and when the Philadelphia Phillies get around to trading left-hander Cole Hamels, he says it will be after giving due consideration to whatever scenarios team executives came to him with. Hamels has a widely reported no-trade clause in his contract for 20 teams, but he says that's misleading. He'll consider a trade to any team, including two -- the Astros and the Blue Jays -- which reportedly he blocked.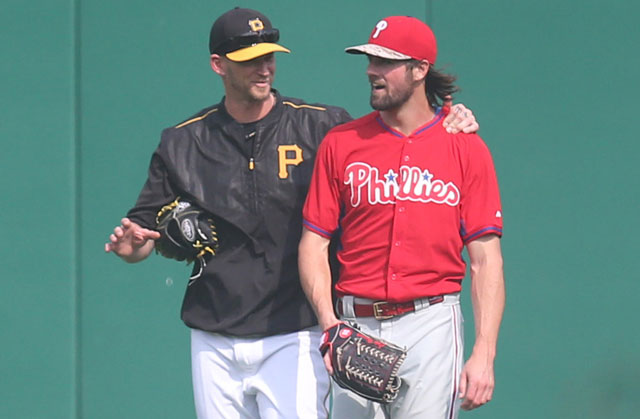 It's not true, Hamels says. In fact, he told Jim Salisbury of CSN Philly that any trade to any team is still in play:
"I have not been approached," he said. "When I'm approached, then I can make a decision and provide an answer about a team.

"But I'm open-minded on everybody and everything."

Even Toronto and Houston?

"Yes," he said. "I've always been open-minded. I will think about everything."

Hamels doesn't deny that Toronto and Houston are on his no-trade list. It's nothing personal.

"I had to make a list back in October," he said. "I came up with a criteria based on a lot of things -- winning and losing, family. It was only nine teams. Those teams were in the middle of the pack."
Hamels says he's never said "no" to a Blue Jays trade and, as for the Astros, "Who knew?" they'd be leading the AL West as the Fourth of July holiday approached. In addition to the so-called "no's," Hamels also has assented to a deal to nine teams. Sources of Salisbury say those teams are the Yankees and Rangers in the AL, along with seven more in the NL: Nationals, Cardinals, Braves, Padres, Dodgers, Cubs and Mets.
One of the hold-ups to action on Hamels might be the expected changes coming in the Phillies front office. Andy MacPhail reportedly will be hired to run baseball operations at any moment, so it figures he'll have a say as to where, and even if, Hamels gets moved. Hamels entered this season with four years and $96 million left on his contract, which could escalate to $100 million if an option for 2019 kicks in. It's a lot of money, but certainly not prohibitively expensive for an ace in this day and age. The Phillies might trade him -- but they don't have to.
As our Dayn Perry notes, Hamels has been consistently good -- at a remarkable level.
However, with a reasonable contract that ensures cost-certainty for one of the best pitchers in the league, it makes Hamels enticing for many teams, and it gives the Phillies an opportunity to rebuild with prospects. If they get the right prospects. Teams don't, always.