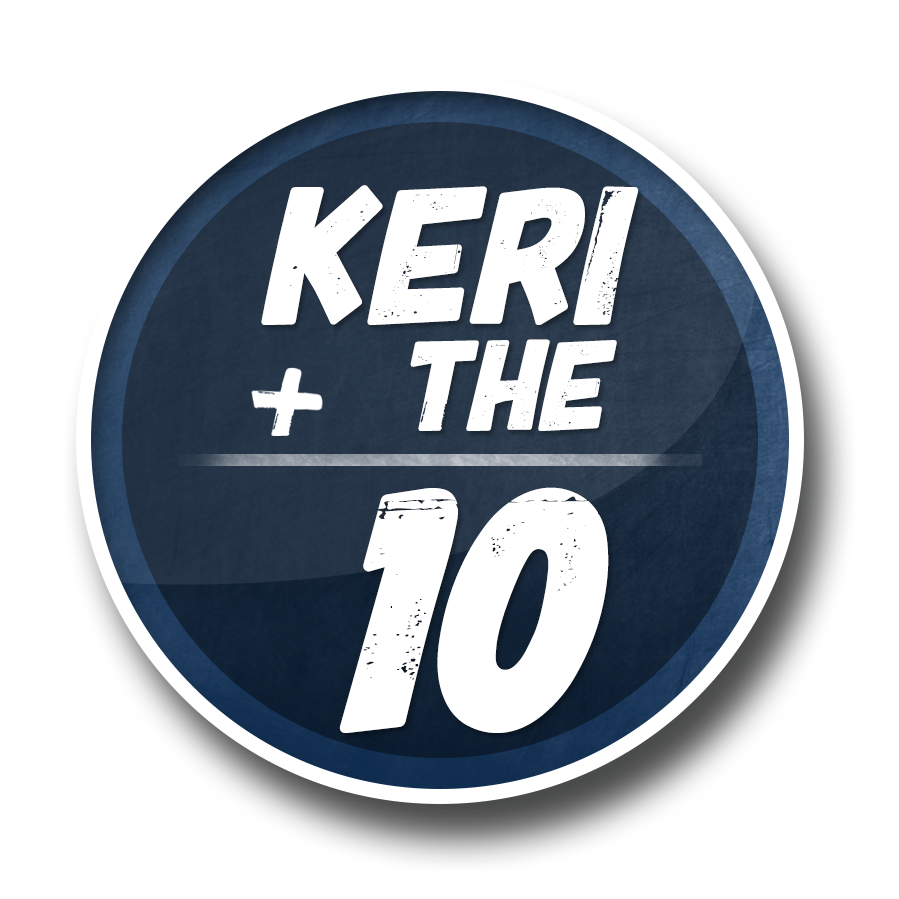 Welcome to this week's edition of Keri The 10! As always, we'll go around the majors with 10 stories that caught our eye from the past seven days. There will be numbers, and occasionally, memes. As always, we will have fun.
1. The Royals could run the trade deadline
Kansas City's incredible back-to-back AL pennant run of 2014-15 might soon be over. Even after a five-game winning streak, the Royals are still tied for third place in the AL Central, three games under .500, with seven teams standing between them and the second wild-card spot. Meanwhile, five key players become eligible for free agency at the end of this season: Eric Hosmer, Lorenzo Cain, Alcides Escobar, Mike Moustakas and Jason Vargas.
If the Royals keep mashing as they suddenly have this week, things could get interesting in the AL Central. But if they revert back to early-season levels, this confluence of circumstances means that the Royals, more than any other team, will hold sway over this year's trade deadline.
Hosmer's case is a puzzler. The youngest of the quintet at 27 years old, he also carries a star's reputation that's not matched by his numbers. Forget stardom -- by Wins Above Replacement, he has only been a better-than-average major leaguer once since 2014. Even with a sexy .315 batting average this year, Hosmer's .364 on-base percentage and .468 slugging average make him merely the 12th-most productive hitter among the 25 MLB first basemen who qualify for a batting title, with afterthought players like Logan Morrison and Mitch Moreland among those who've outperformed him. And that's even after a massive hot streak that has propped up his stats.
The oldest position player of the group, Cain typifies the career path of a late bloomer, waiting until age 24 to crack the big leagues, enjoying his best season at 29 (the Royals' World Series-winning 2015 campaign), and now toiling as a good player who at 31 is probably a bit past his prime. As a do-it-all center fielder, he could help many different playoff contenders as a midseason acquisition, but any team that signs him to a long-term deal after this season would have to swallow the decline phase of his career.
Ned Yost's obsession with running out Escobar in the leadoff spot reached comical proportions this season, as Escobar's light hitting turned into pitcher levels of offense. Escobar has been the worst hitter among any everyday player in the majors (by a mile), though at least he now bats near the bottom of KC's lineup. He could still be a useful backup infielder for a contender looking to fortify its bench, though, given his combination of excellent defense and impressive speed.
The two most intriguing cases might be Moustakas and Vargas. After six season racked by lousy results (his only full season in which he posted better-than-average numbers as an everyday player was 2015) plus the injuries that cost him all but 27 games in 2016, Moustakas has fully embraced the "hit flyballs and pull them if possible" revolution sweeping through baseball, smashing 18 homers and leaving him just four shy of his career high through just 59 games played. Moustakas remains a free swinger who hurts his team by making too many outs. But even at a time when players like Yonder Alonso and Brett Gardner are hitting bombs, Moustakas' 45-homer pace is hard to ignore. Depending on how quickly they promote top prospect Rafael Devers, the third base-needy Red Sox could be the perfect suitor for Moustakas' services.
Vargas, more than perhaps any other player on this summer's trade market, will test baseball's "what have you done for me lately" theory. A 34-year-old soft-tosser who broke into the majors way back in 2005 and never did much to impress anyone, Vargas is suddenly putting up dominating numbers after Tommy John surgery -- only Dallas Keuchel has flashed a lower ERA than Vargas' microscopic 2.10. Thing is, every indicator imaginable suggests this is a fluke: his tiny 5.9 percent home run-per-flyball rate, his bloated 30.1 percent hard-contact rate and 45.2 percent pull rate, and his 86 percent strand rate (third highest in the American League, a bad sign for a stat that's driven largely by luck and thus subject to harsh regression) chief among them. There's plenty of value in a pitcher who eats innings and rarely walks anyone, so Vargas will still fetch plenty of attention. The Royals, trying to figure out who the leaders of the next great run in Kansas City might be, will be highly motivated to sell high.
The Astros could be first in line on Vargas, and other available pitchers. Injuries to staff co-aces Dallas Keuchel and Lance McCullers have placed additional strain on a talented but suddenly overworked bullpen that's getting overextended due to a current lack of healthy and reliable starters. Both top starters could be back off the disabled list by next week, which would mitigate the current risk of taxing the staff.
Still, even with Keuchel and McCullers due back soon, and fellow starters Charlie Morton and Collin McHugh candidates to return in the next couple weeks, it would be surprising if the Astros didn't go shopping for an arm. McCullers is an all-world talent who has also dealt with numerous injuries in his young career, and Houston's management will surely want to keep his arm fresh for October. The Astros could also get a lot more mileage out of Brad Peacock in the bullpen than they have in their rotation. A strikeout machine with wicked stuff (58 strikeouts and one homer allowed in 39 innings), Peacock's high-strikeout, high-walk results make him an iffy candidate to get through even five innings on any given night, let alone six, seven or more. Add to that the lingering injury concerns that could dog the notoriously wobbly Morton, and McHugh's next pitch off a big-league mound being his first of 2017, and a mid-rotation starter would make all kinds of sense.
With the Astros owning the best record in baseball, threatening to make good on that Sports Illustrated prophecy and boasting several impact deals in the recent past, anything less than some serious July aggression would be a surprise.
3. Ben Gamel, Hatless Wonder
Put this in the Louvre.
4. Baseball Photo of the Week
Wait, no. This belongs in the Louvre:
When a young burner like Billy Hamilton gets on base, everyone goes on high alert. When a loping 36-year-old like Jose Bautista does, it's easy to let your guard down.
That's what happened Saturday against the Mariners. After drawing a walk, Bautista trotted down to first. When he saw both the pitcher Tony Zych and second baseman Robinson Cano completely ignoring him, he seized the day, sprinting to second to collect a two-base base-on-balls.
Little League plays are the best plays.
6. Welcome back, JBJ
A defensive stalwart from his first day in pro ball, Jackie Bradley Jr. broke through with the bat last season, smashing 26 homers and establishing himself as one of the best all-around outfielders in the league. But at the start of this season, he suddenly turned into a pumpkin. In his first 22 games this season, Bradley hit a horrific .182/.238/.299. Whether that run was due to an April knee injury that knocked him out of the lineup for two weeks or some other reason, no number of diving catches was going to make up for that awful run.
He has been a completely different player since then. In his past 27 games, Bradley is hitting a robust .315/.438/.587. Related: The Red Sox went 19-18 during Bradley's early-season swoon (including his DL stint). Since then? An 18-11 mark that has pushed them to the third-best record in the American League. If the Sox hope to make good on the lofty preseason predictions swirling around them, getting Bradley back to five-tool form would be a big step in that direction.
7. The Stars of 2032, Today
I for one welcome our future Hanley Jr. and Papi Jr. overlords.
Three kids playing ball outside the park while the game is going on - Hanley Ramires's sons pitching and catching, David Ortiz's son at bat pic.twitter.com/FEW054cxRS

— Jen McCaffrey (@jcmccaffrey) June 10, 2017
8. Woerioles
Remember when Chris Tillman was an All-Star? Seems like 800 years ago, at this point.
Baltimore's erstwhile ace owns the worst ERA in the majors for anyone with as many innings pitched, flashing an incomprehensibly awful mark of 8.01. Sure, Tillman might simply be struggling to find his groove after missing the first month of the season with a shoulder injury. But whether his problems are related to lingering pain, rust or something else, the O's can't keep going this way. Tillman's most recent start in particular was one of the worst by any pitcher this year: a nine-run disaster against the Yankees in which the big right-hander got just four batters out before hitting the showers.
Led by Tillman's struggles, Orioles starters rank last in the American League in both ERA and Fielding Independent Pitching. After Dylan Bundy and Wade Miley, things have been especially ugly: Of the three other starters currently toiling in Baltimore's rotation, Kevin Gausman's 6.49 ERA is somehow the best of the rest.
Given those results, it's no surprise that Baltimore's season has gone in the opposite direction of Boston's: The O's started the season 22-10, briefly climbing into first place in the AL East. Since then they've gone 10-23, riding the worst record in the American League over that span all the way down to a tie for last place.
It has been a weird season for the Cardinals. Injuries and deep slumps have plagued a lineup that was expected to rank among baseball's best. Instead of contending for a playoff spot as many expected, the Cards instead sit at 30-35, just a game out of last place in the muddled NL Central.
Luckily, they have Carlos Martinez. The 25-year-old ace, who signed a five-year, $51 million extension over the winter, has made that deal look great for St. Louis. Martinez ranks among the league leaders in ERA (2.95), strikeout rate (28.1 percent), innings pitched per start (better than 6 2/3) and several other statistical categories. For a closer look at how he has excelled this season, let's check in with our pal Nick Pollack, the excellent analyst from PitcherList.com.   
There aren't many differences that distinguish Carlos Martinez's 2017 season from his previous iterations. The drop in batting average could be explained by his low .252 BABIP this season, while it's fathomable that minor improvements during his growth as a pitcher have created slightly better outcomes in both walks and runs crossing the plate. However, his increased strikeout numbers are no fluke and there are a few clear changes in approach and ability.

First is his four-seamer. In 2016, Martinez was striking out batters with the pitch at an 18.9 percent mark, with a 6.9 percent whiff rate. There's nothing startling here. However, this season Martinez has barely increased his whiff rate on the pitch -- 7.2 percent -- but its strikeout rate has skyrocketed to 28.1 percent. Martinez is using his four-seamer differently this season and it's to put away batters with two strikes.

Take this week's brilliant complete-game shutout against the Phillies as an example. In the ninth inning, Martinez quickly got ahead of Howie Kendrick 0-2. Martinez had plenty of gas left in the tank as he reared back and elevated his heater to triple digits giving Kendrick a pitch he just couldn't resist:

And here he is spotting the pitch beautifully on the outside corner to Derek Dietrich at 99 mph in an earlier game against the Marlins:
Martinez is also smiting opponents with his slider. More from Pollack:
First is a back-foot slider from his June 10 start that was thrown with the full intention of falling off the plate and under Andres Blanco's hands:

Next is a slider to Gerardo Parra that curled back over the plate at the last moment to steal a strikeout:

Martinez is using both sides of the plate with his slider to make left-handers uncomfortable in the batter's box. That's helped raised his strikeout rate against left-handers from 7.5 K/9 to a 9.5 clip in 2017.
Finally, here's what happens when Martinez successfully deploys his fastball and slider in the same at-bat to neutralize opposing hitters:
The Cardinals will still need to hit if they hope to claw back into the race. But as long as Martinez keeps dominating with his fastball-slider combination, St. Louis could steal a bunch of 2-1 wins while they wait for those bats to wake up.
10. Burning Question of the Week
Who has been the best under-the-radar, feel-good story of 2017?
--JK
I'm cheating here to ask my own question, because Eric Young Jr.'s success with the Angels has been a heartwarming, out-of-nowhere surprise.
Signed as a minor-league free agent by the Angels in January, Young got pressed into service when injuries felled Mike Trout and other would-be outfield options. The 32-year-old journeyman has responded by absolutely raking, hitting a cool .316/.409/.532 and nudging the Halos through an improbable hot streak in which they've actually hit better as a team without Trout than with him.
But the story goes much deeper than a light-hitting utilityman stringing together a few hits. Two days after Young signed with the Angels, his wife Victoria gave birth to the couple's first child, Eric III. Tragically, the birth came three months too early, and the boy died the next day.
Since then, Eric Jr. has dedicated his biggest moments to his late son ... and given us all a reason to root extra hard for the speedy veteran who's still making his mark in the Show.
Eric Young Jr. threw out Aaron Judge at home. As he ran off the field, Young held up three fingers for his late son, Eric Young III.

— Pedro Moura (@pedromoura) June 15, 2017
Have a question for Jonah? Send him a tweet using #KeriThe10 for a chance to have it answered here.