As I spoke with Carolina general manager Dave Gettleman before his team's third preseason game of the year, under a high summer sun on the sidelines of M&T Bank Stadium, he almost immediately steered our conversation to the man he had replaced. Gettleman, just a few months on the job, had replaced longtime GM Marty Hurney, who was let go during the 2012 season, and before we talked about his first draft class and free agent class, we spent considerable time talking about the roster he inherited.
"This team is not short on talent," Gettleman said. "Marty did a helluva job putting things in place. Just take a look at his first-round picks."
And so it is now, with the Panthers the NFL's hottest team, riding a seven-game win streak after surviving a trap game at Miami Sunday. Thanks to another heroic late-game drive from Cam Newton, it's time to give some credit where it is due. As the schedule turns to December, the Panthers are suddenly the team no one wants to face, and while Gettleman has done a tremendous job filling holes and selecting an expert draft class, it would be foolish not to revisit the many moves Hurney orchestrated to help collect this talent, many of which look quite sage in hindsight.
The decision to hire Ron Rivera, a gentlemanly defensive-minded head coach, and give him time to hone his craft along with a young football team has most certainly been rewarded. Even despite losing some key staff members in recent years, and after having to endure a bevy of heartbreaking losses the past two years as this upstart team jelled, Rivera has blossomed into aggressive, confident, Riverboat Ron, and the players who used to find ways to let games slip away are now outshining more experienced opposition in the fourth quarter. (Keep in mind former Panthers offensive coordinator Rob Chudzinksi has already left to become a head coach and defensive coordinator and Sean McDermott could do the same this offseason -- not a bad staff Hurney helped secure for his rookie head coach, eh?).
The decision to take Cam Newton with the first-overall pick -- just go back and google the things being written and said about the quarterback at the time; it read like something of a smear campaign -- is the greatest gift he could have given this organization. Newton is a true franchise quarterback with an unparalleled skill set who, too, has learned to be more mature and evolve over time into someone who will enter the MVP equation in just his third year in the league.
Back when Hurney made defensive end Charles Johnson the highest-paid player in franchise history, when he was a relative unknown, some scoffed, but Hurney's decision to dig deep and beat Atlanta's offer to Johnson has netted the Panthers one of the elite pass rushers in the game. Oh, and selecting Johnson 83rd overall in 2007 looks fairly brilliant, and taking his pass-rushing partner on the opposite side, Greg Hardy, in the sixth round in 2010 was just as smart.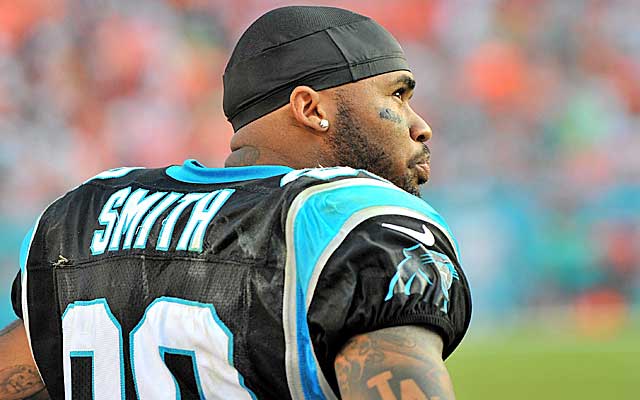 Some chuckled when he agreed to pay running backs DeAngelo Williams and Jonathan Stewart -- who would pay two running backs and sign fullback Mike Tolbert in free agency, in an era when teams throw the ball all over the place? Right? Only that multi-pronged rushing attack has formed the very identity of this offense. Its multiple formations allow Newton to run and throw, opening up play action, and helping incubate the young quarterback. If you want to argue that the price for the runners was a little steep, so be it, but I guarantee you Gettleman ain't complaining right now.
The trade for Greg Olson, a pass catching tight end who wasn't a fit in Chicago, has paid big dividends, and Brandon LaFell is developing into a nice complimentary option for Newton. Oh yeah, and the decision to hold on to an aging Steve Smith, amid all of the calls from teams and the rumors of him possibly being dealt -- Hurney did a service to the organization in maintaining the playmaker for Newton, as well.
Hurney's final first round pick, linebacker Luke Kuechly, is one of the very best in the NFL at what he does, and has set the franchise up for years to come (Hurney was locked in on Kuechly with that pick, with the team considering safety mark Barron -- who went higher via trade -- but never willing to move up or down with Kuechly in their sights. Even the decision to extend injury-prone linebacker Thomas Davis has worked out in the end, with him having an excellent season despite all the surgeries.
During his 10 years in Carolina, besides Kuechly, Newton, Stewart, Davis, Williams and Stewart, Hurney also took the following players in the first round: star tackle Jeff Otah, stalwart linebacker Jon Beason, corner Chris Gamble -- who played at an elite level until his abrupt retirement -- tackle Jordan Gross, a top right tackle until he succumbed to weight and health issues, and superstar pass rushers Julius Peppers. That's about as good as it gets. There isn't anything close to a miss in the bunch.
Clearly, this team needed time to blend, and with the Panthers struggling last season and owner Jerry Richardson having spent big in recent years to secure his own top talent through a string of re-signings, Hurney ended up the fall guy, let go by Richardson last October. Sure there were misses, like Jimmy Clausen, and no one in this game is perfect, or close to it, but through the lens of the current Panthers, it would be ridiculous to ignore the role Hurney played in getting them here.
And few had a better offseason than Gettleman, doing it in understated fashion, finding a host of value free agents who have made a difference. Safety Mike Mitchell provided the thumper they needed in the secondary and corner Drayton Florence has had a rebirth, jumping routes and picking off passes. Ted Ginn has been a jack-of-all-trades, explosive in the return game and showing up as a receiver in key moments, too. Linebacker Chase Blackburn fit in so well that Beason was trade bait and sent to the Giants, Gettleman's former team. Gettleman's first, first-round pick, was a steal. He nabbed dominant defensive tackle Star Lotulelei, who many thought had first-overall talent before a health condition created some concern and lowered his stock.
So as I watched the Panthers pull off another late comeback, and string together another big victory and start to breed a winning chemistry and infectious locker room environment, well, I couldn't help but think of Hurney, surely watching himself somewhere. Hurney has kept a remarkably low profile since his departure and some close to him are unsure if he would jump back into the game if the opportunity arose. But there will be openings -- there always are -- and as the Panthers morph into a national story and their core of underrated young stars rise to prominence, it should shine a light on Hurney's work as well, and draw attention to the effort he set in motion with his stewardship of the franchise.
Ravens gone wild
Are the Ravens becoming a wildcat team? Certainly looked like it Sunday, and I applaud them for it. With their offense in utter disarray much of the season and Joe Flacco struggling and getting little help, why not? The running game has been nonexistent and against a stellar Jets defensive front, the Ravens got creative and were generally better for it.
The Ravens had quarterbacks Joe Flacco and Tyrod Taylor both on the field for eight plays through the first three quarters of the game, and roughly one-eighth of their overall plays on offense, with Taylor scampering for 17 yards, catching one pass, and having what should have been a first-down pass of his own dropped by tight end Ed Dickson. He also got stuffed for losses of six yards on one occasion and seven yards on another, so it wasn't all peaches and cream. (They ran wildcat on consecutive plays and got blown up, but Taylor's athleticism and mobility made a difference in some critical sequence and kept the chains moving).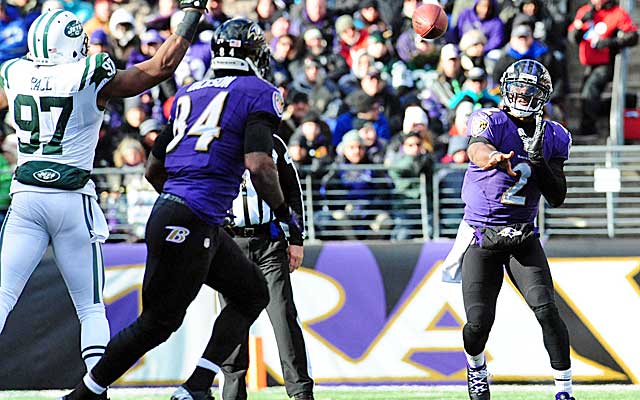 Baltimore dabbled with Pistol concepts a week earlier against the Bears and had its best rushing effort of the season, by far, and it's clear creativity is in order now with the team having to scheme it up without many reliable options on offense. On a short week against rival Pittsburgh, there isn't as much prep time, but I still expect Baltimore to continue with some of the unorthodox formations to give the Steelers different looks and get an athlete like Taylor on the field. They have particularly struggled around the goal line -- and could use more imagination in the plays there -- and while I'm in no way suggesting this should be anything more than a wrinkle, and eight plays might be at the extreme end, once a quarter or so, throwing a wildcat look out there could be effective. And don't discount Taylor connecting on something deep out of these looks as they put more on film.
I doubt we've seen the last of it.
Giants miss Nicks
Hakeem Nicks might not be having a great season, but man could the Giants have used him Sunday. Recall, Nicks carved up the Cowboys in Week 1 and his presence opens things up for others, not vice versa. Without him on the outside Eli Manning wasn't able to come close to his 450-yard, four-touchdown outing against the Cowboys from the season opener, and that had much to do with Dallas likely ending New York's season with a win at MetLife Stadium Sunday in the bitter cold.
Who would have imagined that the Giants would rush for more yards than they threw for against that withering Dallas defense? Certainly surprised the hell out of me. Not having Nicks was critical, and when teams are able to bracket Victor Cruz in the slot, it's bad news for New York. Cruz's early fumble was returned for a touchdown, forcing New York to chase the game. Cruz caught just two balls for 22 yards and if this was a precursor to what the Giants might be like should Nicks walk away as a free agent, well, yikes. Because few defenses looked more vulnerable than the this Cowboys' unit.
Nicks missed practice on Wednesday to try to determine if he had a sports hernia -- he did not, and thus no procedure was necessary -- and he returned to practice on Thursday and Friday. The Giants decided not to dress him, but with the game so important and Nicks open to playing, I can't help but wonder if that decision backfired, and if Nicks is now in his final month with the franchise.
Extra points
• The Scott Tolzien experiment was a bust in Green Bay and the team's risky decision for a few years now -- ever since Matt Flynn walked -- to go with pretty much nothing at quarterback behind Aaron Rodgers has probably cost them the 2013 season. If they had a Jon Kitna or Kyle Orton, they may have won a game or two last month, and not gone 0-4 without Rodgers, and now having to face a massive game at rival Detroit on Thanksgiving hoping Flynn can rekindle some of his old magic. Lucky for them even he was available and I wonder if in the future they carry a savvy veteran, and maybe even pay him a few million bucks, in the event Rodgers is lost for a spell.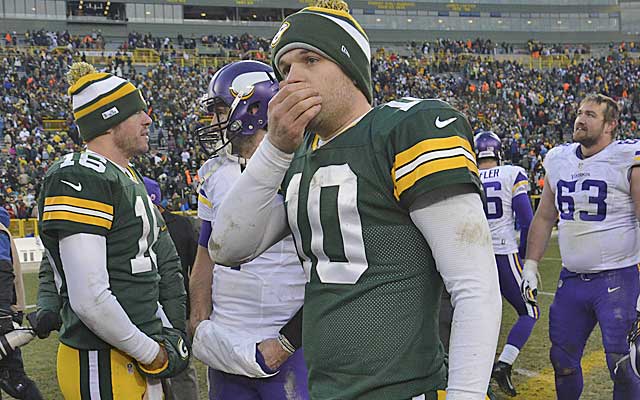 • I don't think the Rams are done derailing people's seasons. They have now thrashed the Colts and Bears in consecutive games, with a bye tucked between, and with their next game against the 49ers, it's worth noting how damn well they played them a year ago, back when San Francisco actually had an offense people were fearing.
•Ryan Tannehill having to run for his life is troubling for the Dolphins, but not as troubling as them letting another game slip away. And Tannehill has not been very good lately, consistently under-throwing Mike Wallace when he broke free deep on more than one occasion. He leads the receiver a time or two and they probably win that game and have a chance to control their playoff destiny in December.
• I don't think the Colts have hit rock bottom yet. Lucky for them they play in an utterly awful division, but these blowout losses tend to impact the psyche of a young team and Andrew Luck isn't getting much help at all and is starting to force things a bit, a natural reaction. They'll still win the division and all, but it's hard to watch this team and not think they have already played their best football of the season.