Sorting the Sunday Pile takes all of Sunday's NFL action and figures out the most important storylines for you to digest. Send your complaints, questions and comments to Will Brinson on Twitter. When our podcast recap is up we'll put it below (go ahead and subscribe via iTunes for future episodes too!) and don't forget to check out Pro Football 360 every day at 3 p.m. ET.
1. Early games provide absolute insanity
Before every Week 3 NFL game, each team's stadium aired a tribute to the recently passed Steve Sabol. But nothing was more fitting of a tribute for the NFL Films legend than the slew of insanity that engulfed the first set of NFL games this week, featuring three overtime games.
Here's how nuts things were on Sunday: Robert Griffin III and Andrew Luck embarked on simultaneous, would-be game-winning drives (though they both failed), the Vikings beat the 49ers (no, really!) and Greg Schiano sent his goons after Tony Romo's kneel-down ... and none of these things were top-five when it came to NFL drama. In fact, the 4 o'clock games were an awkward afterthought as three games stormed into overtime on the heels of some insane NFL action.
That's not to say those first group of games weren't great or anything. They were. Blaine Gabbert threw a game-winning touchdown pass to Cecil Shorts, except this time Blair Walsh didn't bomb it into oblivion with 50-yard field goals.
That pass came five game seconds and one play after Luck did march the Colts down the field, setting up Adam Vinatieri for a field goal that tied the game. Overtime was not to be, however.
But elsewhere in the NFL, there was PLENTY of overtime action to be had, with the Chiefs/Saints and Jets/Dolphins both hitting overtime at the same time. But neither game was as b-a-n-a-n-a-s as the Lions-Titans game, which featured 46 points scored in the fourth quarter, multiple comebacks for Detroit, and an impossible Hail Mary touchdown pass from Shaun Hill to Titus Young as regulation expired. Mike Munchak, a Hall of Fame NFL player who's a lifer in the league, says this game is the craziest one he's seen in 30 years around the game.
Hill was playing because Matthew Stafford suffered a right-leg injury, and he ended up having a better day, finishing with two touchdowns. Of course, he came up a bit short on the final play of the game, when Jim Schwartz decided to sneak Hill on a fourth-and-one instead of kicking a field goal and didn't get it. This game also featured Nate " data-canon="Nate Washington" data-type="SPORTS_OBJECT_PLAYER" id="shortcode0"> making what might very well end up becoming the best catch of the entire season.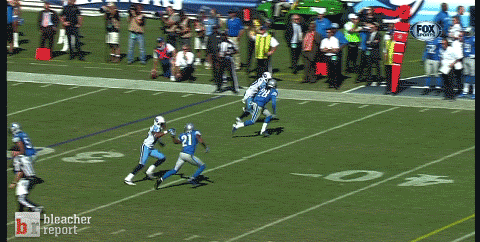 And, yet, it wasn't really the craziest catch of that game, since Young's last-second grab really wins the nod there. And as I sit here, I'm not even sure the Lions loss is more nuts than the Saints, who are now 0-3, giving up an 18-point second-half lead to the Chiefs, who had a negative-34-point differential for the season.
At 3:03 p.m. ET, I chatted a buddy I'm in a survivor pool with. We both had the Saints. We both concurred they were locked, since they were beating KC 24-6. Then Jamaal Charles decided to remind everyone that he has not lost a step and ripped off a beautiful 91-yard touchdown run that featured him cutting to the sidelines and putting on his afterburners. Then, 25 real-life minutes later, I was chatting my friend again, this time terrified because Justin " data-canon="Justin Houston" data-type="SPORTS_OBJECT_PLAYER" id="shortcode0"> sacked Drew Brees in the end zone to bring Kansas City within three.
Is it possible that Sean Payton deserves a raise from the $7 million New Orleans pays him annually? It might be: Brees and the Saints are closers. They finish teams off because if they have a lead, their offense is too good to stop. Or at least it used to be. Instead, Ryan Succop popped four field goals from the fourth quarter on, New Orleans was shut out in the final quarter and the Saints now have the worst record in the NFL. They're tied with Cleveland as the only 0-3 team in football (Oakland could also join them), which is basically what everyone expected, except the total opposite.
Oh yeah, and while all of this was going on, the Jets and Dolphins were not moving up and down the field and no one was noticing. Then Ryan Tannehill decided to hit Brian Hartline deep down the sideline after Hartline beat Antonio Cromartie (who was covering him because Darrelle Revis suffered an injury), setting up Dan Carpenter for a game-winning field goal. Carpenter, because he's more Big Lebowski than Jesus, honked the field goal. If you think you know what happened next, you're wrong, because Tim Tebow wasn't involved.
Mark Sanchez was, though, and he moved the ball down the field, got Nick Folk in range for a game-winning field goal, and the Dolphins blocked it! But it didn't count because Joe Philbin squeezed a timeout first, giving the Jets a do-over that wasn't ever going to anywhere but through the uprights.
But the true beauty of all this chaos was the way it unfolded. The Detroit-Tennessee game was a flurry of fireworks, the Saints were an awkward, slow meltdown, and the Jets-Dolphins were two neighbors seeing whose dumpster can burn the brightest. But they all got to the same place, at the same time, right as even more insanity was exploding across NFL scoreboards around the country. And then they fell like a set of dominos, with the three overtime games affording the world an opportunity to watch the heartbreak, glory, decision-making and drama unfold before our eyes.
It was just a early-season Week in the NFL, but the drama condensed into that insane hour or so was a script that even Sabol himself couldn't have written. And it's hard to imagine he isn't looking down and smiling at just how much better life is when football's included.
2. Don't count on the South rising
Since I spent last week talking about the NFC West and AFC West and immediately jinxed those two divisions (the unstoppable NFC West is 1-2 this week thus far and the AFC is back to being wide-open again, sigh), why not use my black magic to make the NFC and AFC South a little more interesting?
Because, well, those division races are over. Finished. Done. Kaput.
Both the Falcons and Texans (my two Super Bowl picks!) are two games up in their respective races, and neither team is showing any sign of slowing down. Houston has a rough schedule rolling into the bye with the Titans, Jets, Packers and Ravens on the docket, but if they get there at 5-2 or better, their magic number might be within view on the horizon. None of the Jaguars, Colts or Titans are anywhere remotely in the same class as Houston, barring major injury.
As for Atlanta, they've got the Panthers, Redskins and Raiders due up before they break in Week 7. That should equate to 7-0, but obviously things can happen in the NFL. The thing for them is none of Carolina, Tampa Bay and New Orleans look like teams capable of competing in a playoff race. It's possible the Saints pull a 180, but it's unlikely. The Panthers might figure things out on offense, but I'm not sure it'll help them catch Atlanta. And the Bucs just don't have the offense to hang with Atlanta.
The only teams in either division who can play defense -- Jacksonville, Tampa -- can't keep up with the two title contenders and that should equate to a short-term divisional race.
3. Short time up top for the 49ers
Following two weeks of beating down talented teams, it became clear that the 49ers were the best team in the NFL. And then they lost to the Vikings. It makes no sense, which is why it's perfect.
So what did Minnesota provide in terms of a blueprint for beating San Francisco? Well, this is going to sound obvious, but the key is being physical and not turning the ball over (though Toby Gerhart did fumble three times, ugh). Minnesota finally got their pass rush revved up on Sunday, sacking Alex Smith three times. Christian Ponder wasn't dominantly efficient or anything, but he looked better than Matthew Stafford and Aaron Rodgers did against the Niners and that's impressive enough on its own. He also threw for two scores and ran another one in.
Minnesota had three touchdown drives that lasted at least 6 minutes and 45 seconds and they did a great job of suppressing the Niners in the red zone. Frank Gore, in particular, was bottled up.
Also notable is the Vikings use of Kyle Rudolph: a tight end has now caught at least one touchdown pass against the Niners in each of the season's first three weeks. It'll be interesting to see if opponents can keep using tight ends to find a weakness in the Niners red-zone offense.
4. Cardinals 3-0 for first time since 1974
As I noted in the grades I knocked out for the games earlier today, the Cardinals deserve every bit of love they're getting for their hot start, as well as their defensive play. They've not shut down the Patriots, the Eagles and the Seahawks (who look much better in the wake of Arizona's run).
We've seen over the past few years that they can win ugly-ish games by playing great defense and limiting the mistakes on offense.
Larry Fitzgerald can keep Arizona in just about any game and Kevin Kolb's looked reasonably competent the last two weeks, in addition to his first week game-winning drive.
If he starts to resemble a quarterback who can put up some points and Ryan Williams starts to come around as a legitimate option in the running game, there's no reason Arizona can't make enough noise this year to get them in the playoffs. Buy on Arizona, all day long.
5. Matt Schaub is tough
Has Matt Schaub always been "injury prone"? I guess, sure. The whole idea that a particular person is more susceptible to injury is a pretty big misnomer and usually based on stereotypes. Schaub's averaged "just" 13 games a year since being traded from Atlanta and he's had some major injuries he's dealt with, so I guess there's a case to be made.
But not for much longer. After Power Alleys managed to stay in the game despite having a chunk of his ear torn off, it's safe to say that we can doff our collective cap to him as we apply the "tough leader" pin to his lapel.
With just over 11 minutes left in the third quarter and the Texans up 21-11, Schaub took a monster hit from Joe Mays, lost his helmet and laid on the ground holding his ears. Schaub sat out just one play and he sure seemed to come back from a concuss ... oh, what's that? Ah, yes, nevermind. Schaub was only missing A CHUNK OF HIS EAR:
Matt 'Tyson' Schaub. (via LarryBrownSports.com)
That's borderline nausea inducing, and yes, you're welcome for me realizing that a warning was needed after I posted the photo.
Whatever, the point being is that there should be no more criticism towards Schaub with respect to playing with injuries and/or not being tough.
6. NFL needs to crank up punishment on big hits
You know who we can criticize though? The NFL, the referees and some of the hits that are going unpunished. Look, not to sound like a weenie here or anything, but the NFL needs to do something about punishing some of the illegal hits we're seeing each Sunday.
Two stand out in particular to me from Week 3 action that deserve additional punishment, even beyond the standard fine, from the league. First is the hit on the aforementioned Schaub from the Texans-Broncos game Sunday afternoon:
Mays is violating everything on the planet when it comes to how the NFL wants hits to be handled. He's going at a quarterback late, he's leading with his helmet, he's making helmet-to-helmet contact. You name it, he did it. And he got flagged for roughing the passer and the Texans picked up bonus yards, but this is the type of hit -- one that literally knocked Schaub's helmet off -- that's going to cause a serious injury one day.
Kind of like the hit that was delivered on Darrius Heyward-Bey that resulted in the Raiders wide receiver being carted off.
Again, no one wants to wussify football, but that play on DHB -- who is, thankfully, in stable condition now -- wasn't even flagged!
My bigger concern here (and I've been very pro-replacement ref for the most part) is that players are willing to push the boundaries on what constitutes a legal hit this season, because they're not convinced they'll ever have to actually pay for a big-time hit on the field. Push the limits, make a monster hit and help your team win. These aren't new maneuvers for defenders. But if an increased aggressiveness leads to a serious on-field injury, then the NFL will have some explaining to do.
That's precisely why they need to consider finally handing out a suspension or two for some particularly flagrant acts.
7. Brandon Carr paying off early
When the discussion of top offseason signing comes up for review, it's almost always a mention of an offensive player. Those guys just make a bigger, more noticeable and more easily calculated difference. But in the early going it looks like a Texas-bound cornerback is the top addition for the second year in a row.
Last season it was Johnathan Joseph being picked up by Houston and right now the addition of Brandon Carr's looking like a superb move by the Dallas Cowboys. No one necessarily doubted that Carr would be a bad add for Jerry Jones and crew, but he's made a phenomenal difference through three games.
Dallas is currently tops in the NFL in overall defense, second in the NFL in passing yards allowed per game at 137 per pop and letting opposing quarterbacks complete just 57.5 of their passing attempts. Carr shadowed Vincent Jackson on Sunday and absolutely shut him down. Josh Freeman did nothing all day in general, but Jackson was a non-factor until a late catch. Dallas lost to Seattle, but the Seahawks still couldn't move the ball through the air (not that they necessarily needed to).
And in the opener, Hakeem Nicks was limited to four catches for 38 yards. Carr's effectively shutting down everyone the Cowboys have played against this year, and he's also making rookie Morris Claiborne much more effective by virtue of sliding him over against non No. 1 wideouts as well.
If you could figure out some time-travel, wins-above-replacement formula and plug in Carr into last year's Cowboys defense, they probably make the playoffs. They'll still be wildly inconsistent, they'll still lose some clunkers, and they won't make things easy. But they're much less likely to get torched by opposing quarterbacks late in games this season than last.
8. Losing Revis kills the Jets
Speaking of cornerbacks, the Jets might be facing the biggest loss of anyone who suffered an injury on Sunday if Darrelle Revis' leg/knee/something injury is as serious as the Jets fear -- CBS Sports Jason La Canfora reports the Jets are worried Revis might've suffered a torn ACL.
If that's the case, this is as bad an injury as the Patriots losing Tom Brady, the Packers losing Aaron Rodgers, etc. Revis is the guy that makes things go for the Jets. He's the best cornerback in the league and he slices the field in half for New York.
Revis suffered his injury with a little over four minutes to go in the third quarter and, by my count, Ryan Tannehill piled up 103 of his 196 passing yards between that time and the end of the game. Most notable was a deep pass to Brian Hartline that set up Dan Carpenter to win the game before he went all shankapotamus on the kick. Revis doesn't get beat on that pass.
If the Jets have to go forward with Antonio Cromartie and Kyle Wilson as their corners, things might look a lot more like Week 2 (when Revis was out and the Steelers whooped Rex Ryan's crew) than Week 1 or Week 3.
9. Patriots will be fine. And fined.
Please remember that I told you this in a few weeks: at some point, people will start talking about the Patriots being done and their dynasty being over and Tom Brady losing his touch and yada, yada, yada. And then after about a week of that chatter, Brady will come out and absolutely eviscerate an opponent.
He does this on a frequent basis and then everyone gets back on the bandwagon. Is it a concern that the Pats have a losing record for the first time since 2003? Yes, of course it is. But that also speaks to how well they've played for the last decade. They're quite a good football team, and the losses they've suffered are to a pair of teams who are a combined 5-1 on the season. They could be doing worse (see: the Saints).
As for the past tense version of the headline, expect both Bill Belichick and Brandon Spikes to get a not-so-friendly call from the league office. Belichick aggressively touched an official after the game and he's going to get pegged with a monster fine. He's a perfect poster boy (or perhaps you prefer the term scapegoat?) for the league nailing coaches who don't fall in line with their stance on the refs. The only question is whether or not the NFL decides to hand out a suspension.
Then there's Brandon Spikes. Spikes tweeted on Sunday night asking, "Can someone please tell these f-----g zebras foot locker called and they're needed Back at work !!!! #BreakingPoint" It got retweeted quickly and don't expect it to simmer down any time on Monday. Spikes should also have some answering to do, assuming he isn't mad at the some actual zebra strike right now.
10. Torrey Smith scores some TDs
I have a younger brother. And when I think about what happened to Torrey Smith on Saturday -- losing his younger brother Tevin in a motorcycle accident -- it gets a little dusty in my office. What's impossible to fathom is that Smith, less than 24 hours after losing Tevin, went out on a football field and played on prime time against the Patriots.
Smith, who was spotted crying on the sidelines before the game, somehow managed to score a touchdown, making a fantastic grab on a Joe Flacco throw, and then took a knee in the end zone. Smith would also later score a second touchdown to cap off a stunning day of football and an even more stunning day for Smith himself.
That Smith did that is simultaneously a reminder that sports aren't nearly as important as we think they are some times, as well as a reminder that crazy cool things happen in the world of athletics. Seeing Smith do what he did on Sunday less than 24 hours after losing a loved one is one of those things. Find some time today to hug someone you love.
GIF O' THE WEEK
At least Tim Tebow's better at being a quarterback maybe?
TWEET O' THE WEEK
So much for Never beat Payton on the road and Never 3-0

— Wade Phillips (@sonofbum) September 24, 2012
Worth 1,000 Words

For more NFL news, rumors and analysis, follow @EyeOnNFL on Twitter, subscribe to our RSS Feed watch Pro Football 360 daily at 3 p.m. ET and NFL newsletter. You can follow Will Brinson on Twitter here: @willbrinson.