SEC releases future schedule rotations until 2025
The SEC released the future conference schedules through the 2025 season. Get ready for Alabama at Missouri on the Moon!
• 4 min read
Now that the SEC has agreed on an eight-game conference schedule, the league office has gotten to work and on Monday released the future schedule rotations until 2025. 
The SEC's 8+1 model that requires a non-conference opponent from one of the five power conferences could help the league's national perception, but the scheduling issues that come with a 14-team, two division league still exist. Alabama and Florida, for example, will play on Sept. 20 in Tuscaloosa but not again until 2021.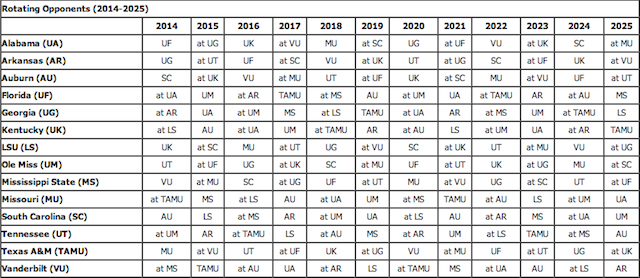 ALABAMA – 2014 vs. Florida; 2015 at Georgia; 2016 vs. Kentucky; 2017 at Vanderbilt; 2018 vs. Missouri; 2019 at South Carolina; 2020 vs. Georgia; 2021 at Florida; 2022 vs. Vanderbilt; 2023 at Kentucky; 2024 vs. South Carolina; 2025 at Missouri.
(Permanent opponents in 2014: Home - Auburn, Mississippi State, Texas A&M; Away - Arkansas, LSU, Ole Miss, Tennessee.  Sites alternate home and away through 2025.)

ARKANSAS – 2014 vs. Georgia; 2015 at Tennessee; 2016 vs. Florida; 2017 at South Carolina; 2018 vs. Vanderbilt; 2019 at Kentucky; 2020 vs. Tennessee; 2021 at Georgia; 2022 vs. South Carolina; 2023 at Florida; 2024 vs. Kentucky, 2025 at Vanderbilt.
(Permanent opponents in 2014:  Home – Alabama, LSU, Ole Miss; Away – Auburn, Mississippi State, Texas A&M, Missouri.  Sites alternate home and away through 2025.)

AUBURN – 2014 vs. South Carolina; 2015 at Kentucky; 2016 vs. Vanderbilt; 2017 at Missouri; 2018 vs. Tennessee; 2019 at Florida; 2020 vs. Kentucky; 2021 at South Carolina; 2022 vs. Missouri; 2023 at Vanderbilt; 2024 vs. Florida; 2025 at Tennessee.
(Permanent opponents in 2014:  Home – Arkansas, LSU, Texas A&M; Away – Alabama, Ole Miss, Mississippi State, Georgia.  Sites alternate home and away through 2025.)

FLORIDA – 2014 at Alabama; 2015 vs. Ole Miss; 2016 at Arkansas; 2017 vs. Texas A&M; 2018 at Mississippi State; 2019 vs. Auburn; 2020 at Ole Miss; 2021 vs. Alabama; 2022 at Texas A&M; 2023 vs. Arkansas; 2024 at Auburn; 2025 vs. Mississippi State.
(Permanent opponents in 2014:  Home – Kentucky, Missouri, South Carolina, LSU; Away – Georgia, Tennessee, Vanderbilt.  Sites alternate home and away through 2025.)

GEORGIA – 2014 at Arkansas; 2015 vs. Alabama; 2016 at Ole Miss; 2017 vs. Mississippi State; 2018 at LSU; 2019 vs. Texas A&M; 2020 at Alabama; 2021 vs. Arkansas; 2022 at Mississippi State; 2023 vs. Ole Miss; 2024 at Texas A&M; 2025 vs. LSU.
(Permanent opponents in 2014:  Home – Florida, Tennessee, Vanderbilt, Auburn; Away – Kentucky, Missouri, South Carolina.  Sites alternate home and away through 2025.)

KENTUCKY – 2014 at LSU; 2015 vs. Auburn; 2016 at Alabama; 2017 vs. Ole Miss; 2018 at Texas A&M; 2019 vs. Arkansas; 2020 at Auburn; 2021 vs. LSU; 2022 at Ole Miss; 2023 vs. Alabama; 2024 at Arkansas; 2025 vs. Texas A&M.
(Permanent opponents in 2014:  Home – Georgia, South Carolina, Vanderbilt, Mississippi State; Away – Florida, Missouri, Tennessee.  Sites alternate home and away through 2025.)

LSU – 2014 vs. Kentucky; 2015 at South Carolina; 2016 vs. Missouri; 2017 at Tennessee; 2018 vs. Georgia; 2019 at Vanderbilt; 2020 vs. South Carolina; 2021 at Kentucky; 2022 vs. Tennessee; 2023 at Missouri; 2024 vs. Vanderbilt; 2025 at Georgia.
(Permanent opponents in 2014: Home – Alabama, Ole Miss, Mississippi State; Away – Arkansas, Auburn, Texas A&M, Florida.  Sites alternate home and away through 2025.)

OLE MISS – 2014 vs. Tennessee; 2015 at Florida; 2016 vs. Georgia; 2017 at Kentucky; 2018 vs. South Carolina; 2019 at Missouri; 2020 vs. Florida; 2021 at Tennessee; 2022 vs. Kentucky; 2023 at Georgia; 2024 vs. Missouri; 2025 at South Carolina.
(Permanent opponents in 2014:  Home – Alabama, Auburn, Mississippi State; Away – Arkansas, LSU, Texas A&M, Vanderbilt.  Sites alternate home and away through 2025.)

MISSISSIPPI STATE – 2014 vs. Vanderbilt; 2015 at Missouri; 2016 vs. South Carolina; 2017 at Georgia; 2018 vs. Florida; 2019 at Tennessee; 2020 vs. Missouri; 2021 at Vanderbilt; 2022 vs. Georgia; 2023 at South Carolina; 2024 vs. Tennessee; 2025 at Florida.
(Permanent opponents in 2014:  Home – Arkansas, Auburn, Texas A&M; Away – Alabama, LSU, Ole Miss, Kentucky.  Sites alternate home and away through 2025.)

MISSOURI – 2014 at Texas A&M; 2015 vs. Mississippi State; 2016 at LSU; 2017 vs. Auburn; 2018 at Alabama; 2019 vs. Ole Miss; 2020 at Mississippi State; 2021 vs. Texas A&M; 2022 at Auburn; 2023 vs. LSU; 2024 at Ole Miss; 2025 vs. Alabama.  
(Permanent opponents in 2014:  Home – Georgia, Kentucky, Vanderbilt, Arkansas; Away – Florida, South Carolina, Tennessee.  Sites alternate home and away through 2025.)

SOUTH CAROLINA – 2014 at Auburn; 2015 vs. LSU; 2016 at Mississippi State; 2017 vs. Arkansas; 2018 at Ole Miss; 2019 vs. Alabama; 2020 at LSU; 2021 vs. Auburn; 2022 at Arkansas; 2023 vs. Mississippi State; 2024 at Alabama; 2025 vs. Ole Miss.
(Permanent opponents in 2014: Home – Georgia, Missouri, Tennessee, Texas A&M; Away – Florida, Kentucky, Vanderbilt.  Sites alternate home and away through 2025.)

TEXAS A&M – 2014 vs. Missouri; 2015 at Vanderbilt; 2016 vs. Tennessee; 2017 at Florida; 2018 vs. Kentucky; 2019 at Georgia; 2020 vs. Vanderbilt; 2021 at Missouri; 2022 vs. Florida; 2023 at Tennessee; 2024 vs. Georgia; 2025 at Kentucky.  
(Permanent opponents in 2014:  Home – Arkansas, LSU, Ole Miss; Away – Alabama, Auburn, Mississippi State, South Carolina.  Sites alternate home and away through 2025.)

TENNESSEE – 2014 at Ole Miss; 2015 vs. Arkansas; 2016 at Texas A&M; 2017 vs. LSU; 2018 at Auburn; 2019 vs. Mississippi State; 2020 at Arkansas; 2021 vs. Ole Miss; 2022 at LSU; 2023 vs. Texas A&M; 2024 at Mississippi State; 2025 vs. Auburn.  
(Permanent opponents in 2014:  Home – Florida, Kentucky, Missouri, Alabama; Away – Georgia, South Carolina, Vanderbilt.  Sites alternate home and away through 2025.)

VANDERBILT – 2014 at Mississippi State; 2015 vs. Texas A&M; 2016 at Auburn; 2017 vs. Alabama; 2018 at Arkansas; 2019 vs. LSU; 2020 at Texas A&M; 2021 vs. Mississippi State; 2022 at Alabama; 2023 vs. Auburn; 2024 at LSU; 2025 vs. Arkansas.
(Permanent opponents in 2014:  Home – Florida, South Carolina, Tennessee, Ole Miss; Away – Georgia, Kentucky, Missouri.  Sites alternate home and away through 2025.)
The charges all stem from an investigation into improper debit card charges

LSU at Florida has been picked as the SEC on CBS Game of the Week

It's an interesting move from Florida coach Jim MacElwain to say the least
Florida State's 0-2 start to the season can't be blamed on one specific thing

Georgia and NC State were also big movers in this week's power rankings

Here are the early lines for big Week 5 games from Vegas