The 2016 calendar year is just about over, and it was a wild year for baseball.
The Cubs are World Series champs! Many folks have waited a lifetime to see that. We also saw David Ortiz ride into the sunset, Bartolo Colon hit a home run, and the Yankees actually begin a rebuild. It was quite a year.
Baseball, moreso than any other sport, is prone to the unexpected and the unusual. I've watched an embarrassing amount of baseball in my life and yet most days I still see something I've never seen before. That's what makes this game great. No sport is more GIF-able than baseball. That's for sure.
So, with the calendar set to turn over to 2017, let's look back at five of the weirdest moments from this past season. These are things we truly may never see happen again.
No RBI in a season despite 141 plate appearances
Caleb Joseph, stalwart backup catcher with the Orioles, managed to go the entire 2016 season without driving in a single run. That covers 141 plate appearances, and, to be fair, Joseph was the backup to Matt Wieters, so it wasn't like he was playing everyday. Also, he missed a month with, ugh, a testicle injury that required emergency surgery after taking a foul tip to the groin. Yikes.
Still, 141 plate appearances without an RBI is the second most in history and the most by a position player. Only 12 times in history has a player batted 100-plus times in a season without driving in a single run:
Oscar Jones, 1904: 150 plate appearances (pitcher)
Caleb Joseph, 2016: 141
Gene Good, 1906: 135
Bobby Messenger, 1909: 130
Wilbur Wood, 1971: 124 (pitcher)
Mickey Lolich, 1972: 121 (pitcher)
Slim Sallee, 1912: 112 (pitcher)
Nap Rucker, 1909: 110 (pitcher)
Earl Moore, 1909: 109 (pitcher)
Dean Chance, 1967: 108 (pitcher)
Dean Chance, 1964: 100 (pitcher)
George Winter, 1907: 100 (pitcher)
The second-most plate appearances without an RBI this past season is 51 by Reds utility man Jordan Pacheco. The second-most plate appearances by a position player without an RBI this century is 61 by Koyie Hill, backup catcher for the 2013 Marlins. Joseph has the field lapped.
A total of 678 players drove in at least one run this past season, including one player who had only two plate appearances (Matt Davidson) and two relief pitchers (Anthony Ranaudo, Wilfredo Boscan). Joseph batted 141 times and still managed to never plate a run. I guess that's what happens when you hit .074 with runners in scoring position.
Reaching base seven times without taking a swing
By his standards, Nationals wunderkind Bryce Harper had a disappointing season in 2016. That's the feeling when you go from .330/.460/.649 (198 OPS+) one year to .243./.373/.441 (116 OPS+) the next.
And yet, Harper still received considerable respect from opposing teams, which is why he led baseball with 20 intentional walks this summer. Joe Maddon and the Cubs showed Harper so much respect on May 8 that he reached base seven times in a 13-inning game without taking the bat off his shoulders. His afternoon went like this:
First plate appearance: Four-pitch walk
Second plate appearance: Five-pitch walk
Third plate appearance: Intentional walk
Fourth plate appearance: Hit by the first pitch
Fifth plate appearance: Five-pitch walk
Sixth plate appearance: Intentional walk
Seventh plate appearance: Intentional walk
The Cubs refused to let Harper beat them and hey, it worked. Ryan Zimmerman, who was behind Harper in the batting order, had one hit and two strikeouts in seven at-bats, and the Cubs won 4-3 on Javier Baez's walk-off home run. Chicago challenged Zimmerman to make them pay for pitching around Harper and he couldn't do it.
Here are the pitches Harper saw that afternoon against the Cubs, via Baseball Savant. Most of the intentional walk pitches don't even show up on the plot because they were so far away from the plate.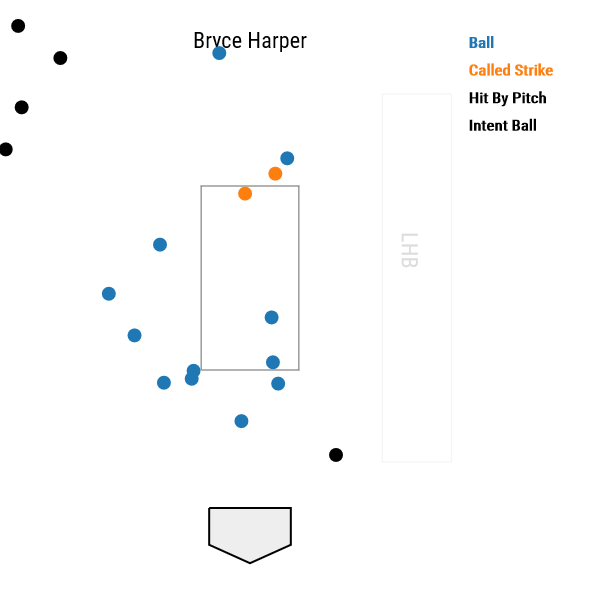 Not one swing and nothing particularly close to hittable. And it's not like a bunch of borderline calls went in Harper's favor either. There's one egregiously missed strike there, and hey, when you pitch around a guy as much as the Cubs did that day, you're not going to get that call. That was the final game of the series, and in the three-game set Harper drew 10 walks (four intentional) in 15 trips to the plate. Yep.
That day Harper became only the 73rd player in history to reach base seven times in a single game. He's the only player to have ever done it without a base hit.
Team voluntarily plays without DH in an AL park
How long until the NL adopts the DH, you think? Ten years? Twenty? Sooner? Later? It's going to happen at some point. It's inevitable. Pitchers (and players in general) make a ton of money and salaries are only going up. Owners are going to want to protect their investments.
Anyway, on June 30, the Giants did the unthinkable during a Bay Bridge Series game with the Athletics in Oakland. They forfeited the DH and let Madison Bumgarner hit for himself in an AL park. Naturally, Bumgarner doubled in his first at-bat and came around to score San Francisco's first run in the team's 12-6 win.
Bumgarner went 1 for 4 with a double and a strikeout that night. He also allowed four runs in 6 1/3 innings on the mound, so it wasn't his best pitching performance of the season. It happens. Even great players have bad days.
The Giants became the first team since the 1976 White Sox to intentionally pass on using the DH -- Rays righty Andy Sonnanstine had to bat for himself in 2009 due to a lineup card error, which was obviously unintentional -- and I can't imagine we'll see it happen again anytime soon. It took a perfect storm for Bumgarner to get the nod over a position player:
Bumgarner has been the best hitting pitcher in baseball over the last several years.
The Giants didn't have anyone on the bench who was clearly a better hitter.
Lefty Dillon Overton was on the mound for the A's, so Bumgarner had the platoon advantage.
Bumgarner did make another start in an AL park later in the season, on July 22 at Yankee Stadium. Giants skipper Bruce Bochy opted to use outfielder Jarrett Parker as the DH against Masahiro Tanaka in that game.
Scoring change awards first career hit days later
In early August, the rebuilding Reds called up infielder Tony Renda from Triple-A to fortify their bench. Renda is one of the four players Cincinnati received from the Yankees in the Aroldis Chapman trade last offseason, and he hit a healthy .311/.363/.434 in the minors this summer to earn his call-up.
Renda made his MLB debut as a pinch-hitter on August 2 and was asked to lay down a sacrifice bunt. He did exactly that, and the throw from Cardinals first baseman Matt Adams pulled second baseman Kolten Wong off the bag, so Renda beat it out. Here's the play:
The play was scored an error on Adams because, well, look at that throw. It was terrible. Reaching on an error after laying down a sac bunt isn't the most exciting first at-bat ever, but I'm certain Renda was just happy to be in the big leagues. He'd lay down sac bunts the rest of his career if the team asked.
But wait! Three days later, on August 5, MLB announced a scoring change that erased Adams' error and gave Renda his first career hit on that bunt play. He was retroactively credited with his first career base hit three days after the fact.
Hilariously enough, Renda batted two times in the days between the bunt and the scoring change. He popped up and grounded out as a pinch-hitter on August 3 and 4, respectively.
What if Renda recorded a base hit in one of those at-bats, like a legitimate line drive single to the outfield? Would he have considered that his first career hit, or the bunt single? Technically the bunt would be his first hit, but he didn't know that at the time of the other hypothetical hit.
Oh well, no sense thinking about it. Renda has a pretty unique first career hit story, I'd say.
Back-to-back homers in first career at-bats
For the first time in nearly three decades, the Yankees were sellers at the trade deadline. Ownership and the front office decided the team was not a contender at the trade deadline, so they traded four veterans (Chapman, Andrew Miller, Carlos Beltran, Ivan Nova) for 12 total prospects. New York now has one of the best farm systems in the game as a result.
The Yankees called up several of their best prospects, most notably catcher Gary Sanchez, as part of their youth movement following the trade deadline. First baseman Tyler Austin and outfielder Aaron Judge got the call as well, and, on August 13, they both made their MLB debuts. Austin batted seventh and Judge batted eighth.
In the second inning, both Austin and Judge took Rays righty Matt Andriese deep in their first career at-bats. To the action footage:
Austin and Judge became the first teammates in baseball history to hit home runs in their MLB debuts in the same game, and they managed to do it back-to-back. Pretty crazy. Now that's something we really might never see again.