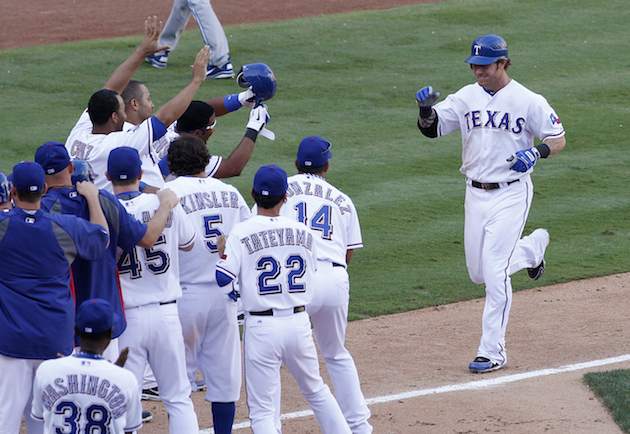 While
A.J. Ellis
,
Jarrod Saltalamacchia
and
Josh Hamilton
had walk-off homers,
Cubs
reliever
Rafael Dolis
had a walk-off hit of a much different type.
Saturday's full scoreboard with box scores and recaps for all games
3 UPJosh Hamilton, Rangers:
What more can you say at this point? Hamilton's 20th home run of the season gave Texas an 8-7 walk-off victory over the
Blue Jays
in 13 innings. Oh, and he was so sick that he was seeing stars in the fifth inning and needed an IV and oxygen after the game. The guy is just incredible.
Johan Santana, Mets:
For the first time since his shoulder surgery, Santana threw a complete-game shutout. Facing the
Padres
, he needed just 96 pitches for the four-hitter, striking out seven and walking none. All four of the hits he allowed were singles.
Mark Teixeira, Yankees:
In 16 games from May 5-23, Teixeira had just one home run. He has three in the last two days, including two on Saturday. Teixeira went 4 for 5 with five batted in. His average rose from .231 to .248.
3 DOWNRafael Dolis, Cubs:
After loading the bases with a hit and two walks in the ninth inning, Dolis was one strike away from sending the Cubs into extra innings in
Pittsburgh
. Instead, his 2-2 fastball hit Pittsburgh's
Matt Hague
to force in the game-winning run. The loss was the 11th straight for Chicago.
Marty Foster, umpire:
Maybe after seeing the replays of the
Red Sox
and
Rays
,
MLB
umps were a little more on edge going into Saturday's games. That doesn't excuse Foster, though. At some point, umpires must use more common sense when ejecting a player. Foster tossed Toronto starter
Henderson Alvarez
with two outs in the sixth inning when Alvarez had a 1-2 count on the Rangers leadoff man
Ian Kinsler
and a ball got away from him. Yes, the Rangers had just gone back-to-back-to-back, but with two outs and two strikes, Alverez had no other intention other than to get out of the inning.
Zack Greinke, Brewers:
Greinke's road woes continued on Saturday, as he lasted just 2 1/3 innings, allowing 10 hits and seven earned runs -- and it could've been worse if
Mike McClendon
hadn't gotten him out of the inning without allowing either of his inherited runners to score. So far this season, Greinke is 3-0 with a 1.30 ERA at Miller Park and 2-2 with a 7.03 on the road. Last season he had an 11-0 record with a 3.13 ERA at home and was 5-6 with a 4.70 ERA away from Miller Park. It was the fifth time in his career he failed to complete three innings.
Round Three:
After Friday's fireworks and Saturday's war of words, every game between the Rays and Red Sox will be watched a little more closely this year. The two teams won't meet again until the first series after the All-Star break, so Sunday could be the last chance to send a message for a while.
1:35 p.m. ETIt has to end sometime, right?
The Cubs have lost 11 straight, one from matching the Royals' 12-game losing streak from earlier this season. The Cubs' losing streak is its longest since it lost 14 games in 1997 and it's the 10th time in team history the Cubs have dropped 11 in a row.
Matt Garza
went just three innings in his last start, giving up seven runs to the
Astros
in a loss. Pittsburgh lefty
Erik Bedard
is coming off his two worst starts of the season, allowing four runs to both the
Nationals
and Mets.
1:35 p.m. ETRuns should be at a premium in Atlanta:
If
Gio Gonzalez
's success in Washington is a mild surprise (most thought he'd be good, but maybe not this good), then
Brandon Beachy
's start is probably a shocker. Gonzalez is 6-1 with a 1.98 ERA, while Beach enters Sunday's game with a 5-2 record and a 1.77 ERA. The
Braves
have lost six straight and gone from first in the division to fourth over that stretch.
8:05 p.m. ET
Sunday's probable pitchers
• With the first pick:
The Astros say they have yet to make a decision on who they will take with the first pick in next month's draft. Stanford right-hander Mark Appel and Georgia high school outfielder Byron Buxton are the likely top two picks, while LSU right-hander Kevin Gausman, San Francisco right-hander Kyle Zimmer and Florida catcher Mike Zunino are other possibilities. [
Houston Chronicle
]
• Cook going strong:
You may not have noticed, but
Ryan Cook
is having about as good of a season as anyone in baseball. Part of the trade that sent him to
Oakland
along with
Jarrod Parker
and
Collin Cowgill
in exchange for Trevor Cahill, Cook has thrown 22 2/3 scoreless innings to start the season. [
ESPN.com
]
• Florida's team:
So, Florida has two teams -- one a powerhouse in the game's best division and the other with a shiny new ballpark and pricey new additions. So, which team is the most popular baseball team in the state of Florida? According to a poll by Quinnipac University Polling Institute, 20 percent of baseball fans in the state are Yankees fans, compared to 18 percent who root for the Rays and 15 percent for the
Marlins
. [
South Florida Sun Sentinel
]
• Prospective Padres owner has history with the game:
Last week
Tony Gwynn
backed Hollywood producer Thomas Tull's bid for the Padres, making him an instant front-runner. The
San Diego Union-Tribune's Tim Sullivan profiles the potential owner,
revealing a stint as a scout.
• As bad as advertised:
Just as expected, the
Tigers
' defense has been among the worst in baseball. [
ESPN.com
]
• Strasburg scare:
Stephen Strasburg
struggled a little in his outing on Saturday -- walking four and giving up four runs in just five innings -- but what seemed to get several people worked up was what appeared to be him shaking his right arm in the fifth inning. The problem, Strasburg said, was sweat.  It was so hot in Atlanta that his hand was sweating and he was just trying to get it off. [
Washington Post
]
For more baseball news, rumors and analysis, follow @EyeOnBaseball on Twitter, subscribe to the RSS feed and "like" us on Facebook.