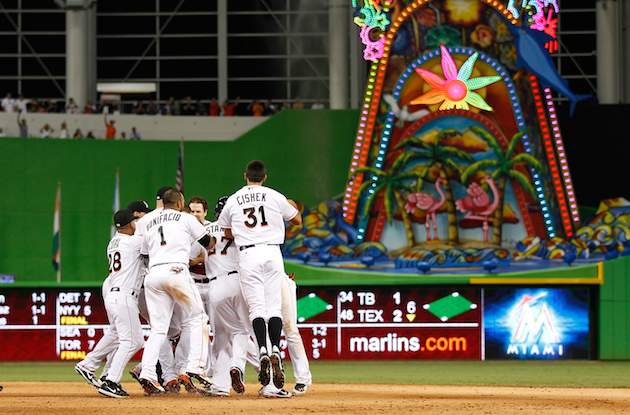 All eyes were on
Bryce Harper
and
Stephen Strasburg
until
Matt Kemp
led off the 10th inning -- and then Kemp did what Kemp does, crushing his 11th home run of April to give the team a walk-off win and ruin Harper's storybook debut. But there were 13 other games on Saturday, so we'll take a look at baseball from everywhere but Dodger Stadium.
Full Saturday scoreboard with recaps and box scores for all games
3UPHanley Ramirez, Marlins.
Heading into Saturday's game with the
Diamondbacks
, the Marlins hadn't won in six games and Ramirez didn't have a hit during the streak. Both streaks ended at Marlins Park on Saturday, as Ramirez snapped his 0-for-26 streak with a two-out, walk-off single off of
Brad Ziegler
.
Anibal Sanchez
's 14 strikeouts helped, as did
Logan Morrison
's eighth-inning homer to tie the game.
Drew Smyly, Tigers.
Drew Smyly was able to do Saturday what
Justin Verlander
could not on Friday -- halt the Tigers' losing streak. The rookie left-hander gave up a solo homer to the
Yankees
'
Nick Swisher
with one out in the first inning and then didn't give up another hit until
Alex Rodriguez
led off the seventh with a single. In his six-plus innings, Smyly allowed just the two hits, walked two and struck out seven. After his first four starts, Smyly is leading the American League with a 1.23 ERA and has 22 strikeouts in 22 innings. Saturday was his first career big-league victory as the Tigers snapped a five-game losing streak.
Jay Bruce, Reds.
Since a career-worst 0-for-19 streak, Bruce is hitting .429 (15 for 35) in his last seven games and has homered in three straight. In addition to his two-run homer on Saturday, Bruce also had a two-run double.
3 DOWNCleveland Indians.
For the 10th straight game, the Indians were held homerless in Saturday's 2-1 loss to the Angles. The last homer was by
Carlos Santana
on April 17.  That came in the fifth inning and it's now been 93 innings and 334 at-bats without a home run. It's the longest homerless streak for a Cleveland team since April of 1983. They haven't hit a home run at Progessive Field since April 11.
Freddy Garcia, Yankees.
For the second straight start, Garcia's been yanked in the second inning. Saturday at home against the Tigers, Garcia gave up six runs on five hits with two walks in 1 2/3 innings. Garcia helped dig the Yankees a 9-run whole to dig out of last Saturday in
Boston
. Manager Joe Girardi said he hasn't made a decision about Garcia's future yet, but it seems doubtful he'll make another start anytime soon.
Adam Dunn, White Sox.
White Sox third base coach Joe McEwing waved Dunn home on
Paul Konerko
's first-inning double that was misplayed by
Cody Ross
, but Dunn was looking into left field instead of his third base coach and held up at third base. The White Sox went on to lose 1-0 to Boston. After his first-inning walk, Dunn was 0 for 3, striking out twice. He's struck out at least once in each of his first 21 games of the season and has 33 on the season. BUt at least his average is up to .224, which is good by his 2011 standards (and the fourth-best among Saturday's starters for the White Sox).
Welcome back:
Tim Hudson will make his first start since undergoing spinal fusion surgery in November. The 36-year-old made four minor-league rehab starts, allowing just one earned run in 10 2/3 innings in two starts at Triple-A Gwinnett. He'll be opposite
Pittsburgh
right-hander
Kevin Correia
, who is 1-0 with a 2.00 ERA in three starts this season. He's 1-0 with a 2.25 ERA in three starts and a relief appearance at Turner Field.
1:35 p.m. ETBryce back at it:
Bryce Harper's debut was enough to want us see more. Saturday he showed off his power, absolutely crushing a ball for his first big-league hit and also gave us a glance of his cannon of an arm from the outfield. And if Harper's not enough for you, you have a pair of lefties on the mound in
Gio Gonzalez
(2-0, 1.52 ERA) and
Chris Capuano
(2-0, 3.52) who have yet to lose a game. Gonzalez hasn't allowed a run in 20 innings. Of course, there's also Matt Kemp, the undisputed best player in the game's first month.
4:10 p.m. ETLeft in Tampa.
Tampa left-hander
David Price
is coming off his best start of the season and Texas lefty
Derek Holland
is coming off his worst start of the season. Price threw a five-hit shutout against the
Angels
on Tuesday, while Holland gave up seven runs in six innings against the Yankees on Monday.
8:05 p.m. ET
Full schedule for Sunday's games
• Out 'of Anaheim.'
Could the Angels be leaving Orange County to move to downtown
Los Angeles
? The team has an out clause in its lease in 2016 and if the
NFL
isn't coming back to L.A., the Angels could be on their way. [
Los Angeles Times
]
• (George) Brett on Brett (Lawrie).
Hall of Famer George Brett took
Brett Lawrie
and
J.P. Arencibia
out to lunch last week in
Kansas City
and said he keeps an eye on the
Blue Jays
' third baseman whom former teammate and current Jays broadcaster Buck Martinez said reminded him of a young Brett. [
Toronto Sun
]
• Not quite perfect:
Larry Stone of the Seattle Times remembers Harvey Haddix's not-so-perfect game from 1959
. Haddix retired the first 36 batters he faced, but lost the game in the 13th.
• Yankees will sound the same.
Despite some speculation that things could be changing,
Bob Raissman of the New York Daily News says Yankee broadcasters John Sterling and Suzyn Waldman will be sticking around the Yankee Stadium radio booth
-- and that the team's current home is likely to keep the rights to the team.
• Speaking of Sterling
. You may or may not have seen the hubbub around a ball thrown into the stands at a
Rangers
game last week. Sterling had some harsh words for the couple that ended up with the ball instead of a crying kid. The couple asked for an apology -- something Sterling told our Jon Heyman wasn't coming. The father of the kid caught crying said the couple's action wasn't a big deal and had no hard feelings. [
FoxNews.com
]
• Mets Seasonal Affective Disorder:
Funny stuff from the UCB folks (and a Hat Tip to
NotGraphs
):