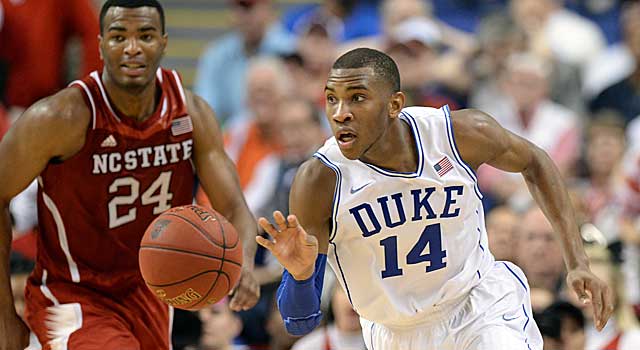 More hoops: Five teams on rise in 2014-15 | News & notes
ARLINGTON, Texas -- The 2013-14 season is now complete.
So, obviously, it's time to start looking ahead.
With that in mind, I got with my colleagues Jeff Borzello and Matt Norlander and tried to project a Top 25 (and one) by combining what we already know with what we think will happen in the coming weeks as it pertains to players' decisions about turning pro or remaining in school. More than likely, we'll be wrong about some of these projected rosters because surprises always happen. But the rosters we've projected below are based on the best information we gathered in recent days while talking to various coaches and industry sources. If we need to adjust down the road, we will.
But for now, here you go.
This is the 2014-15 Ridiculously Early Preseason Top 25 (and one).
Notable players definitely gone: Julius Randle, James Young, Jarrod Polson, Jon Hood
Others expected to leave: None
Notable players expected to return: Aaron Harrison, Andrew Harrison, Willie Cauley-Stein, Alex Poythress, Dakari Johnson, Marcus Lee, Dominique Hawkins, Derek Willis
Notable newcomers: Trey Lyles, Devin Booker, Karl Towns, Tyler Ulis
Notable players definitely gone: Jabari Parker, Rodney Hood, Tyler Thornton, Andre Dawkins, Josh Hairston
Others expected to leave: None
Notable players expected to return: Quinn Cook, Rasheed Sulaimon, Amile Jefferson, Marshall Plumlee, Matt Jones, Semi Ojeleye
Notable newcomers: Jahlil Okafor, Tyus Jones, Justise Winslow, Grayson Allen
Notable players definitely gone: Aaron Gordon, Nick Johnson, Jordin Mayes
Others expected to leave: None
Notable players expected to return: Rondae Hollis-Jefferson, Brandon Ashley, T.J. McConnell, Kaleb Tarczewski, Gabe York, Elliott Pitts, Matt Korcheck
Notable newcomers: Stanley Johnson, Craig Victor, Parker Jackson-Cartwright, Kadeem Allen, Dusan Ristic
4. WISCONSIN
Notable players definitely gone: Ben Brust
Others expected to leave: None
Notable players expected to return: Frank Kaminsky, Sam Dekker, Nigel Hayes, Traevon Jackson, Josh Gasser, Duje Dukan, Bronson Koenig
Notable newcomers: Ethan Happ
Notable players definitely gone: Andrew Wiggins, Tarik Black, Joel Embiid
Others expected to leave: None
Notable players expected to return: Perry Ellis, Wayne Selden, Naadir Tharpe, Frank Mason, Brannen Greene, Jamari Traylor, Conner Frankamp, Landen Lucas
Notable newcomers: Cliff Alexander, Kelly Oubre, Hunter Mickelson
Notable players definitely gone: Scottie Wilbekin, Patric Young, Will Yeguette, Casey Prather
Others expected to leave: None
Notable players expected to return: Michael Frazier, Dorian Finney-Smith, Kasey Hill, Devon Walker, Chris Walker, Eli Carter
Notable newcomers: Chris Chiozza, Brandone Francis, Devin Robinson, Alex Murphy
Notable players definitely gone: Leslie McDonald, James Michael McAdoo
Others expected to leave: None
Notable players expected to return: Marcus Paige, Brice Johnson, Kennedy Meeks, J.P. Tokoto, Nate Britt, Joel James, Isaiah Hicks, Desmond Hubert, Jackson Simmons
Notable newcomers: Justin Jackson, Joel Berry, Theo Pinson
Notable players definitely gone: Cleanthony Early, Kadeem Coleby, Nick Wiggins, Chadrack Lufile
Others expected to leave: None
Notable players expected to return: Fred VanVleet, Ron Baker, Tekele Cotton, Darius Carter, Evan Wessell
Notable newcomers: Rashard Kelly, Zach Brown, Corey Henderson, Eric Hamilton, Tom Wamukota
Notable players definitely gone: None
Others expected to leave: None
Notable players expected to return: Isaiah Taylor, Jonathan Holmes, Cameron Ridley, Javan Felix, Martez Walker, Kendal Yancy, Damarcus Croaker, Demarcus Holland, Connor Lammert, Prince Ibeh
Notable newcomers: Jordan Barnett
Expected to be a notable newcomer: Myles Turner
10. LOUISVILLE 
Notable players definitely gone: Russ Smith, Luke Hancock, Stephan Van Treese, Tim Henderson, Kevin Ware
Others expected to leave: None
Notable players expected to return: Montrezl Harrell, Chris Jones, Wayne Blackshear, Terry Rozier, Mangok Mathiang, Anton Gill
Notable newcomers: Shaqquan Aaron, Jaylen Johnson, Chinanu Onuaku, Quentin Snider, Matz Stockman, Anas Osama Mahmoud
Notable players definitely gone: Joe Harris, Akil Mitchell
Others expected to leave: None
Notable players expected to return: Malcolm Brogdon, Justin Anderson, Anthony Gill, Mike Tobey, Darion Atkins, London Perrantes, Evan Nolte
Notable newcomers: B.J. Stith, Isaiah Wilkins, Jack Salt
Notable players definitely gone: James Bell, Tony Chennault
Others expected to leave: None
Notable players expected to return: JayVaughn Pinkston, Darrun Hilliard, Ryan Arcidiacono, Daniel Ochefu, Josh Hart, Dylan Ennis, Kris Jenkins
Notable newcomers: Phil Booth, Mikal Bridges
Notable players definitely gone: Nick Russell, Shawn Williams
Others expected to leave: None
Notable players expected to return: Markus Kennedy, Nic Moore, Yanick Moreira, Ben Moore, Cannen Cunningham, Keith Frazier, Crandall Head, Sterling Brown, Ryan Manuel
Notable newcomers: Emmanuel Mudiay
14. SAN DIEGO STATE
Notable players definitely gone: Xavier Thames, Josh Davis, James Johnson
Others expected to leave: None 
Notable players expected to return: Winston Shepard, Dwayne Polee, JJ O'Brien, Matt Shrigley, Aqeel Quinn, Dakari Allen, Skylar Spencer
Notable newcomers: Angelo Chol, Trey Kell, Malik Pope, Zylan Cheatham, Kevin Zabo
15. IOWA STATE
Notable players definitely gone: DeAndre Kane, Melvin Ejim, Percy Gibson
Others expected to leave: None
Notable players expected to return: Georges Niang, Dustin Hogue, Monte Morris, Matt Thomas, Naz Long, Daniel Edozie
Notable newcomers: Bryce Dejean-Jones, Abdel Nader, Jameel McKay, Clayton Custer
16. GONZAGA
Notable players definitely gone: Sam Dower, David Stockton, Drew Barham
Others expected to leave: None
Notable players expected to return: Kevin Pangos, Gary Bell, Przemek Karnowski, Angel Nunez, Gerard Coleman, Kyle Dranginis
Notable newcomers: Kyle Wiltjer, Domantas Sabonis, Josh Perkins, Silas Melson, Bryan Alberts
17. OKLAHOMA
Notable players definitely gone: Cameron Clark, Tyler Neal
Others expected to leave: None
Notable players expected to return: Buddy Hield, Jordan Woodard, Isaiah Cousins, Jelon Hornbeak, Frank Booker, Ryan Spangler, D.J. Bennett
Notable newcomers: Khadeem Lattin, Dante Buford, Jamuni McNeace
18. NEBRASKA
Notable players definitely gone: Ray Gallegos
Others expected to leave: None
Notable players expected to return: Terran Petteway, Shavon Shields, Leslee Smith, Walter Pitchford, Tai Webster
Notable newcomers: Jacob Hammond, Tarin Smith
Notable players definitely gone: Juvonte Reddic, Rob Brandenberg, Terrance Shannon
Others expected to leave: None
Notable players expected to return: Treveon Graham, Melvin Johnson, JeQuan Lewis, Briante Weber, Jordan Burgess, Mo Allie-Cox, Jarred Guest
Notable newcomers: Terry Larrier, Michael Gilmore, Justin Tillman, Jonathan Williams
20. CONNECTICUT
Notable players definitely gone: Shabazz Napier, DeAndre Daniels, Lasan Kromah, Niels Giffey, Tylander Olander
Others expected to leave: None
Notable players expected to return: Ryan Boatright, Omar Calhoun, Terrence Samuel, Amida Brimah, Phillip Nolan
Notable newcomers: Rodney Purvis, Daniel Hamilton, Sam Cassell Jr., Rakim Lubin
Notable players definitely gone: LaQuinton Ross, Amedeo Della Valle, Aaron Craft, Lenzelle Smith
Others expected to leave: None
Notable players expected to return: Marc Loving, Shannon Scott, Sam Thompson, Amir Williams
Notable newcomers: D'Angelo Russell, Keita Bates-Diop, Jae'sean Tate, Dave Bell, Anthony Lee, Kameron Williams
22. PITTSBURGH
Notable players definitely gone: Lamar Patterson, Talib Zanna
Others expected to leave: None
Notable players expected to return: Cameron Wright, Durand Johnson, Michael Young, Jamel Artis, Chris Jones, James Robinson, Josh Newkirk, Derrick Randall
Notable newcomers: Ryan Luther, Shaq Doorson, Sheldon Jeter, Detrick Mostella, Tyrone Haughton
23. MICHIGAN STATE
Notable players definitely gone: Andreian Payne, Keith Appling, Gary Harris
Others expected to leave: None
Notable players expected to return: Denzel Valentine, Travis Trice, Branden Dawson, Gavin Schilling, Matt Costello, Kenny Kaminski, Alvin Ellis, Alex Gauna, Russell Byrd
Notable newcomers: Lourawls "Tum Tum" Nairn, Javon Bess, Marvin Clark
24. STANFORD
Notable players definitely gone: Dwight Powell, Josh Huestis, John Gage
Others expected to leave: None
Notable players expected to return: Chasson Randle, Stefan Nastic, Anthony Brown, Marcus Allen
Notable newcomers: Reid Travis, Robert Cartwright, Michael Humphrey, Dorian Pickens
25. HARVARD  
Notable players definitely gone: Kyle Casey, Brandyn Curry, Laurent Rivard
Others expected to leave: None
Notable players expected to return: Wesley Saunders, Siyani Chambers, Steve Moundou-Missi, Jonah Travis, Evan Cummins, Agunwa Okolie
Notable newcomers: Chris Egi, Andre Chatfield
Notable players definitely gone: Mike Moser, Richard Amardi, Jason Calliste, Johnathon Lloyd, Waverly Austin
Others expected to leave: Ben Carter
Notable players expected to return: Joseph Young, Damyean Dotson, Dominic Artis, Elgin Cook
Notable newcomers: Brandon Austin, JaQuan Lyle, Michael Chandler, Ray Kasongo, Casey Benson, Dwayne Benjamin