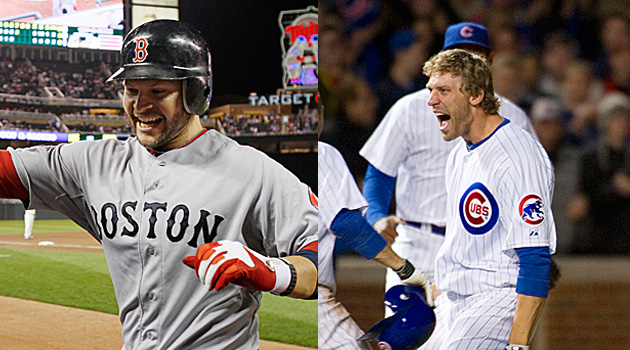 The
Giants
are hot, the
Royals
are not, the
Dodgers
bounced back and
Jake Peavy
may be
returning to '07 form
. We've got another night of baseball in the books, so let's dive in.
Full Monday scoreboard, including recaps and box scores for all 10 games

3 UPJoe Mather, Cubs.
The former Cardinal exacted some revenge on his old team, as Mather
came up big in the clutch for his new squad
. With the bases loaded and two outs in the bottom of the ninth, the Cubs were facing a 4-13 start to the season. But Mather lined a single to center off
Cardinals
closer
Jason Motte
to plate the tying and winning runs for the Cubs.
Cody Ross, Red Sox.
After an embarrassing week at home, the Red Sox needed a win pretty badly Tuesday night. And they got one by the skin of their teeth.
Jon Lester
had another bad outing for the Sox and the
Twins
held a 5-3 lead entering the seventh inning. Ross then tied it with a two-run blast in the seventh and put the Red Sox ahead for good with a solo homer in the ninth. And it's a
6-5 victory for Bobby V. and his troops
.
Nate Schierholtz, Giants.
The offense as a whole was big for the Giants -- who are quietly playing great baseball right now -- racking up 13 runs on 24 hits in
sweeping
a
double-header
over the
Mets
. But let's give Schierholtz the spotlight here, as he went 6-for-10 with two triples, a home run, two runs and three RBI in the two games combined. Also, it's fun to see the lines waver like this in April: Schierholtz's batting average rose 69 points and his slugging percentage jumped 168 points.
3 DOWNKyle Kendrick, Phillies.
This isn't gonna cut it in replacing Cliff Lee. Kendrick was dismantled by the
Diamondbacks
, giving up 11 hits and seven earned runs in just three innings. The
Phillies lost 9-5
.
Joe Paterson, Diamondbacks.
I usually don't include players from winning teams here, but this line was too horrible to ignore. Paterson faced five hitters -- with a 9-0 lead, too -- and didn't record an out. The play-by-play? Single, double, single, home run, home run. Ouch. That'll ruin his ERA for the entire first half of the season -- such is the life of a reliever.
Ike Davis, Mets.
He left the bases loaded three times in the double-header. So that amounted to nine runners left on base in five at-bats -- which included three strikeouts. He's now hitting just .136 and you have to wonder
if he actually has Valley Fever
and, if so, how it's affecting him. The Mets haven't said a word about it since saying he "likely" has it, so not many people actually know what's going on.

Jose, Jose Jose Jose.
After nine years, four All-Star games, 735 runs, 99 triples, 374 stolen bases, a batting title and much fan adoration in New York,
Jose Reyes
took his talents to south beach this past offseason, signing with the
Marlins
. He returns to Citi Field as a foe for the first time Tuesday evening. It'll be interesting to see the mix of cheers/boos, that's for sure.
Josh Johnson
(0-2, 5.94) pitches for Reyes' Marlins while
Johan Santana
(0-2, 3.97) takes the ball for the Mets.
7:10 p.m. ETCan Latos match Cain?
The
Reds
didn't ship two of their top prospects to
San Diego
for this version of
Mat Latos
(0-2, 8.22). Tuesday, he has the tough task in attempting to get on track against a hot Giants team, which has won five of six (and gone 9-4 since an 0-3 start). To make matters worse for Latos, his counterpart is throwing the ball as well as any pitcher in baseball right now.
Matt Cain
(1-0, 1.88) has an 18-inning scoreless streak going.
7:10 p.m. ET/4:10 p.m. PTJapanese duel.
Two of the best offensive teams -- if not
the
two best -- square off again Tuesday night, and the hurlers bring an Eastern flavor. Japanese imports
Hiroki Kuroda
(1-2, 5.00 for
Yankees
) and
Yu Darvish
(2-0, 3.57 for
Rangers
) will do battle in Rangers Ballpark.
8:05 p.m. ET/7:05 p.m. CT
Full Tuesday schedule, with all 30 teams playing in night games
•
Renaming Cleveland's club.
The wonderful blog Uni Watch has a contest going where they're accepting submissions for a new team name for the
Indians
, along with possible uniforms. There are 20 entries in the contest, with the Cleveland Spiders being the most common name. Here is
Part I (the first 10)
and
here is Part II
. It's definitely worth a look. Please note there is no real movement to rename the Indians. This was just a fun exercise.
•
Cribs: Jeter version.
Do you have $17.95 million lying around (who doesn't!?!)? If so, take a look at
Derek Jeter
's
New York City penthouse
. It's for sale and it looks
awesome
. (
HUH. magazine
)
•
Painful foul ball.
Don't click through if a picture of a big toe with the nail torn off will gross you out. Anyway,
Michael Cuddyer
tweeted out
"what happens when you foul a ball off of your toe."
It doesn't look fun.
•
Lowe robbed.
Derek Lowe
's 2004 World Series ring and his gold World Series trophy have been stolen from his home in Fort Myers, Florida. Also, necklaces, shoes and purses were taken. The Lee County Sheriff's Office is investigating. (
news-press.com
)
•
Lots and lots of ink.
A dude named Mike McWain has spent $10,000 total to cover his body in baseball-related tattoos. There's a
slideshow of all his ink on tri-cityherald.com
.
•
Dugout for sale.
I have no idea who would want such a thing, much less afford it
and
find a proper spot for it, but the visitor's dugout from the old
Seattle
Kingdome is available on eBay for $7,499.99. (
Big League Stew
)
•
Don't let the door hit you ...
The
LA Times notes
that the current homestand for the Dodgers will officially be the last under the Frank McCourt regime, as the sale to Guggenheim Baseball Management will be completed by April 30.
•
Moneyball morphs.
We knew the Billy Beane A's concentrated on on-base percentage and working deep counts. In fact, many may not have known the lengths taken in the organization.
The Modesto Bee has an article about the shift in philosphy
, which is that now the organization wants hitters to be more aggressive and is finally allowing them to swing on a 3-0 count. In the past, not only was that forbidden, but hitters were required to walk a minimum of 10 times per month. It was a quota.
•
Next big thing.
He's not eligible to be signed by a big-league club until July 2, but scouts are already drooling about
MLB.com's No. 1 international prospect
, 16-year-old Dominican Gustavo Cabrera. His power/athleticism combo reportedly has scouts comparing him to
Justin Upton
.
For more baseball news, rumors and analysis, follow @EyeOnBaseball on Twitter, subscribe to the RSS feed and "like" us on Facebook.