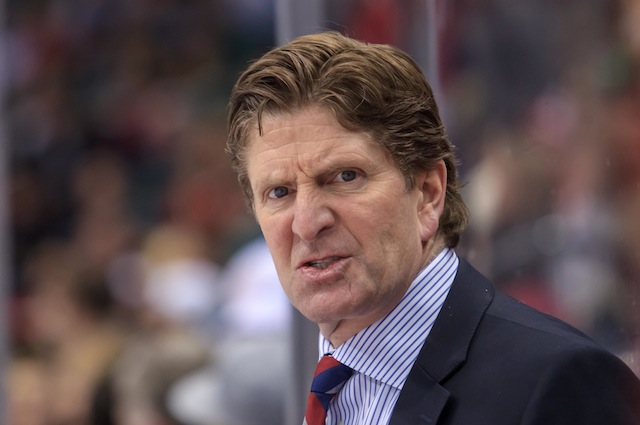 As we head into the second half of the NHL season and get closer to the trade deadline and playoffs, you are going to start hearing an awful lot about the type of game teams need to play to win the Stanley Cup and the type of players they will need to acquire. It usually revolves around blocking shots, or toughness, or the need to play with "grit" and have the right amount of "jam" to get through the postseasonm because that is what winning teams do.
Grit. Jam. Block shots.
The truth is, there are traits that most Stanley Cup winners tend to have in common, and they can easily be identified by their play during the regular season and where they rank in certain categories.
If you look back over recent Stanley Cup finalists, you really get an idea as to what matters and what does not matter when it comes to evaluating who is a legitimate contender and who is not.
It's not always the team with the best record, or anything close to the best record, in the NHL.
Based on recent finalists, there are three areas that stand out more than anything else when it comes to not only reaching the Stanley Cup Final, but also winning it. 
Prevent goals: Pretty self explanatory. Teams that get into run-and-gun track meets do not tend to do well in the postseason. No matter how many goals you score, if you cannot prevent them your chances of winning plummet. Of the 14 teams to reach the Stanley Cup Final over the past seven seasons, only three of them finished the regular season lower than ninth in goals against. Nine of them were in the top six.
Kill penalties: When it comes to special-teams play, the penalty kill takes way more valuable than the power play when it comes to winning. In fact, the power play seems to have almost no impact on whether or not a team wins the Stanley Cup. Six of the past seven winners finished lower than 20th in the league on the power play during the regular season. Only one team finished lower than 11th on the penalty kill, and nobody was lower than 14th. Four of the teams finished in the top four, including three that led the league.
Control the puck: Puck possession has become one of the go-to talking points in the NHL over the past couple of years -- and especially this season with the mainstreaming of analytics and advanced stats -- but having the puck more than your opponent, at least when it comes to taking and allowing shots, is a vital part of winning. One of the best metrics on a team level is to look at the amount of unblocked shot attempts a team takes when the score is close (FenClose) to help account for score effects. As teams get ahead or fall behind in games by larger margins the shot numbers tend to get skewed a bit as teams protecting leads sit back to protect them and teams that are trailing get desperate and attempt to fire shots from all over the ice. When the score is close, it is a greater reflection of a team's skill level.
These three areas seem to matter the most. Typically Stanley Cup winners are also very good offensive teams, but it's not a necessity. The Los Angeles Kings have won two of the past three Stanley Cup titles while ranking in the bottom five in goals scored each time. Teams that rack up high hit totals and block a lot of shots also do not tend to succeed, as Stanley Cup winners usually rank near the bottom of the NHL in those categories. Not because playing physical and blocking shots are not important, but because if you find yourself doing those things a lot it's probably a sign that you do not have the puck. Which is bad.
Just to show how important these areas are, here are the past 14 Stanley Cup finalists and where they ranked across the league in each season. Cup winners are in bold.
 Stanley Cup Finalists Since 2007-2008
Team
Year
Result
GA
PK
FenCose
Average
Chicago Blackhawks
2009-10
Won Cup
1
2
3
2.0
Vancouver Canucks
2010-11
Lost Final
1
3
4
2.6
Los Angeles Kings
2011-12
Won Cup
2
4
4
3.3
Detroit Red Wings
2007-08
Won Cup
1
1
8
3.3
Chicago Blackhawks
2012-13
Won Cup
6
1
4
3.6
Boston Bruins
2012-13
Lost Final
3
4
4
3.6
Los Angeles Kings
2013-14
Won Cup
1
11
1
4.3
New York Rangers
2013-14
Lost Final
4
3
6
4.3
New Jersey Devils
2011-12
Lost Final
9
1
9
6.3
Boston Bruins
2010-11
Won Cup
2
14
16
10.6
Philadelphia Flyers
2009-10
Lost Final
15
10
11
12.0
Pittsburgh Penguins
2008-09
Won Cup
17
13
8
12.6
Detroit Red Wings
2008-09
Lost Final
21
25
1
15.6
Pittsburgh Penguins
2007-08
Lost Final
9
20
27
18.6
There are a couple of outliers, of course, but just look at where these teams rank in these categories, especially the Cup winners. Three of the four teams at the bottom ended up losing to teams ahead of them, and the one team that didn't (Pittsburgh) beat one of the teams below them. And even that Pittsburgh team is a bit underrated here because it was a completely different team in the second half of that season following the change in coaches (firing Michel Therrien and replacing him with Dan Blysma) and making several key in-season moves (trading Ryan Whitney for Chris Kunitz, trading for Bill Guerin, adding Craig Adams on waivers to help the penalty kill).
So, which teams in the NHL through the halfway point are excelling in these areas?
Let's take a look at the 20 teams that are either occupying a playoff spot as of Thursday or are within four points of a playoff spot.
Some interesting teams at the top. OK, Chicago and Pittsburgh make sense, and Nashville has one of the best records in the league, so it's not really a huge surprise to see the Predators doing the important things well.
But how about the Detroit Red Wings?
A team that has very quietly retooled and rebuilt in recent years (while still making the playoffs every season) and is still looking like it could cause some problems in the postseason. Nicklas Lidstrom and Brian Rafalski are no longer on the blue line. Tomas Holmstrom is gone. Pavel Datsyuk and Henrik Zetterberg are getting older. They have a lot of young, new faces on the roster. And through it all, Mike Babcock still has that team humming along like a machine. The health of goaltender Jimmy Howard will obviously play a big role in what they are able to do this season, but that might be a team to really watch for if he can stay healthy.
The most shocking team near the top? Winnipeg. Easily. Not only because it's Winnipeg, a team that still strongly resembles the Atlanta Thrashers when it comes to the roster it is putting on the ice, but because of the number of injuries the Jets have sustained, particularly on the blue line. They have had respectable possession numbers in the past but have been done in by horrid goaltending. This season, the goaltending is there thanks in large part to Michael Hutchinson. Give that man the job and keep playing him.
The Islanders and Lightning ranking so low is also a bit of a shock in the opposite direction. They are the top two possession teams in the league -- which is important, and a very good sign -- but both are only average when it comes to preventing goals, mostly due to their penalty killing units. The Islanders' penalty killing should be a major point of concern at this point, and while Jaroslav Halak has been a welcome addition and really stabilized their goaltending situation after the disaster they had in their the past two seasons, his backup, Chad Johnson, has been a sieve during his appearances.
The Kings have been playing better recently, but man ... that does not seem to be the same team we saw the past three seasons.
There is still half a season left to play, so there is still plenty of time for these rankings to change (and we will look at them again later in the season) but if you wanted to pick your top contenders to reach the Stanley Cup Final at the halfway point, you might want to look at the top five or six teams on that table based on recent history.
And if you can't imagine some of these teams reaching the Final (Nashville, Detroit ... Winnipeg?!) just think of how few people would have picked last season's Rangers team to make it based on their regular season, or the 2011-12 Kings and Devils. Or the 2010 Flyers.