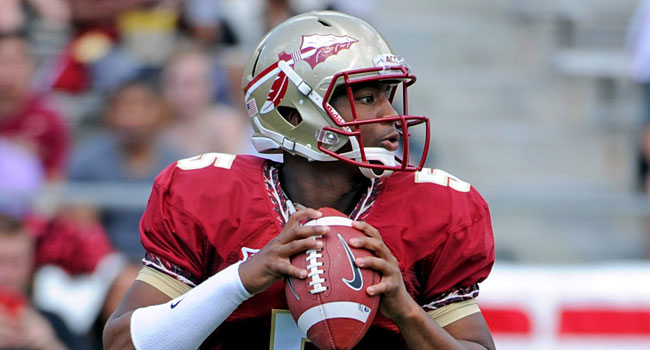 Conference previews: ACC | Big Ten | Big 12 | SEC | Group of Five/Independents
Lists. The Internet loves them. That means you love them.
Right now, you should be getting ready for some meeting or another but a friend just sent you this link at your desk. Look busy. While we were sitting around thinking of every way to preview the season, we settled on this list of lists for the college football season.
We thank you in advance for the page views ...
Top 5 nicknames for Jameis Winston
• Jaboo
• Just call him Shellfish
• Youthful Exuberance
• Jameis Football
• Crab N' Go
Top 5 alternative conference nicknames
• SEC: Strength Everywhere Conference
• Pac-12: The Federated Media Amalgamation of West Coast Athletic Institutions. Larry Scott, proprietor
• Big Ten: Ah, Piscataway
• Big 12: Neat New Logo. Same Bad Math (10 teams).
• ACC: Notre Dame and the 14 Sorta Partners.
Top 5 unemployed coaches
• Butch Davis: Unfairly tainted by the North Carolina scandal. Never named in NCAA report. If he's not bitter, he should be.
• Mack Brown: Texas' loss is ESPN's gain. At 62, former Mack is seemingly retired from coaching. But he's the same age as Nick Saban.
• Mike Bellotti: You keep hearing Bellotti isn't done yet. He's too good to take a non-BCS job.
• Gene Chizik: Yeah, you heard me.
• Ed Orgeron: Turned down defensive coordinator job from Steve Sarkisian at Southern California. Still curiously out of work after great finishing kick with Trojans.
Top 5 things less relevant than the coaches poll
• Skinny jeans
• Nova Scotia
• Pete Holmes
• Mountain West Network. Wait, what? It folded? When?
• Harris Poll
Top 5 up-and-coming coordinators
• Rhett Lashlee, offensive coordinator, Auburn: A relationship that goes back decades with Gus Malzahn has paid off. In high school he still owns seven national passing records. You might have noticed Lashlee's impact on Nick Marshall.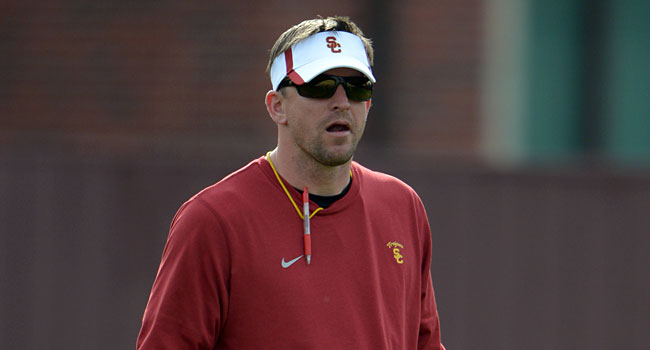 • Jake Spavital, offensive coordinator, Texas A&M: Only 29, Spav coached Johnny Manziel after coming over from West Virginia. Did the quarterback make the coach or vice versa? A little bit of both. Given Kevin Sumlin's track record with QBs, we think the Aggies will be OK in '14.
• Justin Wilcox, defensive coordinator, USC: A hot property Steve Sarkisian brought along from Washington. Since 2006, Wilcox has coordinated defenses at Boise State, Tennessee, Washington and USC. That's moving up the ladder.
• Tom Herman, offensive coordinator, Ohio State: Herman is so young (38) that he paid off his student loans only a few years ago. This is the brains (yes, he is a Mensa member) behind Braxton Miller.
• Joe Wickline, offensive coordinator, Texas: They're going to miss him at Oklahoma State. They're going to love him in Austin. In nine years in Stillwater, Wickline helped develop some of the most balanced offenses in the country. Mike Gundy valued him so much that Texas would have owed OSU $600,000 if Wickline wasn't specifically named OC with play-calling duties.
Top 5 rejected playoff selection committee members
• David Hasselhoff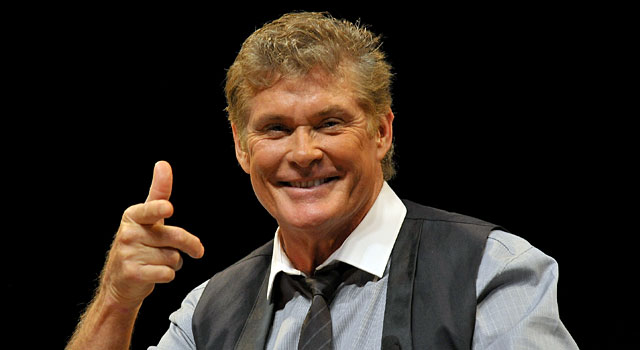 • Tom Osborne (the Oregon special teams coach)
• Jim Tressel
Top 5 mid-major coaches ready to move up
The Chris Petersen Memorial Trophy in alphabetical order:
• Dino Babers, Bowling Green: Word is that Babers models his program after mentor Art Briles. We'll see if he's all in when Babers starts wearing long sleeves in 100-degree weather. The Baylor-centric offense will be the most exciting in the MAC. His Eastern Illinois offense averaged 48 points and 590 yards per game last season. The top MAC offense last year (Northern Illinois) averaged 39 points and 519 yards per game. Look out, Mid-American.
• Tim DeRuyter, Fresno State: This is what going 20-5 in two seasons in the Central Valley will get you -- a 100 percent guaranteed contract. That was DeRuyter's reward after going 11-2 in his second season. Star definitely on the rise.
• Bryan Harsin, Boise State: Chris Petersen was going to leave someday. Harsin -- former Broncos quarterback and offensive coordinator -- is sort of Boise's version of Ron Zook, Gene Bartow and Phil Bengston. If you don't get the reference, think about the legends each of those replaced. Harsin is The Guy To Follow The Guy at Boise.
• Mark Hudspeth, Louisiana-Lafayette: The former Mississippi State assistant just landed a six-year deal. The SEC can't be that far away if Hud keeps leading the Ragin' Cajuns to bowls. (So far, Hudspeth is responsible the only three in school history.)
• Tony Levine, Houston: This former Minnesota Fighting Pike (look it up!) is 14-12 in two years since taking over for Sumlin. Cougars on the way up with new stadium and exciting offense.
Top 5 Cinderellas
• LSU: No one's picking the Tigers to win the SEC West, and thus the SEC. But isn't that Alabama game at home?
• Wyoming: OK, so it's only the Mountain West but new coach Craig Bohl has won 24 in a row!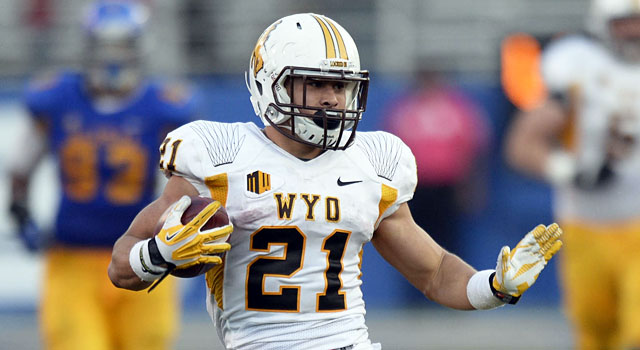 • Kansas State: Just because. To discount Bill Snyder is to ignore common sense.
• The ACC Coastal: Six teams have a legitimate chance to win a wide-open division. The bad news: The winner has to face Florida State in ACC title game.
• Penn State: James Franklin already has the Big Ten's top recruiting class in '15.
Top 5 media personalities for the playoff era
• Bruce Feldman, Fox Sports 1: Author of three best-selling college football books. Producer of Roll Tide, War Eagle, award-winning writer. Bruce gives the fledgling network instant college football credibility.
• Spencer Hall, EDSBS.com and SBNation: To read him is to love him with his obscure, twisted perspective on the sport. If Dennis Miller had a (better) knowledge of sports and the late Bill Hicks had a keyboard, Hall would be their love child. Ewwww!
• Rick Neuheisel, Pac-12 Network: ... among other gigs. He used to have the arm to play quarterback. He'll be snatched up by ESPN soon. Book it.
• Andy Staples, Sports Illustrated and SI.com: We all wish we had his future -- and his talent. This ultimate foodie will steer you to the right places from New York to Tuscaloosa.
• Jon Solomon, CBSSports.com: A human think tank who knows more about the O'Bannon case than the actual lawyers who worked it. Developed the first database of concussed players suing the NCAA. Deserves a national platform with us after leaving al.com.
Top 5 new clauses in coaches' contract
• "We, the undersigned, can't freakin' believe we're paying said head coach $7 million per year ..."
• ... a dime for every Twitter follower over 100,000."
• ... regents approve $250,000 discretionary fund for head coach to entertain, influence and intimidate playoff selection committee."
• ... staying off TMZ, Deadspin and Outside The Lines for a period of five years, coach shall earn a retention bonus of $125,000."
• "... an anonymous donor shall be assigned to arrange for a debit card to be used by all recruits making official visits."
Top 5 hot/disturbing/quizzical trends
• The public's unholy fascination with new uniforms, helmets. They're manipulating you, people. It's all just pretty colors and shapes. Get off the Internet and get some work done!
• Unions. What they forgot to tell those Northwestern players is they're required to have slam shots with the United Steelworkers every other Thursday.
• Three square meals a day. The always-progressive NCAA has seen to it 14 years into the 21st century that schools could properly feed their players. Bravo.
• Autonomy. No, it's not a new Kia subcompact.
• Graduate transfer rule. Or the Russell Wilson syndrome. Why not give kids freedom to transfer after they've earned their degree?
Top 5 coaching lookalikes
We'll let you Google 'em:
• Ryan Gosling as Kliff Kingsbury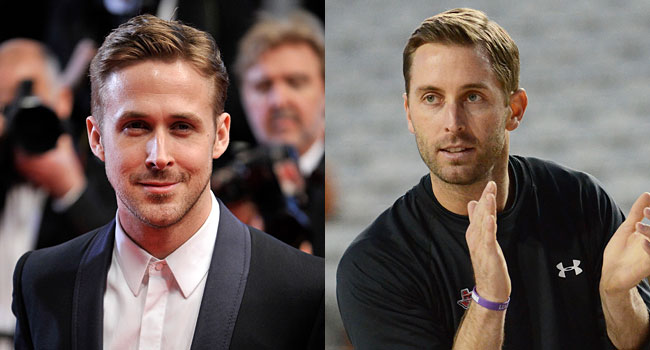 • Toby from The Office as Jimbo Fisher
• David Blaine as James Franklin
• Rob Corddry as Mark Helfrich
• Curious George as Jim Mora Jr.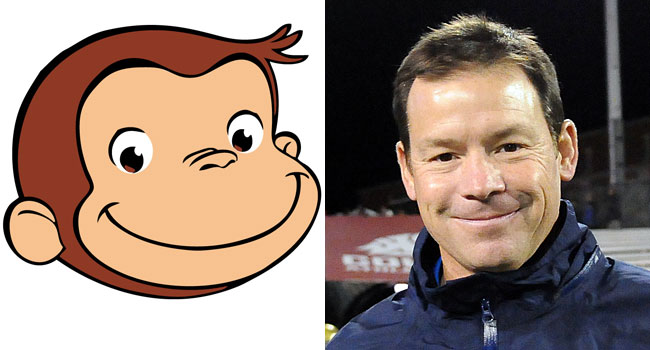 Top 5 (OK, 10) things every college football fan should do before they die
• Gnaw on andouille sausage at an LSU tailgate.
• Crash Bill Snyder's postgame presser. (OK, maybe not.)
• Spend three hours touring Oregon's $68 million Hatfield-Dowlin football complex. (Yeah, it's possible. Don't miss Howard's Barber Shop, named after an anonymous donor's cat.)
• Sit at the 50 on a clear January day for the Rose Bowl.
• Watch the Miami Hurricanes in a 40,000-seat stadium built somewhere near, you know ... campus. Who knows, people might come?
• Dot the I (Ohio State)
• Tiger Walk (Auburn)
• Fifth Quarter (Wisconsin)
• Game day at the Fargodome (North Dakota State).
• Kissing after every touchdown at Kyle Field. (Just remember to bring a date. Could be awkward.)