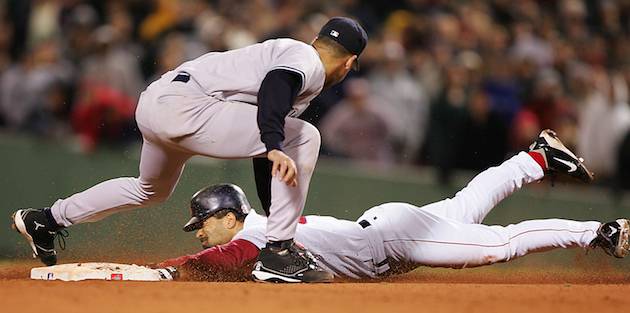 The 2004 trade deadline deal that sent Dave Roberts to Boston wasn't a big deal at the time, but it ended up being huge. (Getty Images)
Breathlessly awaiting the latest trade rumors to see if your team will get that player that puts them over the top? Upset there's no movement and no big move made? Last year the Cardinals were bold and sent Colby Rasmus and others to Toronto to remake their bullpen and gain starter Edwin Jackson, riding the results of the trade to a World Series title.


Keep up on latest rumors
That deal worked -- but it's not exactly common, at this point most moves are made to tweak teams in contention, not completely remake them. Sometimes, a player like Dave Roberts for the 2004 Red Sox can make a big impact on the field, even if his trade wasn't the talk of baseball when it went down. That year the talk of the deadline was the four-team deal that sent Boston's Nomar Garciaparra to the Cubs, while the deal with the Dodgers that brought the speedy Roberts went under the radar.
Here's the trades made by the last 10 World Series champions leading up to the July 31 non-waiver trade deadline, as well as those leading up to the Aug. 31 waiver trade deadline:

2011 St. Louis Cardinals
July 27 -- Received RHP Octavio Dotel, RHP Edwin Jackson, OF Corey Patterson, LHP Marc Rzepcynski and cash from the Blue Jays for LHP Trever Miller, OF Colby Rasmus, LHP Brian Tallet and RHP P.J. Walters
July 31 -- Received SS Rafael Furcal from the Dodgers for INF Alex Castellanos

2010 San Francisco Giants
July 1 -- Received RHP Chris Ray and RHP Michael Main from the Rangers for C Bengie Molina
July 31 -- Received LHP Javier Lopez from the Pirates for 1B John Bowker and RHP Joe Martinez
July 31 -- Received RHP Ramon Ramirez from the Red Sox for RHP Daniel Turpen
Aug. 11 -- Received INF Mike Fontenot from the Cubs for OF Evan Crawford
Aug. 13 -- Received OF Jose Guillen from the Royals for RHP Kevin Pucetas and cash

2009 New York Yankees
June 30 -- Received IF Eric Hinske from the Pirates for C Eric Fryer and RHP Casey Erickson
July 31 -- Received IF/OF Jerry Hairston Jr. from the Reds for C Chase Weems

2008 Philadelphia Phillies
July 17 -- Received RHP Joe Blanton from the Athletics for LHP Josh Outman, IF Adrian Cardenas and OF Matthew Spencer
Aug. 30 -- Received PH Matt Stairs from the Blue Jays for LHP Fabio Castro

2007 Boston Red Sox
July 31 -- Received RHP Eric Gagne from the Rangers for OF David Murphy, LHP Kason Gabbard and OF Engel Beltre
July 31 -- Received OF Sean Danielson from the Cardinals for RHP Joel Pineiro
Aug. 17 -- Received OF Chris Carter from the Nationals for OF Wily Mo Pena

2006 St. Louis Cardinals
July 5 -- Received RHP Jeff Weaver and cash from the Angels for OF Terry Evans
July 30 -- Received IF Ronnie Belliard from the Indians for IF/OF Hector Luna
July 31 -- Received RHP Jorge Sosa from the Braves for RHP Rich Scalamandre

2005 Chicago White Sox
July 31 -- Received IF Geoff Blum from the Padres for LHP Ryan Meaux

2004 Boston Red Sox
July 2 -- Received LHP Jimmy Anderson from the Cubs for RHP Andy Shipman
July 21 -- Received IF Ricky Gutierrez from the Cubs as part of a conditional deal
July 24 -- Received RHP Terry Adams from the Blue Jays for 3B John Hattig
July 31 -- Received OF Dave Roberts from the Dodgers for OF Henri Stanley
July 31 -- Received 1B Doug Mientkiewicz and SS Orlando Cabrera in a four-team trade with the Cubs, Twins and Expos, sending SS Nomar Garciaparra and OF Matt Murton to the Cubs

2003 Florida Marlins
July 11 -- Received RHP Ugueth Urbina from the Rangers for 1B Adrian Gonzalez, LHP Ryan Snare and OF Will Smith.
Aug. 31 -- Received OF Jeff Conine from the Orioles for RHP Denny Bautista and RHP Don Levinski

2002 Anaheim Angels
July 31 -- Received C Sal Fasano and OF Alex Ochoa from the Brewers for C Jorge Fabregas, UTIL Johnny Raburn and RHP Pedro Liriano
For more baseball news, rumors and analysis, follow @EyeOnBaseball on Twitter, subscribe to the RSS feed and "like" us on Facebook.