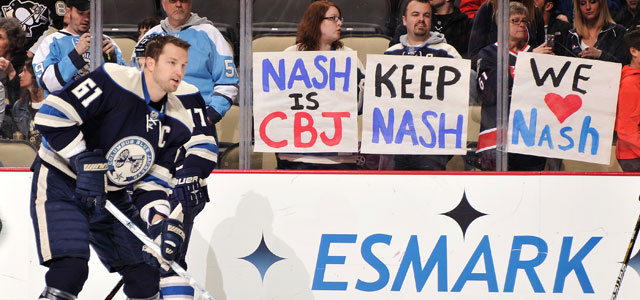 Success in the NHL draft comes down to three things, two of which are obvious and should go without saying: The ability to scout and evaluate talent, the ability to develop that talent once you've drafted it, and, perhaps most importantly (even more than most people will want to admit) ... a lot of luck.
When it comes to "luck" that can be anything from a player simply staying healthy, to just finding a guy that fits into the right system, on the right team, at the right place and at the right time. If a team picks an All-Star -- or even a regular NHL player -- in the seventh round how much of that is a result of great scouting and development, and how much of it is due to luck? After all, if that team knew that player was going to become an All-Star or a quality player they probably would have taken him earlier in the draft and not passed him over multiple times.
It also takes a few years to figure out what type of return you're going to get on your picks.
As we head into the 2012 draft this weekend, let's hop in the NHL draft time machine and go back a decade and revisit the 2002 crop of players.
In hindsight, it wasn't a great draft class (the one that followed in 2003 turned out to be one of the best ever) and once you get past No. 1 overall pick Rick Nash, and a few other select players like Alexander Semin, Jay Bouwmeester, Ryan Whitney and Duncan Keith, it was relatively thin group. That needs to be taken into account when grading the return each team received.
So let's jump right into it...

Anaheim Ducks
NHL Players: 2 (Joffrey Lupul, Tim Brent)

The Ducks had the No. 7 overall pick in 2002 and ended up coming away with one of the top scorers in the entire class in Joffrey Lupul. Of course, much of his career has been spent away from Anaheim. He's had two separate stints with the Ducks, and was part of two separate trades involving defenseman Chris Pronger -- one that sent him away from Anaheim, and one that brought him back to Anaheim.

After his first two years in the league with the Ducks they traded him to Edmonton in the deal that landed them Pronger, which went a long way toward them winning the Stanley Cup in 2007. He was later traded back to the Ducks have spending time in Edmonton and Philadelphia in the 2009 trade that sent Pronger to the Flyers.

Tim Brent, Anaheim's second-round pick that year, has developed into a checking-line center in Carolina.

Grade: B



Atlanta Thrashers (Now the Winnipeg Jets)
NHL Players: 4 (Kari Lehtonen, Jim Slater, Patrick Dwyer, Nathan Oystrick)

The Thrashers committed what I consider to be a major draft sin and used the second overall pick in the entire draft on the most unpredictable position available, selecting goaltender Kari Lehtonen. His career early on was constantly derailed by injuries, but he's always been around the league average mark when it comes to his performance when he's healthy.

He didn't really blossom until recently after he was traded to the Dallas Stars, a deal that the Thrashers/Jets have nothing to show for today.

Jim Slater, their second-round pick that year, is still with the organization now that it's in Winnipeg and has become a solid shutdown center. Patrick Dwyer never played for the Thrashers and made the NHL after signing with the Carolina Hurricanes as a free agent in 2006.

Grade: C-



Boston Bruins
NHL Players: 2 (Hannu Toivonen, Yan Stastny)

The Bruins were one of three teams to use their first-round pick on a goalie in '02, selecting Hannu Toivonen. He played 61 games and never established himself as a regular, posting a .890 save percentage in 61 games with the Bruins and Blues. Eighth-round pick Yan Stastny had a couple of cups of coffee in the NHL scoring nine goals in 61 games.

Grade: D-



Buffalo Sabres
NHL Players: 4 (Keith Ballard, Daniel Paille, Radoslav Heci, Dennis Wideman)

Keith Ballard (first round) and Dennis Wideman (eighth-round) turned out to be the two best players selected by the Sabres in '02 but neither one of them played a single game for the organization. Paille was the second of their two-first round picks and spent two years with the Sabres before he was traded to Boston for a third-round pick.

They definitely identified big league talent with four of the their 10 picks making the NHL, three of them as regulars, but they themselves had little value to show for it.

Grade: C+



Calgary Flames
NHL Players: 4: (Eric Nystrom, Matthew Lombardi, Curtis McElhinney, David Van Der Gulik)
A lot of teams did worse in this class than Eric Nystrom and Matthew Lombardi as their top-two picks, even though Nystrom is probably a disappointment as a 10th overall pick.
Grade: B


Carolina Hurricanes
NHL Players: 1 (Cam Ward)

Quality over quantity.

The Hurricanes only had four picks in 2002 (and only two in the top 150) but came away with a Conn Smythe Winning goaltender, Cam Ward, for their Stanley Cup run in 2005-06.

My opinions on taking goalies in the first round aside, the Hurricanes were able to hit a home run with Ward (at least long enough to get a Stanley Cup out of him) at the end of the first round. He was the last of the three goalies taken in the first round that year and to this point has been the most successful of the group.

Grade: A



Chicago Blackhawks
NHL Players: 5 (Anton Babchuk, Duncan Keith, James Wisniewski, Matt Ellison, Adam Burish)

Duncan Keith in the second round turned out to be one of the biggest steals in this class as he has gone on to become one of the top defenseman in the NHL, winning the Norris Trophy during the 2009-10 season. If you were re-drafting this class he would be one of the top-three players off the board. James Wisniewski has also gone on to be a regular in the NHL.

Matt Ellison never made much of an impact in the NHL but he did have a huge impact for Blackhawks as he was one of the trade chips used to bring Patrick Sharp to Chicago in a trade with the Philadelphia Flyers.

Grade: A



Colorado Avalanche
NHL Players: 4 (Jonas Johansson, Johnny Boychuk, Tom Gilbert, Tyler Weiman)

Another example of a team that found NHL talent but never enjoyed any of the contributions. Second-round pick Johnny Boychuk and fourth-round pick Tom Gilbert have both become NHL regulars as defenseman, but both were traded by the Avs before playing in the NHL.

Boychuk was sent to Boston for Matt Hendricks and won a Stanley Cup with the Bruins, while Gilbert was traded in 2004 for goaltender Tommy Salo.

Salo played just five games for the Avalanche and never appeared in the NHL after that. Gilbert is still a young, puck-moving defenseman with plenty of value in the NHL.

They found good players, but the execution failed.

Grade: C+



Columbus Blue Jackets
NHL Players 7 (Rick Nash, Joakim Lindstrom, Ole-Kristian Tollefsen, Lasse Pirjeta, Jaroslav Balastik, Greg Mauldin, Steven Goertzen)

The Blue Jackets had the No. 1 overall pick in 2002 and went with Rick Nash. The pick was a success, even if the franchise in the decade since hasn't been. And now 10 years later it appears as if his time in Columbus is coming to a close. The rest of the players selected in 2002 saw limited playing time in the NHL while none were ever able to establish themselves as consistent NHLers.

They get credit for making the right pick with Nash, but when you're picking first overall coming away with a top player isn't a luxury, it should be expected.

Grade: B



Dallas Stars
NHL Players: 2 (Tobias Stephen, Trevod Daley)

The Stars had 12 picks in 2002, including six of the first 80 picks and five of the first 43. They came away with one NHL regular, defenseman Trevor Daley who was taken with the 43rd overall pick, and only one other (goalie Tobias Stephan) that made an appearance in the NHL.

Grade: C-



Detroit Red Wings
NHL Players: 5 (Jiri Hudler, Tomas Fleischmann, Valterri Filppula, Derek Meech, Jonathan Ericsson)

The Red Wings are often held up as the gold standard in the NHL when it comes to drafting and player development and this was one of their best classes from top-to-bottom in recent years.

Despite not having a first-round pick, and not making their first selection until No. 58 overall, the Red Wings came away with quite a haul in 2002. Their first three picks were forwards Jiri Hudler (58th), Tomas Fleischmann (63rd) and Valterri Filppula (95th).

Defenseman Jonathan Ericsson was the last player taken in the entire draft at No. 291.

Grade: A



Edmonton Oilers
NHL Players: 5 (Jeff Deslauriers, Jarrett Stoll, Matt Greene, Mikko Luoma, Dwight Helminen)

Their first-round pick, Jesse Niinimaki, never played a game in the NHL. Five of their next 14 picks (yes, they had 15 picks this year) did, with only Jarrett Stoll and Matt Greene becoming regulars. Stoll and Greene were eventually traded to the Los Angeles Kings for defenseman Lubomir Visnovsky, while they were both a member of the 2012 Stanley Cup team in Los Angeles.

Grade: B-
2012 NHL Draft
| | |
| --- | --- |
| | |
More NHL coverage

Florida Panthers
NHL Players: 4 (Jay Bouwmeester, Petr Taticek, Rob Globke, Gregory Campbell)
With two of the top-10 picks in the draft the Panthers hit on one (defenseman Jay Bouwmeester) and missed on the other (Petr Taticek). At the time Bouwmeester was viewed as a possible No. 1 overall pick and his career in Florida pretty much mirrored that of Rick Nash's in Columbus -- good individual player, but was stuck on a team that was constantly mired in mediocrity before finally getting traded (as it turns out, to another consistently mediocre team).
Gregory Campbell was a solid find in the fourth-round and was later traded to Boston, along with Nathan Horton, for Dennis Wideman and a couple of draft picks.
Grade: B

Los Angeles Kings
NHL Players: 4 (Dennis Grebeshkov, Petr Kanko, Aaron Rome, Connor James)
The best player was Grebeshkov at No. 18 overall having spent five seasons in the NHL with the Kings, Islanders, Oilers and Predators. He hasn't played in the NHL since the 2009-10 season.
Grade: D+

Minnesota Wild
NHL Players: 5 (Pierre-Marc Bouchard, Josh Harding, Barry Brust, Matt Foy, Christoph Brandner)
Pierre-Marc Bouchard, the No. 8 overall pick, hasn't really been a disappointment when he's on the ice. He has a ton of talent and playmaking ability, and has been productive player for the Wild. He's just missed a ton of games due to injuries (this would of course be an example of bad luck), playing more than 70 games in a season in just four of his nine seasons.
Second-round pick Josh Harding helped to form a solid 1-2 punch in goal with Niklas Backstrom and might get an opportunity to start somewhere this summer as the top unrestricted free agent goalie.
Grade: B+

Montreal Canadiens
NHL Players: 3 (Chris Higgins, Andre Deveaux, Jonathan Ferland)
Chris Higgins has been a solid second/third line winger throughout his career and has actually been the fourth-best goal-scorer out of the class, which probably speaks to the overall strength of the group. Still, to get one of the top offensive players in the middle of the first round was better than most teams were able to do in 2002.
Grade: B

Nashville Predators
NHL Players: 3 (Scottie Upshall, Brandon Segal, Mike McKenna)
Scottie Upshall, the sixth overall pick, was Nashville's only selection in the first three rounds and played fewer than 100 games with the Predators before he was traded to Philadelphia. With so few picks in the prime rounds it's hard to hold the lack of success against the Predators front office too much, but this definitely wasn't one of their best classes.
Grade: C

New Jersey Devils
NHL Players: 4 (Barry Tallackson, Jason Ryznar, Cam Janssen, Iikka Pikkarainen)
Cam Janssen has had a lengthy NHL career, but when the best player a draft class produces is a guy whose biggest value is his ability to fight that's not exactly getting much in return. The Devils had a lot of picks in 2002, including two second-rounders and three three-rounders, but were without a first-round pick.
Grade: D+


New York Islanders
NHL Players: 2 (Sean Bergenheim, Frans Nielsen)
First-round pick Sean Bergenheim has had his moments of success in the NHL (like last year's playoffs with Tampa Bay) but the best player to come out of this draft for the Islanders was Frans Nielsen, a steal in the third-round. Nielsen has become one of the better shutdown, defensive forwards in the NHL and has a bit of an offensive game to complement that. The Islanders smartly locked him up to a contract extension during the season.
Grade: B+

New York Rangers
NHL Players: 3 (Nate Guenin, Joey Crabb, Petr Prucha)
Petr Prucha, an eighth-round pick, burst onto the scene as a rookie during the 2005-06 season and scored 30 goals for the Rangers (with an unsustainably shooting percentage of over 23 percent). It was all downhill after that, unfortunately, as his production steadily declined and he never really seemed to get any type of a consistent chances with another club.
Grade: C+

Ottawa Senators
NHL Players: 2 (Jakub Klepis, Alexei Kaigordov)
Move along. Nothing to see here.
Grade: D

Philadephia Flyers
NHL Players: 2 (Joni Pitkanen, Joey Mormina)
The 2002 draft was supposed to have four elite talents at the top: Nash, Bouwmeester and Lehtonen were the top-three, and Pitkanen was the fourth.
He never quite became a star in the NHL, but he's been a solid, minute-eating defenseman that can also provide some offense from the blue line. The only other Flyers pick to play in the NHL from this class was Joey Mormina, who played one game.
Pitkanen was traded after his third year in a deal that brought Lupul and Jason Smith to the Flyers.
Grade: B

Phoenix Coyotes
NHL Players: 5 (Ben Eager, David LeNeveu, Joe Callahan, Matt Jones, John Zeiller)
The Coyotes had two first-round picks, with Ben Eager being the only one to crack an NHL roster. The other four players that played in the NHL have combined to score a grand total of two goals.
Grade: C-

Pittsburgh Penguins
NHL Players: 4 (Ryan Whitney, Erik Christensen, Cam Paddock, Max Talbot)
Whitney was the first of Pittsburgh's run of lottery picks and gave them some quality production from the blue line before he was traded in 2009 for Chris Kunitz and Eric Tangradi. Erik Christensen always had a great wrist shot but not much else and has bounced around the league serving mostly as a shootout specialist. He was traded to Atlanta as part of the Marian Hossa and Pascal Dupuis trade in 2008. Max Talbot's place in Penguins history was made during his many playoff runs with the team, including the '09 Cup run when he scored both goals in a 2-1 Game 7 win in Detroit.
Grade: A

San Jose Sharks
NHL Players: 2 (Kris Newbury, Tim Conboy)
There isn't a whole to speak of here. San Jose's first three picks -- each made in the first three rounds -- each failed to see the NHL, including first-rounder (No. 27 overall) Mike Morris.
Between Newbury and Conboy there were only a combined 125 games in their NHL career and 14 points with four goals -- all from Newbury. Impressively, though, they combined for 244 penalty minutes in 125 games. That will come with guys taken in the fifth and seventh rounds in the NHL.
Grade: D-

St. Louis Blues
NHL Players: 2 (D.J. King, Tom Koivisto)
The Blues missed out on getting NHL players from their first five picks in the draft. It wasn't until they took Kings in the sixth round that they picked up a player who would reach the NHL. Of course King has been best known for having one brutal first and now being the older brother of Kings forward Dwight King. D.J. is still active in the Capitals system, but not with the team in Washington.
Between King and Koivisto you have 140 career NHL games -- all but 22 from King -- to go with six goals and 11 assists. That's not a lot of production from nine draft selections.
Grade: D

Tampa Bay Lightning
NHL Players: 4 (Paul Rangers, Fredrik Norrena, Ryan Craig, Darren Reid)
In what is looking like a trend here, the Lightning didn't find any NHL players with their six picks before drafting Ranger at No. 183. He played 270 career games, all with the Lightning, and was a pretty good part of an otherwise bad Lightning team. In 2007-08, for example, he averaged 25:13 of ice time per game and had 31 points (10-21=31). He has been out since 2009 on personal leave. I'd bet the Bolts wouldn't mind still having him around on the back end.
The group also includes Ryan Craig who had solid rookie and sophomore campaigns before falling off and playing just six games with the Penguins in 2010-11. In total he has 190 NHL games to his credit with 32 goals and 31 assists.
Grade: B-

Toronto Maple Leafs
NHL Players: 5 (Alex Steen, Matt Stajan, Ian White, Jarkko Immonen, Staffan Kronwall)
The Leafs found a couple of NHL guys with their first two picks in Steen and Stajan. Unfortunately for Toronto Steen has gone on to St. Louis and had a little more luck, growing into a solid player for the Blues. In Stajan the Leafs did get some decent production before flipping him to help them get Dion Phaneuf in a trade. Since going to Calgary Stajan has quieted down a lot.
White was another productive player who has bounced around the league a bit before landing in Detroit this past season and scoring seven goals with 25 assists from the blue line. Unfortunately for the leafs Kronwall isn't the famous one also with the Wings.
Grade: B+

Vancouver Canucks
NHL Players: 2 (Brett Skinner, Rob McVicar)
Eleven draft picks. Two in the NHL. Twelve games played. Zero goals.
Grade: F


Washington Capitals
NHL Players: 3 (Steve Eminger, Alexander Semin, Boyd Gordon)
The Caps had three first-round picks and they hit on all of them. Obviously the highlight of the group is Semin, who enjoyed a few excellent seasons with the Capitals but now appears to be on his way out of Washington. Clearly though, he was one of the best selections in the draft for any team with 197 goals and 211 assists in 469 career games up to this point.
Eminger and Gordon both remain solid players for the Rangers and Coyotes respectively.
Grade: A
Brian Stubits also contributed to this post.

For more hockey news, rumors and analysis, follow @EyeOnHockey and @agretz on Twitter and like us on Facebook.