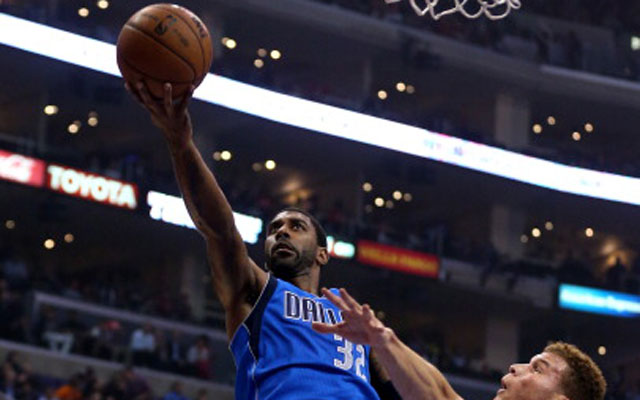 O.J. Mayo had himself a week.
(Getty Images)
The Baseline Awards are handed out for exceptional and not-so-exceptional events and players of the past week. Award rankings are at the end and, please, watch your step as you exit the ride.
Eastern Conference Player of the Week: LeBron James, Miami Heat
I want to punish him for the Heat's struggles, to hold him to a higher standard. But the man posted a 27-9-9 average, nearly averaging a triple-double, shooting 57 percent from the field and 44 percent from three. The free throws were a weakness but his defense made up for it. It would be great if I could justify how to keep him out of this spot, but the guy is simply the most dominant force on the basketball planet right now. 
Western Conference Player of the Week: O.J. Mayo, Dallas Mavericks
Kevin Durant, Russell Westbrook, or Kobe Bryant would be fine selections here (though Bryant's defense was problematic). But Mayo averaged 25-6-5 while shooting 51 percent from the field and 50 percent from three. That's just remarkable. His 40 points vs. Houston tied a career high, and he took over in the fourth. No really, watch. 
That's worth some dap. 
Eastern Conference Team of the Week: Atlanta Hawks
Wins over Denver and Memphis with a Wizards breather in the middle, the Hawks, are playing well on both sides of the ball and have excellent balance. They don't rely on any one thing on either end of the floor. They all defend well, they can all play well offensively (even with Josh Smith's long 2s), and they all play within themselves and the system. Even designated gunner Lou Williams is making the right plays most of the time. 
Larry Drew has done work down south. 
Western Conference Team of the Week: San Antonio Spurs
They beat their opponents by 66 points. They played three games. Do the math. The Spurs' defense has significantly improved and that was the big thing they really needed. We'll see how it hangs on, their schedule this week wasn't phenomenal, but they are just everywhere right now. They're playing at a level so far above their opponents, it's suffocating. 
Narratives of the Week
"Steve Nash will fix everything wrong with the Lakers."
The idea is that the Lakers can't be judged till they're effectively healthy, with Nash and Pau Gasol potentially returning this week. With Nash returning, the offense will make more sense, the players will be more engaged, and rainbows and puppies will spring from the earth. 
Problem: Nash isn't going to do a thing to improve their defense, and he certainly isn't going to improve their transtion defense. That's been the Lakers' biggest area of concern, and Nash is so often in the middle of the play offensively that him trying to recover if his man leaks out, it's not physically possible for him to catch. And that's before you factor his back condition, which limits him in mobility. 
The Lakers might improve, but the problems go way, way beyond things that Nash can resolve. Or Gasol can solve. Or Zeus can solve. 
"Stephen Jackson is trill."
Jackson did an interview where he said he enjoyed it when he went into the stands and fought with fans during the "Malice in the Palace." He talked openly and bluntly about opening fire during a shooting incident at a strip club years ago, which resulted in the loss of his teeth. Oh, and he threatened Serge Ibaka on Twitter, drawing a fine. 
This all goes into what Jackson calls being "trill" which is true and real mixed together. 
Look, I have no concept of what Jackson experienced as a youth growing up in Port Arthur, Texas. I don't have an intimate way to relate to how he came up or the culture he's adapted. These issues are complicated and need a lot of dialogue and examination to really understand. 
But I will say that Jackson's cavalier attitude toward these events ties into something pretty common. People often think that being honest is always the best thing, no matter what the impact is, that as long as you're honest, you can say or do whatever you want. But I have a hard time thinking that Jackson's actions are what we want from each other in this world. The fans bear responsibility for what happened in Detroit, but that doesn't mean what Jackson did was OK or that he should be so proud of it. Jackson has a right to legally carry a weapon (in certain places in certain states provided the weapon is registered). But regardless of how you feel about gun control, the reckless discharge of a firearm in a public place, such as how Jackson described is pretty much terrifying. 
Again, this isn't a criticism of Jackson's background, culture, or lifestyle. Until I've walked a mile in those shoes I've got no way to really provide insight on it. But reading his comments and his attitude makes it hard to understand how someone could have such a careless attitude toward the potential harm his actions can cause, all in the pursuit of being "trill." 
The Joe Fulks Honorary Award for more field goal attempts than points.

Raymond Felton 81 points on 84 shots
J.R. Smith 56 points on 64 shots
Andrea Bargnani 63 points on 64 shots
Evan Turner 58 points on 62 shots
George Hill 56 points on 58 shots
Anderson Varejao 48 points on 57 shots
Jeremy Pargo 48 points on 52 shots
Jeff Teague 41 points on 51 shots
Jameer Nelson 45 points on 48 shots
Jason Smith 40 points on 40 shots
Awards watch

MVP
Note: The top two guys are obstensibly tied, with Melo just .0000000005 points away, approximately. 
1. Kevin Durant, Thunder: If Durant leads the league in scoring and goes 50-40-90 (50 percent from the field, 40 percent from 3, 90 percent fom the arc, never done when leading the league in scoring, though Bird came close), I'm giving it to him out of sheer principle. 
2. LeBron James, Heat: There is literally nothing James is not doing right now that shouldn't be enough for the Heat to win.
3. Carmelo Anthony, Knicks: Going back to some of his old habits, but you still have to like the effort on both ends of the floor. 
4. Kobe Bryant, Lakers: You get the feeling he's getting worn down from carrying the load. 
5. Zach Randolph, Grizzlies: Put on some of the most impressive performances of his career this week.

ROY
1. Michael Kidd-Gilchrist, Bobcats: Shooting efficiently and producing on both ends. 
2. Damian Lillard, Blazers: He's nearly the winner by default, but the production is starting to slip a little bit. 
3. Anthony Davis, Hornets: He moves up by default. This race, it is not a barn-burner.
4. Harrison Barnes, Warriors: Having a rough couple of games, we'll see how he pulls out of it.
5. Andre Drummond, Pistons: Would be the leader if Lawrence Frank let him on the freaking court. 

COY:
1. Lionel Hollins, Grizzlies: Even with a few tough losses, Memphis remains one of the scariest teams in the West.
2. Mike Woodson, Knicks: Beating the champs on national television without your best player is a nice feather in the cap, I'd say.
3. Larry Drew, Hawks: Drew lost an All-Star and his team got better, as did the offense. Impressive. 
4. Gregg Popovich, Spurs: I watched a Spurs game in slow-motion this week to see the way they move the ball. It's poetry.
5. Mark Jackson, Warriors: The Warriors had a really impressive week and are solid on both sides of the ball. Jackson has a lot to do with that. 

6MOY
1. Jamal Crawford, Clippers: Lineups with he and Eric Bledsoe are devastating enough to close games even without Chris Paul.
2. Carl Landry, Warriors: The rebounding makes a huge difference off the bench for Golden State.
3. Kevin Martin, Thunder: How's 19 points on 10 shots per game for efficiency?
4. Lou Williams, Hawks: King of the advanced stats, plugging a 20 PER and a 22 percent aassist rate. 
5. Derrick Favors, Jazz: Averaging a double-double (15 and 12) per 36 minutes off the pine behind two very good big men. 

DPOY
1. Tony Allen, Grizzlies: Remains the most dangerous one-on-one perimeter defender in the game.
2. Tyson Chandler, Knicks: Has rounded back into DPOY form the last few weeks.
3. Nick Collison, Thunder: The box score is an insult to what this guy provides on the floor. 
4. Andrei Kirilenko, Timberwolves: Versatile and consistent, when healthy.
5. Taj Gibson, Bulls: The Bulls are giving up just 92 points per 100 possessions when he's on the floor. Normally I don't like using that metric, but you can see Gibson's impact.