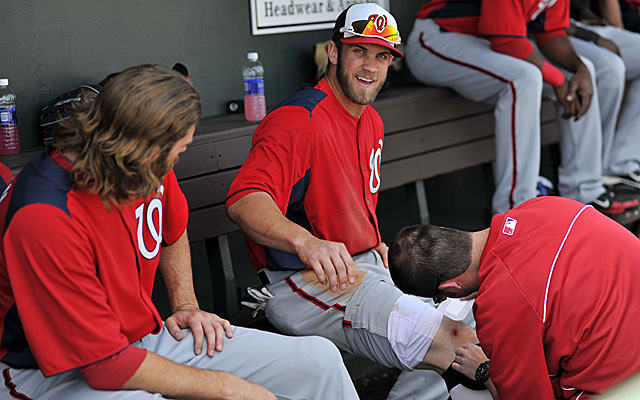 On Thursday, Bovada.lv released its odds for the stat lines of several prominent players. On Friday, the final preseason odds for what MLB team will win the 2013 World Series were released. They are as follows:
Nationals 7-1
Tigers 8-1
Blue Jays 8-1
Angels 9-1
Dodgers 9-1
Reds 12-1
Giants 12-1
Braves 16-1
Phillies 16-1
Rays 16-1
Rangers 16-1
Yankees 20-1
Cardinals 20-1
Orioles 30-1
Red Sox 30-1
Athletics 30-1
White Sox 40-1
Royals 50-1
Brewers 50-1
Diamondbacks 60-1
Indians 66-1
Pirates 66-1
Cubs 75-1
Padres 75-1
Twins 100-1
Mets 100-1
Mariners 100-1
Rockies 150-1
Marlins 200-1
Astros 250-1
Let us remember these aren't predictions. The bookmakers are trying to get the most amount of action on as many teams as possible. So more nationally popular teams like the Yankees, Red Sox and Cubs will generally always be "too high" on the list.
Another observation: How the hell isn't the Astros' line like 10,000-1? Who is wasting money on a mere 250-1?
Also, all the Mariners fans who called me names via email after my power rankings should be jumping all over this action, no?
Anyway, how are we betting?