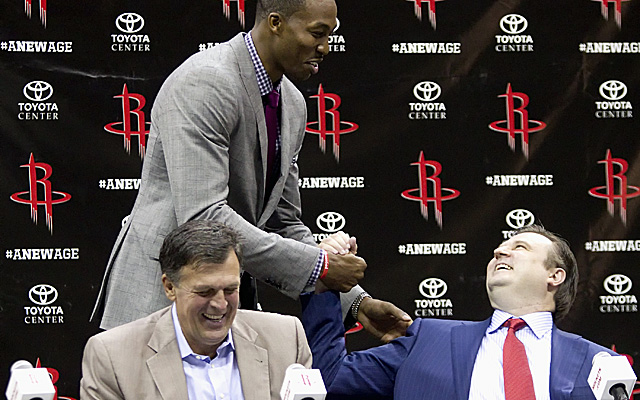 Free agency in the NBA isn't over, but it's over. The dust has settled around the biggest signings with Dwight Howard picking his place, Chris Paul staying put and players like Al Jefferson, Andrew Bynum and Andre Iguodala all moving to new teams. 
It's pretty easy to figure the biggest winners of free agency. The Rockets cleaned up by signing Howard, which has instantly catapulted them from fun, youthful upstart into a legitimate Western Conference power. The Pacers addressed needs and appear to have improved. Financial questions aside, the Nets have gone all-in. The Clippers -- the Clippers! -- made shrewd moves that have made them better. And the Warriors have taken another step forward by a premier player at his position. 
On the flip side, in terms of losers, I think the fact that Jordan Farmar may be their biggest pull of the offseason probably says it all for how it went for the Lakers. The Mavericks took another swing, and missed. The Nuggets went from a 57-win fast break machine to a team with a very cloudy future. And the Knicks made a deal sending future assets away for a jumpshooting non-rebounding big man. 
So with it all mostly settled and in place, how did everyone do? Here are grades for all 30 teams:
ATLANTA HAWKS
Key moves: Signed Paul Millsap (two years, $20 million), matched Jeff Teague's offer sheet (four years, $32 million)
The Hawks began a series of moves last offseason to transition into a new, remade roster. They dealt Joe Johnson and Marvin Williams, setting up a following offseason in which Josh Smith was a free agent. After unsuccessfully moving Smith at the deadline, he ended up picking Detroit, appearing to leave the Hawks in a difficult position. 
Except general manager Danny Ferry came through with a splendid move, signing Millsap to a very sensible deal, then matching on Jeff Teague's offer sheet from the Bucks. 
Are the Hawks a contender? Not at all. But do they have a chance to be as successful as they were last season (finished sixth in the East) despite having a much better payroll and financial future? For sure. 
Grade: B+
BOSTON CELTICS
Key moves: Traded everyone
The Celtics are obviously taking a major step back, but it's a necessary one. This was coming for some time now, knowing that Ubuntu couldn't live forever. Paul Pierce was old, Kevin Garnett was older. Doc Rivers didn't want to be part of a rebuilding process. So Danny Ainge finally pulled the plug and began his rebuilding project. 
He has a solid young core to start around -- Rajon Rondo, Jeff Green, Avery Bradley -- and future cap space and potential draft assets are on their way. On the surface, it's an ugly offseason for the Celtics. The team is significantly worse than it was a year ago, and they very clearly are no longer an Eastern power. But eventually this was going to have to happen and by all appearances, Ainge made the best out of a difficult situation. 
Grade: B
BROOKLYN NETS
Key moves: Traded for Paul Pierce, Jason Terry and Kevin Garnett, signed Andrei Kirilenko (two years, $6 million).
You have to give owner Mikhail Prokhorov this: He said he wasn't going to hold back when he bought the team, and he most definitely didn't hold back this offseason. The Nets are looking at a luxury tax bill near three figures, but that's no bother to Prokhorov. He promised a championship team within five years of buying the team and he's doing his part to make it happen. 
The best move the Nets made was using witchcraft or something to get Andrei Kirilenko to sign for $3 million a year after just opting out of a deal that would've paid him $10 million with the Timberwolves. 
The question is, are the Nets actually a title contender now? The moves to bring in Pierce and Garnett appear blockbustery, but this isn't 2009. New coach Jason Kidd is going to have to manage minutes and workload next season -- along with big personalities -- something that could be challenging for a rookie coach. The Nets will be better than they were a year ago. But can they beat the Heat four out of seven times, much less the Pacers or Bulls? They're a top four Eastern team but probably not quite yet elite, despite the inflated payroll. 
Grade: B
CHARLOTTE BOBCATS
Key moves: Signed Al Jefferson (three years, $41 million) 
With any move the Bobcats make, it has to be viewed in the prism of "but they're the Bobcats." Enticing a free agent to come to Charlotte and play for an organization that has been laughed at the past three seasons isn't easy. And to make it happen, you have to overpay. 
And overpay is what they did for Al Jefferson. He's an excellent big man. But is he genuinely going to make much of a difference in the win-loss column this season for Charlotte, at least significantly enough to make $14 million a year worth it?
For the Bobcats, it's more about patience. They've tried the whole draft-and-develop thing. They're fully stocked with top five picks and lottery players. But they still aren't good. So they went for something different, bringing in Jefferson to see if he can aid in expediting the process. The Bobcats could be decent ... if some of those young players actually show something. Still, what's the big difference between 20 and 30 wins in the NBA?
Grade: C-
CHICAGO BULLS
Key moves: Signed Mike Dunleavy (two years, $6 million)
The best offseason move the Bulls made is one they aren't actually making. They're acquiring a former MVP, and they didn't have to pay a dollar to get him. With Derrick Rose set to return, the Bulls already have made maybe the best summer move of any team.
Add in the clever signing of Mike Dunleavy, who will play the honorary Korver role alongside him, the Bulls may have solved their biggest issue, that being consistency on the offensive end.
Grade: A- 
CLEVELAND CAVALIERS
Key moves: Signed Jarrett Jack (four years, $25 million), Earl Clark (two years, $9 million), Andrew Bynum (two years, $24 million)
Andrew Bynum says they're a playoff team. And by default, they probably are.
The Cavs have done a nice job bouncing back post-Decision. They have a cornerstone piece in Kyrie Irving and have added quality young talent around him. Who knows what No. 1 overall pick Anthony Bennett will contribute this season, and there are serious questions about logjamming their frontcourt. But Bynum's contract was wise in that it guaranteed only $6 million of the total $24 million, Earl Clark fills a major need and Jarrett Jack is an ideal bench part to have backing up Irving. 
Grade: B+
DALLAS MAVERICKS
Key moves: Signed Jose Calderon (four years, $29 million), Monta Ellis (three years, $30 million)
Mark Cuban thinks they're better off without Dwight Howard. And if you believe that, then I'd like to tell you more about this great timeshare I have in the Oklahoma panhandle.
The Mavs dismantled their championship team from 2011 in order to make a couple of runs at prime free agents. In theory, it made a lot of sense. The team's window wasn't going to stay open long, so Cuban and company were trying to make the sensible decision to restock and make a new window by signing a new centerpiece to eventually take the torch from Dirk Nowitzki. It was supposed to be Deron Williams last summer, Dwight Howard and/or Chris Paul this summer. Swing and a miss. 
So the Mavs were left once again scrambling to piece together a team worthy of Dirk. Incoming are Calderon, a solid point guard and Ellis, the most volumey of all the volume scorers. The Mavs might be good enough to compete for a playoff spot. But they aren't going to be doing anything in the postseason, which for them, is supposed to be the goal. 
Grade: D-
DENVER NUGGETS
Key moves: Signed J.J. Hickson (three years, $15 million)
The Nuggets sowed the seeds for their disappointing offseason the moment they canned George Karl. After Masai Ujiri abandoned ship for Toronto, the Nuggets let their Coach of the Year go because of an apparent contract dispute. As a result, their prime offseason target, Andre Iguodala, actually turned down more money from Denver to head elsewhere. Not hard to figure why, huh?
What the Nuggets ended up with is a three-year deal for J.J. Hickson, who helps their frontline but will play behind Kenneth Faried. And they signed Hickson after trading Kosta Koufos for Darrell Arthur, who is now third on the depth chart at power forward with no backup center on the roster. But hey, Evan Fournier looked all right in Summer League!
Grade: F
DETROIT PISTONS
Key moves: Signed Josh Smith (four years, $54 million), signed Chauncey Billups (two years, $5 million)
The Pistons are trying. You've got to give them that. And really, breaking down that roster, it's kind of hard not to be extremely intrigued. A frontline of Greg Monroe, Andre Drummond and Josh Smith is super fun. The deal for Smith was sensible, and while he could be out of position if they truly want to play him at small forward, new coach Mo Cheeks has some options. 
Grade: B
GOLDEN STATE WARRIORS
Key moves: Signed Andre Iguodala (four years, $48 million)
The Warriors proved last postseason how talented they are and how close they are to really being something. They flirted with Dwight Howard for a month and, for some reason, a big part of me thinks they're better off having missed out on him. 
Andrew Bogut is still an elite defender when healthy, and not having to give up either Klay Thompson or Harrison Barnes in a sign-and-trade might be worth missing out on Howard. Add in Iguodala, who can play in a similar role that he was so effective at with Team USA, and the Warriors have a scary rotation. Assuming they can replace Carl Landry and Jarrett Jack.
Grade: A-
HOUSTON ROCKETS
Key moves: Signed Dwight Howard (four years, $88 million)
They landed the big fish. Really, that's all that needs to be said. But look at it this way: In just two years, general manager Daryl Morey turned players like Kevin Martin and Jeremy Lamb into James Harden and Dwight Howard. Not too bad. 
Grade: A+
INDIANA PACERS
Key moves: Signed Chris Copeland (two years, $6 million), re-signed David West (three years, $36 million), signed C.J. Watson (two years, $5 million)
The biggest issue the Pacers had last postseason was their bench. It wasn't nearly as productive as they needed and with Danny Granger coming back (probably), they've added a quality stretch 4 in Copeland and a solid backup point guard. They addressed issues, and they appear to have improved from the team that darn near knocked off the Heat.
Grade: B+
LOS ANGELES CLIPPERS
Key moves: Re-signed Chris Paul (five years, $107 million), sign-and-traded for J.J. Redick (four years, $28 million) and Jared Dudley
Who are these guys? This isn't the Clippers is it? Making smart choices and improving an already good team. What's going on here?
The Clippers "traded" for Doc Rivers, which was step one. Then they re-signed Chris Paul, which was step two. And then they added necessary pieces like J.J. Redick and Jared Dudley, which strengthens them overall by quite a lot. Losing Eric Bledsoe stings, but the Clippers managed to improve their bench regardless of it. 
Grade: A+
LOS ANGELES LAKERS
Key moves: Signed Nick Young (one years, $1.1 million), Jordan Farmar (one year, $1.1 million), Chris Kaman (one year, $3.2 million)
Welp. 
Grade: F
MEMPHIS GRIZZLIES
Key moves: Re-signed Tony Allen (four years, $20 million)
The Grizzlies are in need of a shooter, as they have been for a couple of seasons. Re-signing Allen was a good move, but they need to use the exceptions at their disposal to bring in help at a position of need. Maybe they were just waiting on Mike Miller, who has a history with the organization and is interested in them right now. If not, it's been a little bit of a disappointment.
Grade: C
MIAMI HEAT
Key moves: Re-signed Chris Anderson (one year, $1.2 million), amnestied Mike Miller
When you repeat as champions, you're not really compelled to do much more than make sure the team remains as close to the same as possible. And the Heat have done that, except for the fact they axed Miller, who has played a pretty major role in both titles. It's something they need to replace, or hope someone already on the roster can assume responsibility of. 
Grade: B
MILWAUKEE BUCKS
Key moves: Signed O.J. Mayo (three years, $24 million), Carlos Delfino (two years, $6.5 million)
Who knows what the Bucks are doing. I sure don't.
Grade: D
MINNESOTA TIMBERWOLVES
Key moves: Signed Kevin Martin (three years, $28 million), Chase Budinger (three years, $16 million), Corey Brewer (three years, $15 million)
The Wolves have been aggressive bringing in Martin, re-signing Budinger and adding Brewer. But the curious thing is what's going on with Nikola Pekovic. He's a restricted free agent and hasn't fielded an offer from anywhere as of yet. Are the Wolves simply waiting for the market to determine his value so they can match, or is there something else in play here? 
Grade: Incomplete
NEW ORLEANS PELICANS
Key moves: Sign-and-traded for Tyreke Evans (four years, $44 million), acquired Jrue Holiday on draft night
The Pelicans have an intriguing young backcourt in Holiday, Eric Gordon, Austin Rivers and Evans. It's going to be up to Monty Williams to figure out how they all fit, or ... it means someone is going to need to go. And that's possibly Gordon, who hasn't seemed to be all that happy in New Orleans. 
The deal for Evans is solid, though. The number is good and, assuming all the parts fit, he could be a top sixth man next season.
Grade: B+
NEW YORK KNICKS
Key moves: Traded for Andrea Bargnani, signed for Metta World Peace (one year, $1.4 million), re-signed J.R. Smith (three years, $18 million)
Ah, the Knicks. They traded for a jumpshooting big man who doesn't play defense and gave a big new contract to a guy who underwent knee surgery five days later. But hey, at least Metta World Peace got to come home!
Grade: D+
OKLAHOMA CITY THUNDER
Key moves: N/A
They genuinely have done nothing in the offseason outside of draft two players and let their third-leading scorer walk. Sources tell CBSSports.com they're pushing hard for Mike Miller, and a third reunion with Derek Fisher could be in the works. The Thunder have a roster built already and they're relying on young players to produce next season. Still, with things like the mid-level exception and the amnesty in their back pockets, they've chosen to stand pat yet again. 
Grade: C+
ORLANDO MAGIC
Key moves: Signed Jason Maxiell (two years, $5 million)
The Magic don't have much to do as of now. They're drafting and developing, so an addition of Jason Maxiell is mostly just a depth move. They're not built to contend for a playoff spot yet, so really it's just about getting a competitive team on the floor night to night while creating a good culture to grow and learn in.
Grade: B-
PHILADELPHIA 76ers
Key moves: Acquired Nerlens Noel on draft night, traded for Royce White
The 76ers are moving parts around as they begin anew after the Andrew Bynum disaster. They don't appear to be signing anyone, but they did make a splash on draft night sending Holiday to New Orleans for Noel. And in the meantime, they acquired a very valuable 2014 pick as well.
Grade: A-
PHOENIX SUNS
Key moves: Acquired Eric Bledsoe
The top move they made was getting Eric Bledsoe and then just using their No. 5 overall pick to take Alex Len. They weren't players in free agency, which is wise, because there's no reason to spend cap space just to spend it. 
Grade: B
PORTLAND TRAIL BLAZERS
Key moves: Signed Dorell Wright (two years, $6 million), acquired Thomas Robinson and Robin Lopez
The Blazers had one of the worst benches in NBA history last season. And really, it was the top thing holding them back from being a playoff team. So the focus this offseason? The bench. And it would seem that they addressed it. Wright is an excellent addition, Lopez is a nice backup big (or starter) and Robinson was a top-five pick, remember? 
Grade: B+
SACRAMENTO KINGS
Key moves: Signed Carl Landry (four years, $27 million), acquired Greivis Vasquez
The Kings are under new leadership and the assumption is that a new culture can finally bring the best out of some of these young players they've had in traction. Landry's deal is sizeable but probably necessary. They let Evans go, which was probably needed, especially with new pick Ben McLemore. Not a great offseason, but certainly a quality one under a new direction. 
Grade: B
SAN ANTONIO SPURS
Key moves: Signed Marco Belinelli (two years, $6 million), re-signed Manu Ginobili (two years, $14 million) and Tiago Splitter (four years, $36 million)
Paying Ginobili $7 million per feels like a lot, and it would seem the Spurs overpaid to keep Splitter. But these are the Spurs, and I think we should've learned by now that they know what they're doing. 
Bringing in Belinelli is a nice move, but it means they're likely not matching on any offer made to restricted free agent Gary Neal. That's a bummer because Neal was a nice combo guard for them the past few seasons.
Grade: B+
TORONTO RAPTORS
Key moves: Traded Andrea Bargnani, signed D.J. Augustin (one year, $1.3 million)
New GM Masai Ujiri is making moves and turning things over. He offloaded Bargnani, which is definitely his best move so far. Bargnani was overpaid, and he wasn't a good fit at all. Ujiri got draft picks and expirings -- and bought out Marcus Camby's deal -- then used his new roster spot to sign Augustin. He amnestied Linas Kleiza, which made a lot of sense and has created a lot of future flexibility. 
Grade: A
UTAH JAZZ
Key moves: Got a whole bunch of future draft picks
The Jazz are turning the team over to their young frontcourt of Enes Kanter and Derrick Favors as they let Paul Millsap and Al Jefferson walk. And while they took on Richard Jefferson, Andris Biedrins and Brandon Rush in the three-way deal sending Iguodala to Golden State, the Jazz pulled multiple draft picks out of the deal. A decent haul as they take on a patient approach to rebuilding.
Grade: B-
WASHINGTON WIZARDS
Key moves: Re-signed Martell Webster (four years, $22 million), signed Eric Maynor (two years, $4 million)
The Wizards made some solid moves like keeping Webster and bringing in a good backup point guard for John Wall. But $22 million for Webster feels like an awful lot and there are still some areas that need fixing. Consider: Tony Allen got four years, $20 million. Is Martell Webster worth more than Tony Allen?
Next season is pretty important for the Wizards. They made strides in the second half of last season, and with their roster being healthy, or appearing to be so, it's basically playoffs or bust.
Grade: C+