Happy Mother's Day, all. We'll be seeing plenty of pink on the big-league diamonds as Major League Baseball shows its support for breast cancer awareness and research while we get to see 15 games. Lots of positives to varying degrees in there, right?
In day action, the best individual performance was delivered by Yankees starting pitcher Michael Pineda. The big guy allowed one run (a solo homer) on six hits in seven innings, but the most impressive part: 16 strikeouts and zero walks. That's obscene.
I figured it hasn't happened much in recent memory, so I strolled on over to baseball-reference.com's play index. Sure enough, since 2000, there have now only been four games in which a pitcher struck out at least 16 batters with zero walks.
Johan Santana, 8/19/2007: 17 K, 0 BB
Mark Prior, 6/26/2003: 16 K, 0 BB
Randy Johnson, 5/8/2001: 20 K, 0 BB
Michael Pineda, 5/10/2015, 16K, 0 BB
Going all the way back to 1914, this was only the 22nd time it has happened. Randy Johnson and Roger Clemens each did it four times while Dwight Gooden did it twice. The rest: Santana, Prior, Curt Schilling, Frank Tanana, Luis Tiant, Kerry Wood, Mark Langston, Pedro Martinez, Sam McDowell, Sid Fernandez and Vida Blue. Some quality names there that Pineda just joined.
This outing wasn't too much an outlier for Pineda, either, as he's now 5-0 with a 2.72 ERA, 1.01 WHIP and 54 strikeouts against just three walks in 46 1/3 innings this season. He's been brilliant and with the decline of CC Sabathia and injury to Masahiro Tanaka, it's fair to say he's the Yankees' ace.
Speaking of, with Sunday's win, the Yankees are now 20-12 and have a three-game lead in the AL East.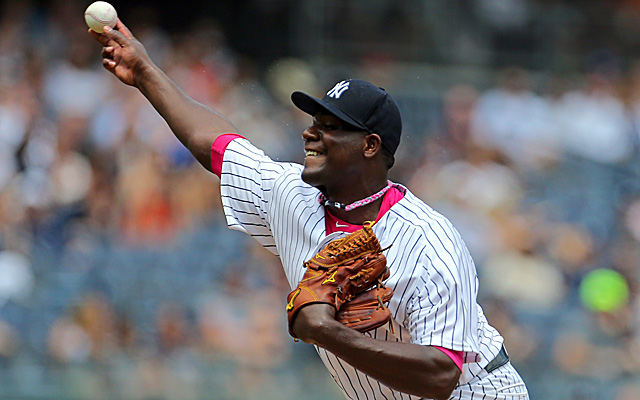 As always here in The Eye, we'll be showing our work as the day progresses. Stick here while using the refresh button with impunity or just come back Monday morning to see everything that happened. Your choice. Enjoy!
Sunday's MLB action (all times ET) (Full scoreboard)
Yankees 6, Orioles 2 (Box score): Both teams had eight hits, but the Yankees drew eight walks to the Orioles' zero. Brian McCann and Carlos Beltran homered while Didi Gregorius went 2-for-3 with a double.
Red Sox 6, Blue Jays 3 (Box score): The Red Sox wanted to put their recent losing ways in the rearview quickly, as Mookie Betts led off with a triple and scored on a Dustin Pedroia grounder to set the tone while a Mike Napoli three-run homer made it a four-run first. Clay Buchholz would work 6 1/3 innings, allowing seven hits and three runs, which was good enough as the Red Sox would tack on a few more runs in the fifth on a two-RBI double from Pablo Sandoval.
Indians 8, Twins 2 (Box score): Brian Dozier would lead off the game with a homer, but it was all downhill from there for Minnesota. Indians starter Danny Salazar was perfect after that, retiring the next 21 batters he faced, with 11 of them being strikeouts. On offense, the Indians battered Trevor May for six runs on nine hits in four innings. David Murphy went 4-for-4 while Jason Kipnis was 3-for-5 with a double, triple and stolen base. Lonnie Chisenhall homered.
Rangers 2, Rays 1 (Box score): Wandy Rodriguez and Jake Odorizzi dueled it out, as each allowed just one run. The game remained tied into the eighth, when the Rangers had Elvis Andrus and Prince Fielder draw a pair of walks in front of a clutch Adrian Beltre single that would prove to be the game-winner. The series is a four-game split, but the Rangers have actually won five of their last seven.
Nationals 5, Braves 4 (Box score): Jordan Zimmermann didn't have his best stuff, but he did battle through six innings (8 H, 3 ER, 3 BB, 2 K) and give his team a chance to win, which they did thanks to a go-ahead Wilson Ramos double in the bottom of the eighth. Bryce Harper's homer streak was broken, but he still went 2-for-4 with a double and an RBI. Freddie Freeman went 2-for-4 for the Braves and is hitting .328. The Nationals are now two games over .500.
Mets 7, Phillies 4 (Box score): A pitcher hit a home run and, sadly, it wasn't Bartolo Colon. He did, however, run his record to 6-1 on the season. Once again, he didn't walk anyone, so he now has 40 strikeouts and one walk this year. A two-run Curtis Granderson homer in the fifth opened things up a bit for the first-place Mets. Daniel Murphy went 3-for-5 while Lucas Duda, Wilmer Flores and Granderson each had two-hit games.
Pirates 4, Cardinals 3 (Box score): Jung Ho Kang went 2-for-4 with a homer and the go-ahead RBI in the bottom of the seventh inning as the Pirates get two of three from the top team in baseball. Maybe they're finally on track? They had to earn this one, too, as the Cardinals tied it on a Kolten Wong two-run homer in the sixth and then again tied it up in the seventh. Jeff Locke had a quality outing on the hill for the Bucs.
White Sox 4, Reds 3 (Box score): It was a quiet 1-1 game heading into the seventh, and then we got some drama. The White Sox got one each in the seventh and eighth to hand a two-run lead to closer David Robertson. Zack Cozart would come through with a two-RBI double to tie the game, handing Robertson his first blown save of the year. In the bottom half, with two outs, the White Sox would get three straight singles, including Gordon Beckham's walkoff.
Brewers 3, Cubs 2 in 11 (Box score): Kyle Hendricks and Matt Garza matched zeroes through five innings. A Miguel Montero solo homer got things going in the sixth and then the Brewers got two homers (Martin Maldonado and Elian Herrera) in the seventh. The Cubs would tie it on an Anthony Rizzo double in the eighth. In the bottom of the 11th, Ryan Braun's leadoff double doomed the Cubs and a few batters later, Maldonado came through with the walkoff.
Angels 3, Astros 1 (Box score): Garrett Richards took a no-no into the seventh inning, but he got himself in a lot of trouble and had to be pulled after 6 2/3 innings. He had 110 pitches at the time anyway, and Fernando Salas got out of a bases-loaded jam to save him. The Angels, meanwhile, got three runs in the fifth thanks to a Chris Iannetta infield hit, Scott Feldman throwing error and a Kole Calhoun sac fly. Basically, fans of offense weren't happy with this one.
Giants 3, Marlins 2 (Box score): Dee Gordon had a pair of doubles while Mat Latos allowed only one earned run in seven innings of work. The Marlins took a 2-1 lead into the bottom of the ninth and then the Giants happened. With one out, Andrew Susac singled and then Gregor Blanco doubled to deep right center (it would've been gone at many ballparks). It probably would have tied the game, but Ichiro Suzuki deked like he was going to make the catch (MLB.com video) and pinch runner Joaquin Arias only made it to third. Buster Posey was then intentionally walked before Angel Pagan struck out. With two outs, though, Nori Aoki drew a game-tying walk before Matt Duffy came through with the walkoff single. Steve Cishek has blown three of his six save chances.
Mariners 4, Athletics 3 (Box score): Marcus Semien figured out Felix Hernandez, but apparently he didn't tell any of his teammates how to follow suit. Semien took King Felix deep twice while Stephen Vogt went 3-for-4 with a homer (off Fernando Rodney, not Hernandez) and no one else got a single hit for the A's. Hernandez went seven innings, allowing five hits and just the two runs from Semien's homers. Rodney gave up the Vogt homer to trim the lead to one but ended up getting the job done in the ninth. The Mariners sweep the A's, who have lost five straight.
Dodgers 9, Rockies 5 (Box score): The Rockies took a 5-2 lead with a five-fun fourth inning as they found just about every defensive hole against Clayton Kershaw. There were four singles, a fielder's choice and an RBI groundout during the rally, which was started with a walk. The Dodgers, though, would battle all the way back, first tying things up with a bases-loaded double by Adrian Gonzalez in the fifth and then Justin Turner broke the tie with a two-run homer in the top of the eighth. Pedro Baez, Adam Liberatore and Yimi Garcia combined to allow only one hit in 3 1/3 scoreless innings in relief.
Diamondbacks 2, Padres 1 (Box score): A.J. Pollock and Aaron Hill homers provided the offense for the Snakes and it was all the committee effort on the hill would need. Daniel Hudson, J.C. Ramirez, Oliver Perez, Evan Marshall and Addison Reed combined to only allow the Padres a Jedd Gyorko RBI double. Justin Upton, Will Venable and Gyorko all had two hits, but the Padres couldn't put together enough to score more than a solitary run.
Royals 2, Tigers 1 (Box score): Chris Young (6 IP, 3 H, 0 ER) and Shane Greene (8 IP, 4 H, 1 ER) kept the opposition off balanced by hitting spots and mixing locations rather than overpowering. The Royals scored in the second on consecutive doubles from Kendrys Morales and Alex Gordon. The Tigers got one back when Omar Infante tried to flip a bunt from Anthony Gose behind his back, which allowed Gose to second, and then Ian Kinsler singled. There was a nearly two-hour rain delay before the bottom of the ninth. When the game resumed, the Tigers left the bases loaded in both the ninth and the tenth. In between, the Royals got an Omar Infante sac fly, which turned out to be the game winner.
Milestone Watch
Longest active hit streak: It's a three-way tie with Dee Gordon, Wilson Ramos and Addison Russell at 12. Ramos and Gordon extended theirs to 13. Russell did not.
Also, Felix Hernandez recorded his 2,000th career strikeout. He's only 29 years old and sits at 72nd on the career list. Sixteen pitchers have at least 3,000 strikeouts with Nolan Ryan's 5,714 sitting at the top.
Daily Awards
Here comes the pink
Rockin the pink today babbby #HappyMothersDay pic.twitter.com/FRTAboG7aJ

— Todd Frazier (@FlavaFraz21) May 10, 2015
Frazier wasn't even close to alone. I just randomly told myself I'd go to Twitter and post the first pink picture from a player. Random fun.
#UmpShow of the day
Get the eff outta here!
He did what moment of the day
Chad Billingsley hit a home run. Yep, MLB.com video has proof.
Grounds crew of the day
The Colorado Rockies' crew got this ready for play:
Shoutout to the @Rockies grounds crew for turning THIS into a playable surface. pic.twitter.com/omqIFMNEo0

— CBS Sports (@CBSSports) May 10, 2015
Fun minor-league matchup of the day
Barry Zito vs. Josh Hamilton!
@susanslusser Barry Zito to Josh Hamilton pic.twitter.com/oDiT2ot9pK

— Haight St. Records (@HaightStRecords) May 10, 2015
Ritual of the day
Andrew McCutchen endured a real rough start to the season and then hit a hard liner right at a defender Sunday. So he did this, hoping to free himself from bad luck:
Feel good moment of the day
Diamondbacks pitcher Daniel Hudson hadn't made a start in the bigs since tearing his UCL in 2012, but he got the start Sunday after his long road back, which included putting him in relief.
New term of the day
Pineda calls strikeouts "Strike 'em outs." Henceforth, we should all be doing this.

— Daniel Barbarisi (@DanBarbarisi) May 10, 2015
Cool. I'm down.
Defensive alignment of the day
With the bases loaded in a tie game in extra innings, the Cubs brought in a fifth infielder and just kept left field vacant instead of moving the remaining outfielders to the gaps.
Stacked infield. pic.twitter.com/nKMJeG0HRx

— Andrew Wagner (@ByAndrewWagner) May 10, 2015
Celebration of the day
Gordon Beckham is stirring.
Walk it off, STIR IT UP! pic.twitter.com/pVclM1L7OO

— MLB GIFS (@MLBGIFs) May 10, 2015
Fair ball of the day
In the Sunday night game, Christian Colon put some serious English on what looked like a foul ball. It came back fair and the result was a groundout.
This ball came back fair. FAIR! pic.twitter.com/oBj2hzT6F4

— Ben Verlander (@Verly32) May 11, 2015
(Yes, Ben is Justin's brother)
Injuries, News & Rumors
A's: Jarrod Parker has suffered yet another arm injury. After his second Tommy John surgery, Parker was on the road back but has a right medial epicondyle fracture, which is in the elbow. It sounds like he's gonna need surgery (ibabuzz.com).
Blue Jays: Michael Saunders has landed on the DL again, with Steve Tolleson coming back.
Braves: Jason Grilli is dealing with back spasms.
Cardinals: They are thinking about going to a six-man rotation. They also expect to have Matt Carpenter back Tuesday (stltoday.com).
Nationals: Yunel Escobar left Sunday's game. Also, they'll use Max Scherzer Monday on normal rest and bump Stephen Strasburg back a day after his shoulder issue last outing.
Phillies: Sean O'Sullivan will start Tuesday on the hill.
Red Sox: They recalled Jackie Bradley Jr. from Triple-A and sent Allen Craig down. Yes, Allen Craig is headed to the minors.
Tigers: David Price will have his next start pushed back two days (mlive.com).
Looking Ahead to Monday's MLB action (all times ET)
Not surprisingly, it's an abbreviated day.
Blue Jays (Marco Estrada) at Orioles (Ubaldo Jimenez), 7:05
Pirates (Gerrit Cole) at Phillies (Jerome Williams), 7:05
Yankees (CC Sabathia) at Rays (Alex Colome), 7:10
Braves (Shelby Miller) at Reds (Mike Leake), 7:10
White Sox (Jeff Samardzija) at Brewers (Wily Peralta), 7:20
Royals (Danny Duffy) at Rangers (Colby Lewis), 8:05
Mets (Jacob deGrom) at Cubs (Jon Lester), 8:05
Nationals (Max Scherzer) at Diamondbacks (Josh Collmenter), 9:40
Red Sox (Rick Porcello) at A's (Scott Kazmir), 10:05
Marlins (Tom Koehler) at Dodgers (Zack Greinke), 10:10