2015 MLB All-Star Game: Full AL and NL rosters
The 2015 All-Star Game rosters have been announced. Here are the AL and NL starters, reserves and pitchers.
by

Eye on Baseball staff

• 2 min read
The rosters for the 2015 All-Star Game were officially announced during a pair of live broadcasts Sunday and Monday night. As a reminder, the starting position players are selected by the fans while the rest of the rosters are voted on by players and selected by managers Bruce Bochy (Giants) and Ned Yost (Royals).
The All-Star rosters run 34 players deep, but only 33 players for each team were announced. The final spot is up for grabs via the Final Vote fan voting. Any starting pitchers who pitch Sunday, July 12, are not eligible to pitch in the All-Star Game itself, which will be played at the Great American Ball Park in Cincinnati on Tuesday, July 14. The Home Run Derby will be played the day before, and the Futures Game the day before that.
All 30 teams get at least one representative in the All-Star Game. Keep in mind that injured players will be replaced on the rosters between now and then. Here are the full rosters:
AL Starters (fan vote)

C Salvador Perez, Royals
1B Miguel Cabrera, Tigers (injured, will not play)
2B Jose Altuve, Astros
SS Alcides Escobar, Royals
3B Josh Donaldson, Blue Jays (leading vote-getter overall)
OF Mike Trout, Angels
OF Lorenzo Cain, Royals
OF Alex Gordon, Royals (injured, will not play)
DH Nelson Cruz, Mariners
AL Reserves
C Russell Martin, Blue Jays
C Stephen Vogt, Athletics
1B Albert Pujols, Angels (will start in place of the injured Cabrera)
1B Prince Fielder, Rangers
1B Mark Teixeira, Yankees (replaces injured Cabrera on roster)
2B Jason Kipnis, Indians
SS Jose Iglesias, Tigers
3B Manny Machado, Orioles
OF J.D. Martinez, Tigers
OF Jose Bautista, Blue Jays
OF Adam Jones, Orioles (expected to start in place of the injured Gordon)
UTIL Brock Holt, Red Sox
OF Brett Gardner (injured placement for Gordon, had been on Final Vote ballot)
AL Pitchers
RHP Sonny Gray, Athletics
RHP Felix Hernandez, Mariners
RHP Chris Archer, Rays
LHP David Price, Tigers
LHP Dallas Keuchel, Astros
LHP Chris Sale, White Sox
RHP Dellin Betances, Yankees
RHP Brad Boxberger, Rays
RHP Kelvin Herrera, Royals
RHP Wade Davis, Royals
RHP Darren O'Day, Orioles
LHP Glen Perkins, Twins
LHP Zach Britton, Orioles
AL Final Vote Candidates

SS Xander Bogaerts, Red Sox
OF Yoenis Cespedes, Tigers
2B Brian Dozier, Twins
3B Mike Moustakas, Royals
NL Starters (fan vote)
C Buster Posey, Giants
1B Paul Goldschmidt, Diamondbacks
2B Dee Gordon, Marlins
SS Jhonny Peralta, Cardinals
3B Todd Frazier, Reds
OF Bryce Harper, Nationals (leading vote-getter in NL)
OF Matt Holliday, Cardinals (injured, participation questionable)
OF Giancarlo Stanton, Marlins (injured, will not play)

NL Reserves
C Yadier Molina, Cardinals
C Yasmani Grandal, Dodgers
1B Anthony Rizzo, Cubs
1B Adrian Gonzalez, Dodgers
2B DJ LeMahieu, Rockies
2B Joe Panik, Giants
SS Brandon Crawford, Giants
3B Nolan Arenado, Rockies
3B Kris Bryant, Cubs (replaces injured Stanton on roster)
OF Andrew McCutchen, Pirates (will start in place of the injured Stanton)
OF Joc Pederson, Dodgers
OF Justin Upton, Padres
OF A.J. Pollock, Diamondbacks
NL Pitchers
RHP Max Scherzer, Nationals
RHP Zack Greinke, Dodgers
RHP Gerrit Cole, Pirates
RHP Michael Wacha, Cardinals
RHP Jacob deGrom, Mets
RHP Shelby Miller, Braves
RHP A.J. Burnett, Pirates
LHP Madison Bumgarner, Giants
RHP Trevor Rosenthal, Cardinals
RHP Mark Melancon, Pirates
RHP Jonathan Papelbon, Phillies
RHP Francisco Rodriguez, Brewers
LHP Aroldis Chapman, Reds
NL Final Vote Candidates
RHP Johnny Cueto, Reds
RHP Jeurys Familia, Mets
LHP Clayton Kershaw, Dodgers
RHP Carlos Martinez, Cardinals
SS Troy Tulowitzki, Rockies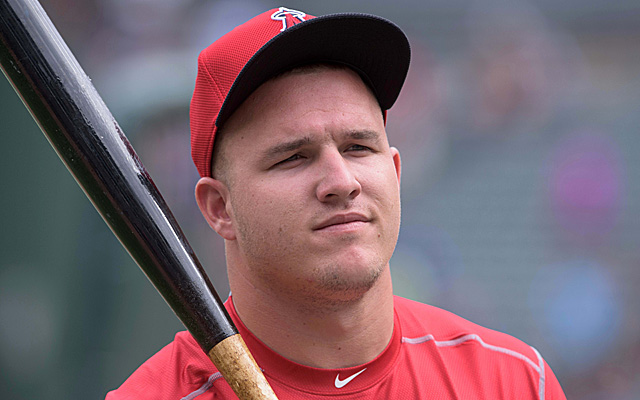 Keep tabs on the top 50 free agents right here

The Padres have been heavily connected with Hosmer all offseason

The Twins needed rotation help, so the Odorizzi acquisition makes sense
The Rays pulled off a head-scratching move Saturday night

The Rangers will certainly be back in the market for a reliever

Watson will give the Giants a good left-handed reliever