LOOK: Levi's Stadium turf torn out yet again
The turf problems at Levi's Stadium have continued.
• 1 min read
After only one preseason game at Levi's Stadium, the failing sod had to be ripped up and torn out last week after 49ers players began slipping and sliding during a practice.
Now, after another game on the new turf, the sod has to be replaced again. As you can see in the photo below, which Instagram user hundreddollarman, via the San Jose Mercury News, says he snapped on Monday afternoon.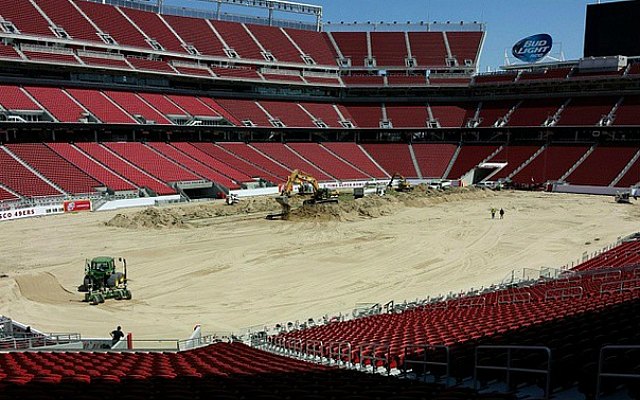 So, um, what's up?
According to the Mercury News, the team only installed the sod for last weekend's preseason game vs. the Chargers to be used temporarily and now will install a new field this weekend.
That turf should be ready for the 49ers home opener vs. the Bears on Sept. 14 (and the Sept. 6 Chile-Mexico soccer match).
For all you grass buffs out there, the team and its consultants are deciding whether it should continue to use Bandera Bermuda sod or switch to a Tifway grass that the paper says is used by more NFL squads.
It looks like we're going to have a quarterback competition in Jacksonville

Smith is facing up to seven years in prison if convicted

Plus everything else you need to know about Week 2 of the 2017 NFL preseason
This is why being a rookie in the NFL isn't fun

The Raiders running back went Beast Mode on reporters

Elway tried his best to emphasize how complicated the situation is