Report: Raymond Felton, Jamal Crawford lead 'mutiny' against Blazers coach?
Portland Trail Blazers guard Raymond Felton and Jamal Crawford reportedly have lead a "mutiny" against coach Nate McMillan.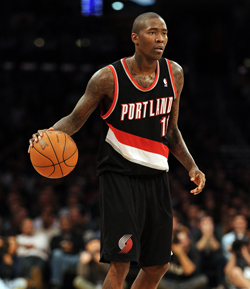 Jamal Crawford disputes that he led a "munity" against his coach.
(Getty Images)
Things have been bad in Portland: the Blazers currently sit in the Northwest Division basement and are arguably the NBA's biggest underachievers. Coach Nate McMillan is reportedly on the hot seat, the mish-mashed roster never jelled and the effort has been spotty all season long. It's been bad. But this bad?
ESPN.com reports
that new guards Raymond Felton and Jamal Crawford have allegedly turned the team against McMillan.
Let's just put this way. Either the Blazers find a new home for Raymond Felton and Jamal Crawford (who have quietly orchestrated a mutiny ever since Nate McMillan chewed them out in a video session a while back) or they'll probably have to let Nate go. If I'm a Blazer fan ... I'd rather lose Felton and Crawford. They won't get a lot for either guy, but there is such a thing as addition by subtraction. 
Both Felton and Crawford have been persistently floated in trade rumors over the last few weeks.
Hours after the report hit on Wednesday morning, Crawford disputed the account in comments made
to The Oregonian
.
"Check my quotes since I've been here. Never thrown anyone under the bus-- coach or teammate! ... I pride myself on being a pro and doing whatever is asked... I don't even have enough juice to say that I want to play the position I signed up for (shooting guard)."
That last part is undeniably true. Crawford has been played out of position all season long, and it's gotten worse lately, when McMillan moved Nicolas Batum to the starting two guard position, forcing Crawford to compete with former starter Wesley Matthews for minutes. Given that squeeze, Crawford saw some brief time as the starting point guard while also backing up Felton on a regular basis. Either way, that's not what he signed up for when he signed as a free agent in December.
Felton, meanwhile, has publicly expressed frustration with McMillan, his role, his quality of play and has admitted that he didn't enter the season in game shape because of the lockout.
The biggest question now: Will either player survive the trade deadline and remain in a Blazers uniform?
A look at the context of the schedule and who plays who when, and how far they travel during...

Durant took on rapper Lil Dicky and actually might have lost

A report that James would once again be leaving Cleveland made the rounds on Wednesday
Known for his 'take that for data' rant, the Grizzlies coach touched on a number of important...

Wade's days with the Chicago Bulls appear to be numbered

Misty Suri will reportedly keep his job with the New Orleans Pelicans