Dwyane Wade releases statement on LeBron James
Heat guard Dwyane Wade said LeBron "made the right decision for him and his family because home is where your heart is."
• 1 min read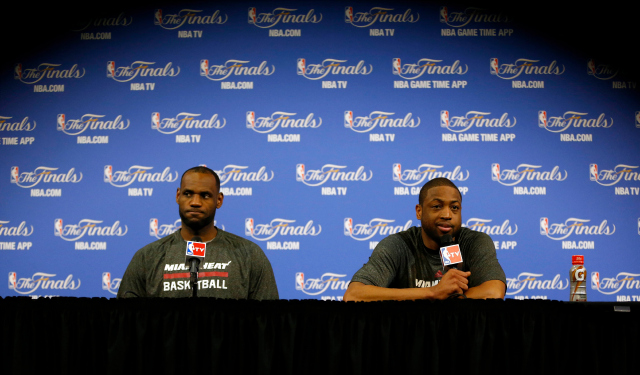 More on LeBron's return: James chooses Cleveland | Doyel: Welcome back to Ohio
Dwyane Wade released a statement on Saturday on LeBron James' decision to go back to Cleveland, via the Associated Press' Tim Reynolds:
As a friend and a teammate, I am sad to see my brother LeBron leave to begin a new journey. In 2010, we decided to come together all for one goal — to win championships and we succeeded. We were friends when we first joined the league and created an unbreakable bond the past four years. Our collaboration will always be very special to me both personally and professionally. We shared something unique and he will always be part of my family. LeBron made the right decision for him and his family because home is where your heart is. I know this was not an easy decision to make and I support him in returning to his roots. As an organization, a community, and as individuals, we achieved the goals we set when we first signed on together. We are champions.
This comes a day after James' announcement and Miami Heat president Pat Riley's classy sendoff. While the organization was not at all expecting this to happen, it appears to be handling it well.
Our advanced computer model simulated Saturday's Thunder-Cavs game 10,000 times

The Jazz are reportedly looking into trading Rodney Hood before the Feb. 8 NBA Trade Deadl...

The Cavaliers are ready to reset everything if they have to. Their interest in Lou Williams...
It sounds like the Cavaliers are going to be active before the NBA trade deadline on Feb....

We've got all the scores, highlights and news for Friday night

George Hill, who is unhappy in Sacramento, could be a solution to Cleveland's backcourt si...