There's a saying in sports: "You can't tell the players without a scorecard." With the uniforms being worn by some NCAA teams these days, you can't tell the players even with a scorecard.
College sports' never-ending uniform craze has included a number of jerseys with unreadable numbers, which have in turn created competitive concerns. It's a small but increasing minority of schools with numbers on their jerseys that are tough to read. In the grand scheme of NCAA problems these days, this one hardly rises to the top.
But there are enough concerns being raised about deciphering jersey numbers that the NCAA is taking efforts to clean up what's apparently becoming a gamesmanship issue. Some coaches want the confusion to gain an edge so future opponents have trouble scouting their team.
"It's been a growing concern over the last 10 years or so, just the number of different types of uniforms we see across all sports," said Ty Halpin, NCAA associate director for playing rules and officiating. "In many ways it's been a good growth because manufacturers and our campuses are being creative in finding different ways to bring some interest to the games.
"But we've kind of come to that dividing line where things may have gone too far in some respects and are now creating a competitive issue. The coaches understand it's a pretty big competitive impact. If you can't see the numbers clearly in football, it impacts how you coach the team, how you scout the opponent, how you plan for a lot of things."
The problem is so prevalent that Ira Thor, sports information director at Division III New Jersey City University, created a slideshow presentation that has been circulated nationally. The presentation includes photo galleries of difficult-to-read jerseys in 10 NCAA sports from all divisions.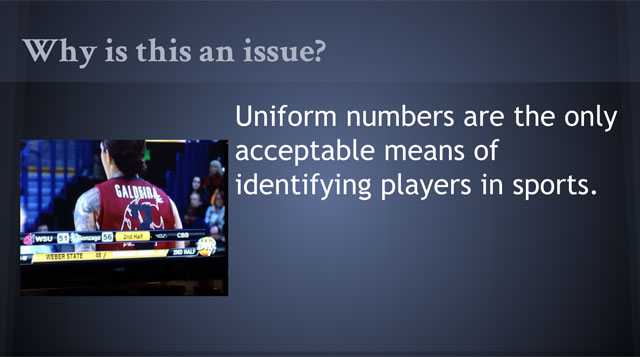 Most of the uniforms used as examples come from smaller divisions. Arizona, Louisville, Kentucky and Toledo wear some of the FBS football uniforms that Thor cites as problematic.
In Division I men's basketball, questionable uniforms are shown from Wichita State, Stanford, Oakland, Mercer and Manhattan. Oakland has perhaps the oddest combination: black numbers on black uniforms.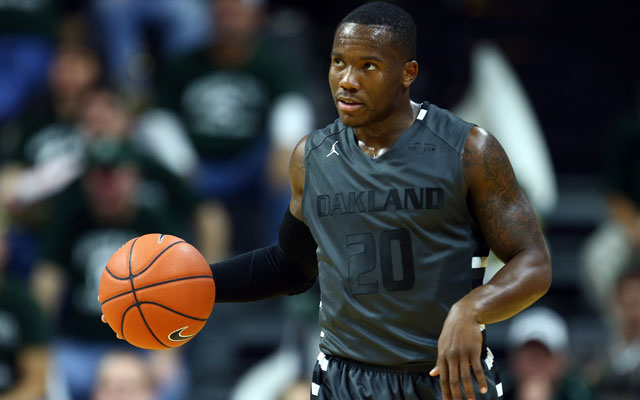 It's happening in lots of sports. In one women's basketball photo, Washington State confusingly has numbers on top of its logo. Soccer teams have uniforms with difficult-to-read numbers due to vertical or horizontal stripes. Men's lacrosse recently made a rule that all uniform numbers must "clearly contrast" the color of the uniform by 2016.
Some schools wear these confusing jerseys for marketing purposes and to jazz up fan and player interest. Some wear them because they got put on accidentally while unaware of the NCAA's rules. And some schools simply want an advantage competitively.
"We've had coaches tell SIDs in a couple instances that's exactly why they do it, so they can't get scouted," Thor said. "It's an edge. Everybody wants to be Bill Belichick, I guess."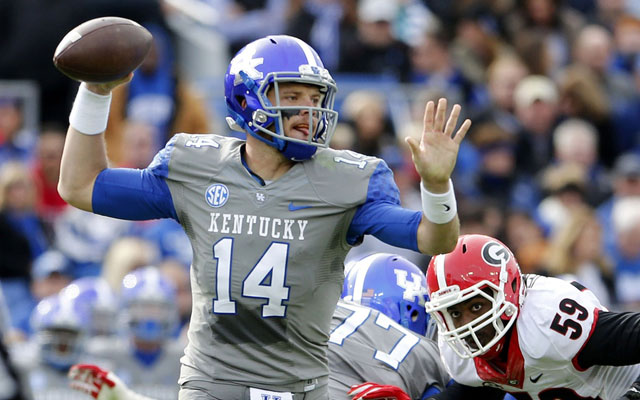 NCAA talking with Nike, Adidas, Under Armour
Halpin said the NCAA has made a more concerted effort in recent months to meet with manufacturer designers -- not just the executives overseeing specific college brands, as NCAA officials typically do -- to explain the importance of being able to better read the numbers. (Attempts by CBSSports.com to interview Nike, Adidas and Under Armour officials for this article were unsuccessful.)
Manufacturers don't want these problems to happen and are open to corrections, said Halpin. But he added improvements likely won't occur overnight because the companies often work on a two-year cycle in design production.
Technology has dramatically improved how uniforms get made. Manufacturers can be more creative by bleaching multiple designs and colors right into the fabric.
"What's frustrating for a lot of (NCAA) members is this is almost exclusively an issue with college athletics deals," said David Worlock, NCAA director of media coordination and statistics. "You never see Aaron Rodgers or LeBron James wearing a uniform where you can't see the number."
The NFL allows teams to change their uniforms only once in a five-year period. The NCAA has no such rule, meaning teams can change uniform designs every game if they wanted without any one central entity approving the look. Conference offices, the NCAA and officiating groups have taken different stabs at reviewing some uniform prototypes in advance. For instance, the NCAA is currently reviewing some new uniforms teams plan to unveil in the NCAA men's basketball tournament next month.
There's another big difference between pros and colleges: Nike, Adidas and Under Armour are the primary outfitters for NCAA schools so they're constantly competing with each other over designs and to market their products. In the NFL, all 32 NFL teams currently wear Nike.
The NFL does extensive photo tests both indoors and outdoors to see what uniforms look like on television before owners approve a design.
"We haven't gone to that level yet, but I think that's something we'd be open to," Halpin said. "I think what you might see before it becomes an NCAA issue is conferences starting to think, 'We need to look at this because every one of our games is on television and it's a pretty big concern.' I think you'll see more TV testing at media days."
When a problem occurs with a jersey at a school that's perceived to be one of the top programs, manufacturers typically correct the issue quickly, Halpin said. But he noted that most NCAA schools order from a team catalogue and many times contract someone in the local community to put names and numbers on the back of jerseys.
"Those people often are not even thinking about whether our rules should be followed," Halpin said. "In many cases, it's accidental and they don't realize it's not visible enough."
Good luck enforcing NCAA rules
There are NCAA uniform rules in place for each sport. For example, football's rules state there must be Arabic numerals that should be "clearly in distinct contrast with the color of the jersey." Of course, what quantifies as contrast is in the eye of the beholder.
Arizona athletic director Greg Byrne said the school had uniforms two seasons ago that were challenging to read but has since changed the numbers so they are easy to see.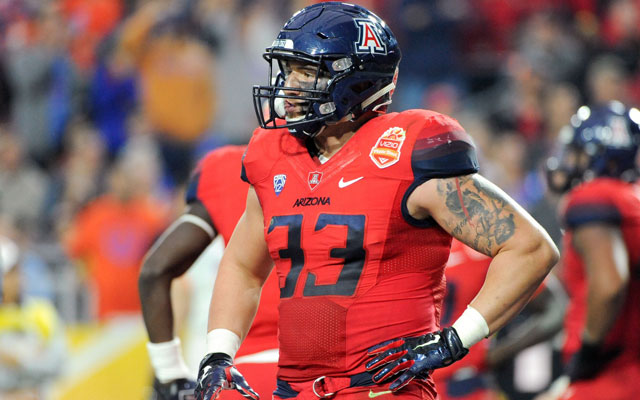 But it's not exactly easy enforcing these NCAA rules. There was a bizarre situation last football season when a referee initially announced Vanderbilt would be charged a timeout each quarter for wearing "Anchor Down" on its jersey.
Vanderbilt officials showed the referee an email apparently granting the school permission. The penalty was voided. It turned out, in fact, Vanderbilt wasn't supposed to wear "Anchor Down" based on NCAA rules. Everyone chalked it up to miscommunication.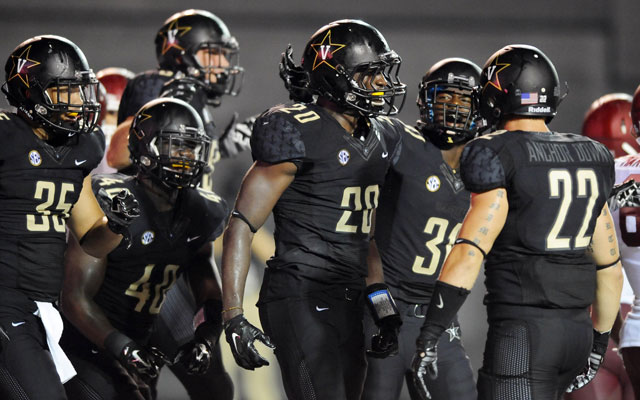 "No basketball referee really wants to start the game with a technical foul because the numbers may be a little difficult to see," Halpin said. "In football, it's a lot more difficult because you're basically telling the whole team to change uniforms before the game."
The issue goes beyond competition. TV networks pay significant money for the rights to air games and sometimes show games in which fans at home have trouble reading numbers. Some broadcasters have even expressed frustration on the air about the difficulty of reading numbers from high in a press box.
With the proliferation of high-definition broadcasts and more college games being televised across all sports, the problem is only growing. Increasingly, many games -- even in non-revenue-generating sports -- are being streamed on the web.
"When parents call in and say, 'I thought my daughter was playing and I can't tell anybody's number,' that becomes an issue for the campus, too," Halpin said.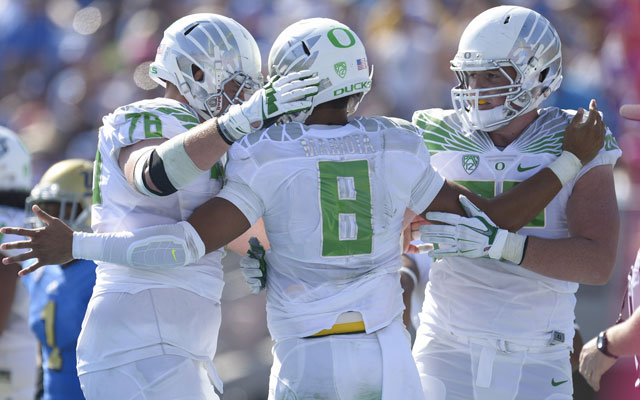 The problem also occurs with some high school teams. Rules stipulating what can be on other parts of the jersey caused manufacturers to run out of space and look for creative designs inside the numbers, said Bob Colgate, director of sports at the National Federation of State High School Associations.
"Manufacturers are pretty good, and if they have new designs, they'll run it by you," Colgate said. "A couple of the big boys are pushing it, and until we say no, they'll keep trying to go down that road. Schools mainly look at it as a work of art to give the kids. A lot of them say we want the design Auburn has or South Carolina has, but unfortunately that design may not be compliant with our rules."
The more Thor has raised the issue on social media, the more responses he gets from across the country. Thor said he heard a story from a Division II basketball game where there was a question over who committed a foul late in the contest. The referee went to the replay monitor and couldn't read the numbers, so the player initially called for the foul was the one who fouled out even though he may not have actually committed the infraction.
"It doesn't seem that complicated where this is an issue that should take years to fix," Thor said. "If we raise enough awareness and ask people who are purchasing uniforms to exercise common sense and look at the big picture, hopefully this can be nipped in the bud. There are rules in the books. Just abide by them."