Remembering Ryan Freel
Former big leaguer Ryan Freel reportedly committed suicide on Saturday. Former Reds beat writer Marc Lancaster shares his memories of Freel with CBSSports.com.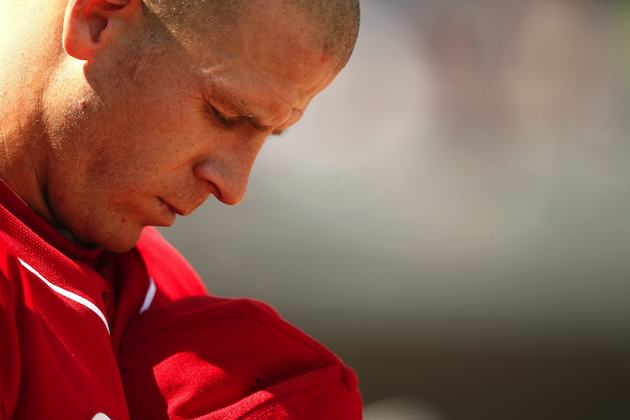 Former big leaguer Ryan Freel died on Saturday. (Getty Images)
My phone rang at 11:42 p.m. Saturday. It was one of Ryan Freel's former teammates. He was shocked and saddened by the news that Freel had committed suicide on Saturday. 
He wasn't alone. When I worked for the Cincinnati Post, I covered Freel for several years. I traded texts with at least two other writers and emails with another. I asked one, Marc Lancaster, if he wanted to write something for CBSSports.com. Lancaster is one of my best friends and now the deputy sports editor at the Washington Times. He previously covered not only the Reds for the Post but also the Rays for the Tampa Tribune. I immediately thought of Marc when I heard of Freel's death, because one of my greatest memories of Freel was when Marc and I were in a nearly empty bar in Cincinnati one night and Freel, fresh off a knee surgery and on crutches, came in, saw Marc and lit up. Freel was so excited to see Marc that he ambled over on his crutches and gave Marc a kiss right on his lips. To this day, the thought of that visual makes me laugh.
Freel had that effect on people. He made them laugh with the unexpected. I don't know that I ever covered a player who loved the game more or played it harder. After a scary collision with Norris Hopper in the outfield in 2007, Freel told a group of reporters, including me, that he'd suffered "nine or 10" concussions in his life. Two years later, while with the Orioles, he was put on the disabled list after he was hit in the head by an errant pickoff throw.
Saturday night, I asked Marc if he'd like to write something about Freel. Marc's one of the finest writers I know and a better person. He also, as I noted above, had a very good relationship with Freel:
It became almost a daily routine in the Cincinnati Reds clubhouse in the mid-2000s. Ryan Freel would do something, or say something, or a look a certain way, and those who were around him on a regular basis immediately could deduce whether "Good Freel" or "Bad Freel" had showed up to work that day.
The difference was stark. Some days, the Reds' usually frenetic utilityman would simply sit in his chair and stare into his locker, not interacting with anyone about anything. Other days, he would bounce around the room, greeting anyone in his path -- teammates, clubhouse attendants, reporters -- with over-the-top enthusiasm and occasionally a bear hug.
Baseball clubhouses being what they are, cracks about whether Freel was on or off his medication that day inevitably followed. Everyone knew the guy had issues, and he was more open about them than most. But he fought through them, spending parts of eight seasons in the majors and making a few million dollars along the way.
For a 5-foot-10, 185-pound runt from Jacksonville, Fla., you could say that was living the dream. 
Indeed, on his good days, it was easy to imagine Freel heading home after a day game and chatting up the neighborhood kids on the stoop, like John Cusack as Buck Weaver in "Eight Men Out." The darker side was never far away, though, and Saturday it finally overwhelmed him.
Ryan Freel killed himself with a shotgun in his home, the Jacksonville Sheriff's Office told the Florida Times-Union. He was only 36, three years removed from his final major league game.
Freel was at his peak as a player from 2004-06, appearing in at least 100 games each year in that stretch (and never topping 75 in another campaign). Those also happened to be the three seasons I served as the Reds beat writer for the old Cincinnati Post, so I had the opportunity to spend quite a bit of time in his wake.
He was a fascinating guy, largely devoid of the natural athletic gifts that teammates like Ken Griffey Jr., Adam Dunn and Brandon Phillips could boast. He found his way to the Reds after eight years spent mostly in the Blue Jays' farm system thanks in large part to his reckless abandon on the field.
In that sense, he was the perfect Cincinnati player. The Queen City is always on the lookout for the latest incarnation of native son Pete Rose, and Freel slid noisily into that mold. Starting at least 10 games at five different positions in 2004, he proved valuable enough to accumulate nearly 600 plate appearances in his first full big-league season.
The fans loved him, even if his teammates weren't quite sure what to make of him. He certainly could be ingratiating, but his dirty-uniform style also could rub the wrong way -- especially on a mediocre team in the dog days of August. It's just the way he was wired.
He came up to me in the clubhouse one day and laughed about a poster the Reds' athletic trainers had showed him listing potential symptoms of Attention Deficit Disorder: "I'm like, 'I've got that one, and that one, and that one, and that one, and that one, and that one…' "
Openness and accessibility were hallmarks for Freel. The usual platitudes dispensed by professional athletes were mostly absent in conversations with him. More often than not, he would come up and ask you how you were doing. And if you asked him the same, he'd probably provide something far closer to an honest answer than most of us give to that throwaway question.
The last time I saw him was in 2009, when I was covering the Rays and he was with the Royals, his third of three big-league teams in the final season of his career. I walked up to him during batting practice and, yes, asked how he was doing. "Not so good," he said, sounding utterly defeated. He did mention his wife and daughters at home and eventually shook hands and went back to work.
Not long after that, his career in the majors was over. The edge was gone, blunted too many times by the physical beating he inflicted upon himself -- including, famously, diving headlong into the Dodger Stadium stands one night in futile pursuit of a foul ball -- and the mental grind that affects every player over the course of another long season.
He was one of those guys you wondered about: What in the world would he do when he couldn't play ball anymore?
How tragic that it came to this, though. He always struck me as a caring man, a sensitive guy, who really seemed to care about other people.
As former major league outfielder Rocco Baldelli said on Twitter on Saturday night:
"Let's pay better attention to the ones we love."
-- Marc Lancaster, Washington Times
For more baseball news, rumors and analysis, follow @EyeOnBaseball on Twitter, subscribe to the RSS feed and "like" us on Facebook.