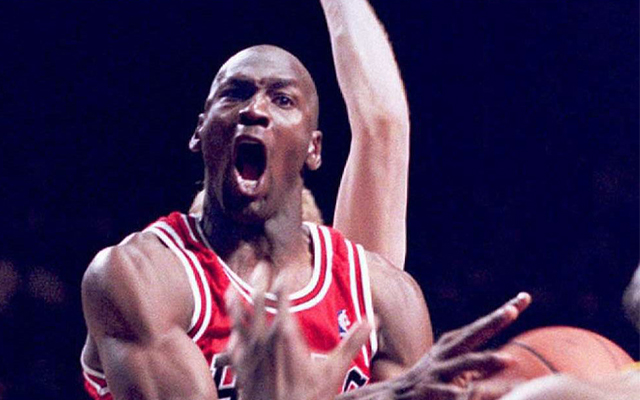 20 years ago, Michael Jordan changed the history of the NBA, basketball, and rocked the sports world to its core with two little words. 
"I'm back."
Jordan announced his return to basketball after a nearly two-year retirement including a stint with the Chicago White Sox minor league system. On March 18, 1995, his agency, F.A.M.E. managed by his agent David Falk, sent the following fax to the media: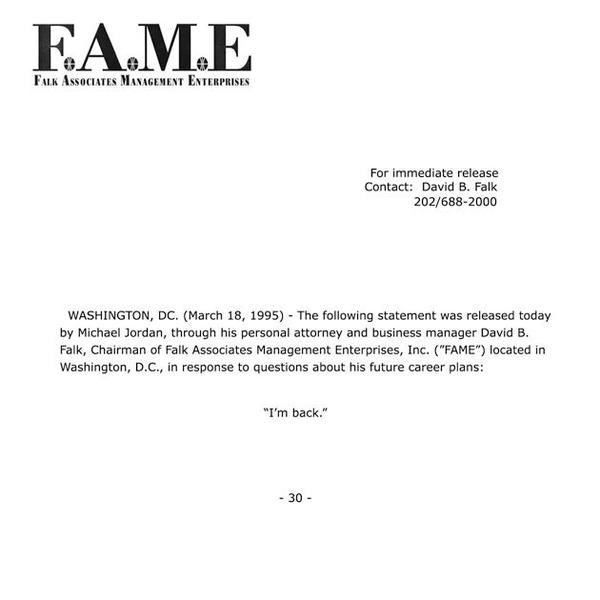 From ESPN: 
Alyson Sadofsky, who was the director of media services for David Falk's agency, stepped out of the shower on the third Saturday of March in 1995 and saw the light on her answering machine blinking. There were seven messages from Falk, each with increasing urgency, expressing the same theme: "Get to the office right now."

Sadofsky recalls going in 11 a.m., then spending the next two hours sending out the fax that upended the sports world, the first step toward what became the second half of the Bulls' 1990s dynasty.

"Everything had to be done individually," Sadofsky says. "It wasn't like sending a mass email."

Fax protocol meant typing up a cover sheet addressed to each recipient. That always preceded the actual content. It took a couple of minutes to send each fax, then she had to wait to receive a confirmation receipt.

In retrospect, Sadofsky says, "It sounds like horse and carriage."

The office had two fax machines, one for outgoing and one for incoming. For news of this magnitude, she used both machines to send faxes to Chicago news outlets, the Associated Press and major national outlets such as ESPN, The Washington Post and the New York Times.

...

Falk can't take credit for writing the fax, but he appreciates the power of the two-word statement.

"How elegant it was, and simplistic," Falk says. "It was vintage Jordan."
via NBA -- J.A. Adande on Michael Jordan's 1995 comeback fax - ESPN.
But that was 1995, and the world has changed dramatically. The internet allows athletes to reach their fans directly. And while Jordan and his agency may have preferred Facebook with a longer message (and there would no doubt be a post), with Jordan's eye for the quick and powerful, there's not a better medium than Twitter. 
You can just imagine if it happened today. The sports world talking about the playoff race, the morning shows debating if the Bulls can keep up this pace, and whether the Rockets will repeat. Then, out of nowhere, Twitter melts down. (Click to enlarge.)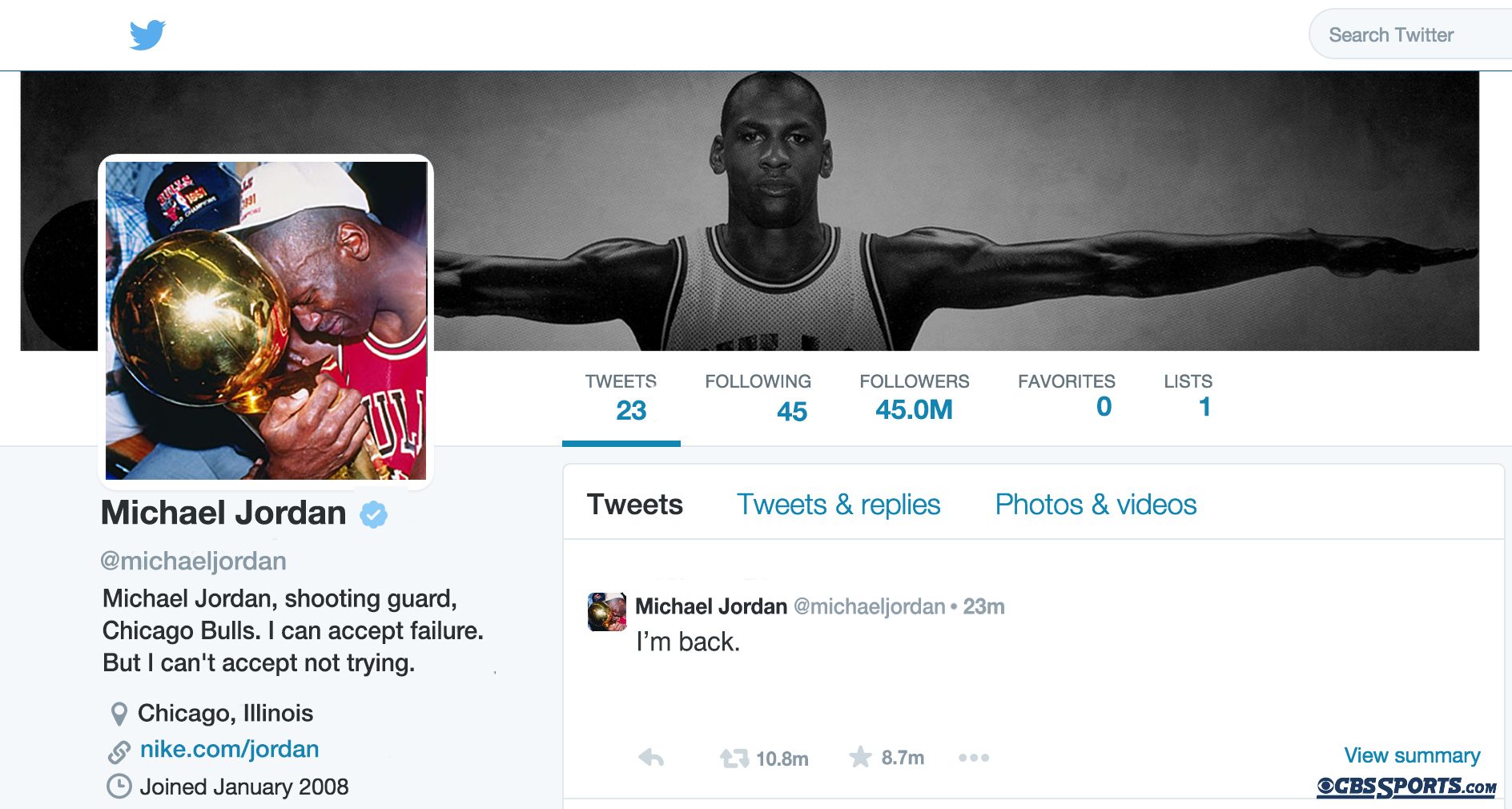 It's pretty likely that Twitter would experience a shutdown as every sports outlet on the planet scrambled to react. Their servers would spontaneously combust into smoke and fire as Buzzfeed started to prep a "Top 10 Things People Thought When Jordan Came Back," and every sports website threw out their coverage plans for the next 48 hours. Airlines would be slammed with reporters booking flights to Chicago. Vines and Instagram videos would go crazy within hours of people's reactions, especially kids', to the news that the GOAT was coming back. 
Athletes would all be tweeting their welcome back messages to MJ. Well, some of them. Would Karl Malone have a Twitter account in this situation? He probably wouldn't. Gary Payton would be tweeting trash talk. The Bulls' twitter account would just be the praying hands emoji over and over again. 
There have been some incredible moments online with the NBA. But if Jordan came back today? The circus would be ten times what it was back in 1995.