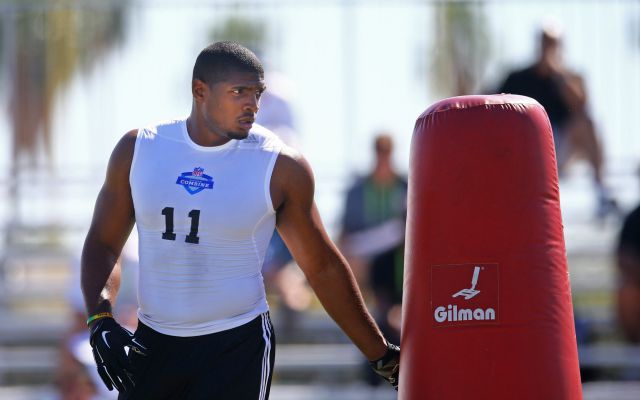 Michael Sam, who in 2014 became the first openly gay player to be drafted by an NFL team, announced on Twitter Friday evening that he is walking away from football for mental health reasons.
The last 12 months have been very difficult for me, to the point where I became concerned with my mental health. Because of this I am 1/3

— Michael Sam (@MichaelSamNFL) August 14, 2015
going to step away from the game at this time. I thank the Alouettes for this opportunity and hope to be back on the field soon. Thank 2/3

— Michael Sam (@MichaelSamNFL) August 14, 2015
you all for your understanding and support. 3/3

— Michael Sam (@MichaelSamNFL) August 14, 2015
Sam, a consensus All-American and SEC Defensive Player of the Year in his final season at Missouri, was drafted by the St. Louis Rams in the seventh round of the 2014 draft. He played solidly in the Rams' preseason contests (he finished the preseason with 11 tackles and three sacks) but was beaten out for a roster spot by undrafted rookie Ethan Westbrooks.
Sam was then signed to the practice squad by the Dallas Cowboys. He stayed on the practice squad from Sept. 3 through Oct. 21, getting released when defensive end Demarcus Lawrence was ready to return from injury.
Sam was not signed for the remainder of the 2014 season, so he applied to participate in the NFL's first-ever veteran combine held at the Cardinals' team facility in March. While there, Sam ran the 40-yard dash in 4.99 seconds, slightly slower than his time at the 2014 NFL Combine.
After he failed to find a deal with an NFL team, Sam signed with the Montreal Alouettes of the Canadian Football League, at which point he became the CFL's first openly gay player. Sam left the team the day before its first preseason game for personal reasons, returning a few weeks later. On Aug. 7, he became the first openly gay player to play a regular season CFL game, though he did not register any tackles or sacks in his appearances.