2014 over/unders: Chicago Cubs
How many homers with Anthony Rizzo hit? How many MLB games will Javier Baez play? When will Jeff Samardzija be traded? All of that and more in our Cubs over/unders.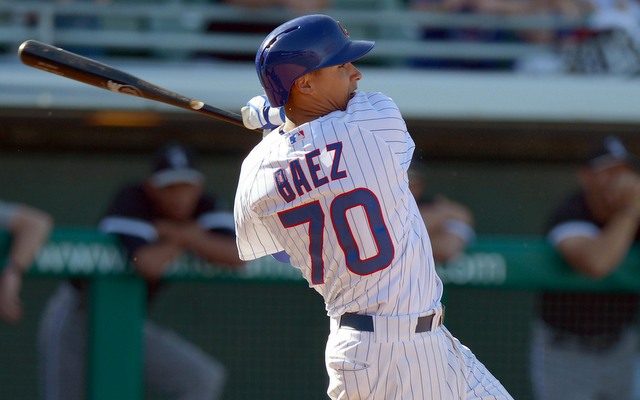 More Cubs: Team preview | Likes, dislikes

Another day, another team preview, another round of over/unders. Here's a quick explanation of what we're doing:
As part of our preview of the 2014 season to come, let's roll out a few "over/unders" for each team. That is, we'll assign a number to some different categories that, in their own way, will predict one facet of the season ahead. In turn, you, the loyal commenter, will let us know whether you take the "over" or "under" for each category. Stated another way, will the actual figure be higher or lower than the one we've presented? Remember, we're talking 2014 season and 2014 season only.
Today's team is the Chicago Cubs. The Lovable Losers went 66-96 in 2013, their third straight season with 90+ losses and fourth straight fifth-place finish in the NL Central. To the betting lines...
---
Wins: 72.5
Place in NL Central: 4.5
Anthony Rizzo's home runs: 27.5
Starlin Castro's errors at shortstop: 24.5
Javier Baez's games played at MLB level: 80.5
Total home runs by Kris Bryant (minors and potentially majors): 34.5
Travis Wood's home runs hit: 2.5
Edwin Jackson's ERA: 4.495
Date of Jeff Samardzija trade: July 31
After acquiring Ian Kinsler and Zack Cozart in recent days, the Angels are trending upward

Cozart's coming off a big season as the Reds' shortstop

The veteran slugger spent the last eight seasons with Cleveland
The Padres may be poised for an active winter

Yes, Bryce Harper is going to make a lot of money next winter

Outfield prospect Clint Frazier might be part of the talks