Alex Rodriguez leaves appeals hearing, calls process a 'farce'
A-Rod has decided to walk out on his appeal hearing for a 211-game suspension, calling the system a "farce."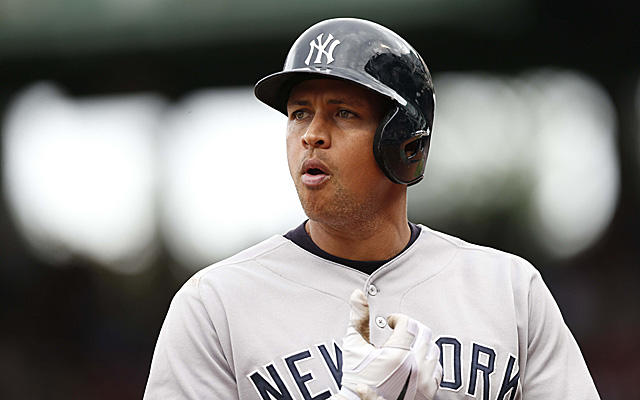 Yankees third baseman Alex Rodriguez has walked out on his arbitration hearing -- where he's appealing a 211-game suspension by Major League Baseball for his ties to the Biogenesis scandal -- in anger, calling the process a "farce."
A-Rod's full statement on the matter:
I have sat through 10 days of testimony by felons and liars, sitting quietly through every minute, trying to respect the league and the process. This morning, after Bud Selig refused to come in and testify about his rationale for the unprecedented and totally baseless punishment he hit me with, the arbitrator selected by MLB and the Players Association refused to order Selig to come in and face me.

The absurdity and injustice just became too much. I walked out and will not participate any further in this farce.
A 211-game suspension would be the longest drug-related suspension in MLB history and A-Rod is technically a first-time offender, given that his previous ties to PEDs came from the time period when testing and suspension rules weren't in place. Major League Baseball is trying to prove that he's continually violated the Joint Drug Agreement, making him more than a first-time offender.
Per my colleague Jon Heyman, A-Rod slammed his fist on the table during the hearing before getting up to walk out, during which walk he looked at MLB COO Rob Manfred and said, "this is bulls---, and you know it."
MLB has released the following statement in return:
For more than 40 years, Major League Baseball and the Players Association have had a contractual grievance process to address disputes between the two parties. This negotiated process has served players and clubs well. Despite Mr. Rodriguez being upset with one of the arbitration panel's rulings today, Major League Baseball remains committed to this process and to a fair resolution of the pending dispute.
This was the 11th day of hearings in New York City on Rodriguez's appeal by arbitrator Fredric Horowitz. Rodriguez's outburst followed the decision by Horowitz that MLB commissioner Bud Selig does not have to testify in the proceedings.
It was long unclear whether or not A-Rod himself would testify, but now that he's walked out, the writing appears to be on the proverbial wall.
More information on the case, via the Associated Press:
MLB said U.S. District Judge Edgardo Ramos in Manhattan issued an order Tuesday compelling Michael Sitrick, head of the public relations firm Sitrick & Co., to comply with a Sept. 19 subpoena issued by Horowitz to appear at the arbitration and to provide documents. Sitrick & Co. worked on Rodriguez's behalf earlier this year.

In papers filed in New York Supreme Court on Oct. 29, MLB alleged Sitrick & Co. had provided records from [Biogenesis founder Anthony] Bosch to Yahoo Sports, which published a story Feb. 5 saying the name of 2011 NL MVP Ryan Braun appeared in records of Biogenesis of America, the Florida anti-aging clinic accused of distributing banned performance-enhancing drugs.

MLB said in the court papers it believed the documents had been "provided to Sitrick & Co. by Rodriguez or others acting on his behalf." Miami New Times had reported Jan. 29 that Rodriguez bought human growth hormone and other performance-enhancing substances from Biogenesis during 2009-12.
The hearing will continue daily through Nov. 26, apparently without A-Rod's presence.
Keep it locked right here for everything you need to know about the world of baseball Tues...

There have been several racially charged incidents at Fenway Park this year

Washington's right fielders have sputtered offensively since Harper went down
The good news? Wichita still has a chance to win the series Tuesday night

Soon more home runs will have been hit in 2017 than in any other season in MLB history

Ferrell somehow avoided going to the ground