Baseball's worst contracts: Starting pitchers
After having already examined all the position players/designated hitters in our bad contract series, it's time to move onto the pitchers. This installment is the starting pitchers.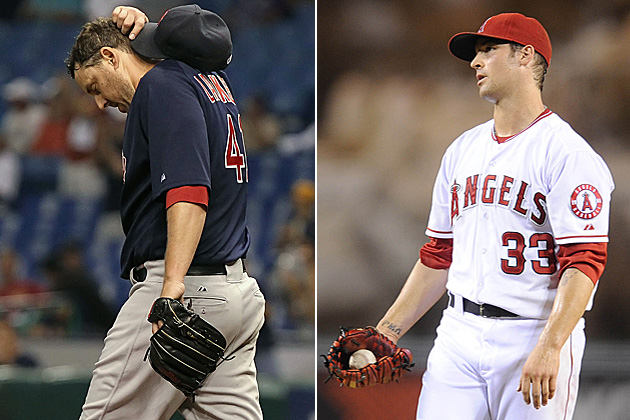 Lackey and Wilson take top 'honors' for bad contracts among starters. (US Presswire)
After having already examined all the position players/designated hitters in our bad contract series, it's time to move on to the pitchers. This installment is the starting pitchers.
As I noted the past two days, we're only looking at contracts moving forward, not the contract as a whole. Also, to reiterate, baseball teams these days in many different markets can afford to pay pretty huge salaries, so my definition of what is a "bad" contract is pretty conservative. In fact, in scrolling through the salaries of each major-league starting pitcher, I didn't even think about including more than 15 guys here.
Let's get to it.
Eye on Baseball
Offseason content
Right-handed starters
Winner: John Lackey, Red Sox
Remaining salary: Two years, $30.5M
In 2011, Lackey led the majors in two categories: earned runs allowed and hit batsmen. He posted a 6.41 ERA and 1.62 WHIP. He missed all of last season after undergoing Tommy John surgery.
Runner-up: Josh Beckett, Dodgers (two years, $31.5M left). I have more faith in Beckett bouncing back than Lackey, but I'm not overly optimistic. In all, Beckett went 7-14 with a 4.65 ERA, 1.33 WHIP and diminished fastball velocity. Do note that Beckett had a 2.93 ERA in a small sample of seven starts with the Dodgers after the trade. So a good 2013 season isn't out of the question.
Also considered
Jeremy Guthrie, Royals (three years, $25M). The Royals desperately need starting pitching, so it's not shocking they'd go the route of overspending, but Guthrie is pretty well established in terms of what he can do. He turns 34 next month and sports a 4.31 ERA and 1.31 WHIP in the past five seasons.
Tim Lincecum, Giants (one year, $22M left). If the Giants get the Lincecum they got last regular season, $22 million is an absurdly steep price. If they get Lincecum from pretty much any other time, he's well worth it. Even if the Giants lose some money on his production in 2013, I'm guessing they're OK with all that he has done for them, too. So I really have no huge issue with this one (remember, I'm only saying I "considered" him).
Left-handed starters
Winner: C.J. Wilson, Angels
Remaining salary: Four years, $65M
He regressed pretty much across the board in 2012, as his strikeout rate went down, his home run rate went up and his walk rate went up pretty significantly. This caused a raise in ERA by almost a full run to 3.83 with a 1.34 WHIP. With a back-loaded contract, Wilson is set to make $20 million in 2016 as a 35-year-old. He wasn't worth even half that in 2012 at age 31.
Runner-up: John Danks, White Sox (four years, $57M left). Danks' season was cut short in 2012 with shoulder surgery. He was 3-4 with a 5.70 ERA and 1.49 WHIP before the injury. Even if we want to discount that, here is Danks' average full season (figured as 162 team games) as a major-leaguer: 13-13, 4.12 ERA, 1.32 WHIP, 160 K, 70 BB, 208 IP. He'll be 28 next year, so there's hope. But so far, this contract looks more like hope than realism.
Also considered
Mark Buehrle, Blue Jays  (three years, $48M left). I cannot overstate how important Buehrle's durability is, and that's why I don't especially think this is a terrible contract. For 12 straight years, he has gone over 30 starts and 200 innings. It's just that the Marlins so severely back-loaded the contract and Buehrle will be making $19 million when he's 36.
Johan Santana, Mets (one year, $25.5M left). It's difficult to root against Johan after all his health issues, but we can't let that factor in here. Look at the salary, and compare it to his numbers -- 6-9, 4.85 ERA, 1.33 WHIP, 111 K in 117 IP last season.
Barry Zito, Giants (one year, $20M left). Much like what I mentioned about Cubs left fielder Alfonso Soriano, Zito's contract has long been mentioned among the worst in baseball. With both players, there's no question the individual did not live up the total amount of the contract -- Zito's big NLCS and World Series starts this past October notwithstanding. I'm pretty sure, however, if you told the Giants and their fans that Zito would leave with two World Series rings when he signed the deal, there wouldn't have been any complaints.
For more baseball news, rumors and analysis, follow @EyeOnBaseball on Twitter, subscribe to the RSS feed and "like" us on Facebook.
CBS Sports HQ Daily Newsletter
Get the best highlights and stories - yeah, just the good stuff handpicked by our team to start your day.
Please check the opt-in box to acknowledge that you would like to subscribe.
Thanks for signing up!
Keep an eye on your inbox for the latest sports news.
Sorry!
There was an error processing your subscription.
SportsLine's advanced computer model simulated Thursday's Padres vs. Marlins game 10,000 t...

Paddack almost threw a no-no against his old team, but it just wasn't meant to be

The Red Sox announced Green's death on Wednesday
This could hint at how the league intends to improve competitive balance

Here is everything you need to know about the day in baseball

SportsLine's advanced computer model simulated Wednesday's Angels vs. Astros game 10,000 t...