Biogenesis suspensions not Black Sox level, but should deter PED use
With Major League Baseball coming down hard on Alex Rodriguez and Ryan Braun, it's worth wondering if the result will be a major deterrent.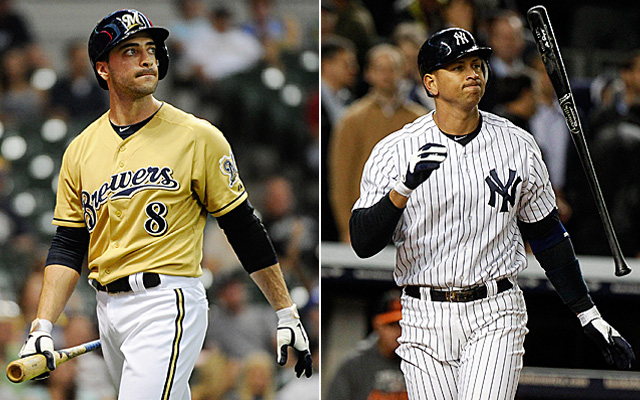 Related: Braun suspended for rest of season | A-Rod, Cruz, Peralta, among 13 suspended
Almost a century ago, the baseball world was rocked by what is now known as the Black Sox scandal. And in light of the recent fallout from the Biogenesis scandal, it's worth wondering if the result will be a similar deterrent.
Before the Black Sox lifetime bans being handed down in 1920, baseball had a serious problem with game-fixing. There were either reported or suspected issues with bribery, throwing games and other game-tarnishing conspiracies in the 1908, 1914, 1917 and 1918 World Series to varying degrees. It wasn't limited to that, either, as players reportedly sold games throughout the decade during the regular season, too.
It all came to a head with the 1919 World Series, when eight White Sox players were accused of throwing the World Series. Those eight -- Shoeless Joe Jackson, Buck Weaver, Eddie Cicotte, Lefty Williams, Chick Gandil, Fred McMullin, Swede McMullin and Happy Felsch -- were all banned for life from baseball.
There were reportedly some more game-fixing issues in 1920, but once the lifetime bans were finalized and Kenesaw Mountain Landis was firmly entrenched as baseball's first commissioner, the problem went away.
Obviously this can't be 100 percent proven, but it circumstantially holds up that one of the main reasons the problem went away was the deterrent. Throwing a game with the risk of losing one's livelihood just wasn't worth it any longer.
And that brings us back to the present and the Biogenesis scandal. With Alex Rodriguez's unprecedented PED suspension leaving tens of millions of dollars on the table -- unless he somehow wins his appeal and gets a huge chunk of games lopped off -- that's a pretty significant reason for players moving forward to avoid performance-enhancing drugs. Remember, this suspension was done without a positive drug test, other than the 2003 one that doesn't count. MLB relentlessly investigated until it had A-Rod by the proverbial balls. He wasn't alone in the suspensions, either, as we know. 
Obviously the likes of Ryan Braun will come back and continue to make money playing the game. That is, of course, unless they get busted again. With MLB and the Major League Baseball Players Association showing a willingness to go above and beyond the 50-100-lifetime route with the drug suspensions, any player with half a brain will realize that getting caught risks his livelihood for the rest of his career -- with no turning back.
Not only that, but the players now have to be concerned that any kind of evidence -- be it a paper trail, a witness, an insider selling information, etc. -- can be used against them. Just finding a way to beat the random urine tests might not be good enough.
MLB probably can't completely eradicate PEDs from the game, realistically, as the cheaters in every walk of life always seem to be at least one small step ahead of the watchers. We also have to consider how in the world all these guys weren't testing positive before -- even though players like Melky Cabrera, Yasmani Grandal and Bartolo Colon were caught, a bunch of these guys were not.
With that in mind, I'm inclined to say this won't have the same impact as the Black Sox scandal did in deterring future game-fixing. I don't think it's realistic to believe PEDs will essentially be eradicated from the game. This will, however, serve as a pretty sizeable deterrent moving foward. So while this isn't akin to the Black Sox, I believe this could be a big corner turned in the MLB's public relations fight against PED use among players. Time will tell and I don't know that it's probable, but it's certainly possible.