Bronx Tale: It's a sorry story for collapsing Yankees, whose issues could fill book
The Yankees have looked too old, they keep getting hurt and they haven't pitched very well. And that's just the start of their problems.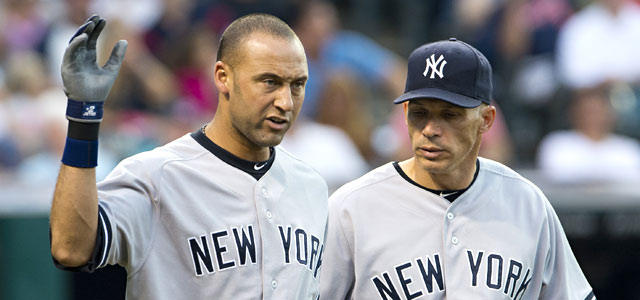 The Yankees are limping down the stretch, despite a strong second half from Derek Jeter. (Getty Images)
The Yankees, who long ago wrapped up the AL East (or so they thought), now stand in a first-place tie with the Baltimore Orioles, who haven't even had a winning season since Davey Johnson left town a century ago (or so it seems).
Yankees officials, predictably, aren't taking this well. Tightly wound manager Joe Girardi's head looked like it might fly off while losing an argument in another losing game Tuesday night in Tampa Bay. When it was suggested to a Yankees staffer that at least they aren't the sinking Red Sox, that official suggested it'll be no better than that if they don't make it to the playoffs.
According to Elias, the Yankees have become only the third team to blow a 10-game division lead since the six-division format started in 1994. Think about that. It isn't easy.
What's more, they blew that double-digit lead to the Orioles, who are mid-pack in hitting and pitching and being guided in one of the great managing jobs of all time by Buck Showalter, the ex-Yankee manager -- let go 17 years ago by New York -- who'll never admit exactly how much he's enjoying this. Also right there are the perennially pesky Tampa Bay Rays, who are only one game back, have Evan Longoria back and have better pitching than anyone else in the division that not so long ago was the best in baseball.
The terrific jobs being done by Showalter and new Orioles GM Dan Duquette, who both first established themselves with the big powers of the AL East two decades ago (Duquette with the Red Sox), are a couple of reasons such seemingly disparate teams are currently in the most shocking dead heat in baseball history.
Besides the magic of Showalter (and also Rays manager Joe Maddon), many of the Yankees' other issues are much closer to home for baseball's most storied franchise and highest-paid team. Showalter and Maddon surely aren't the main causes of the Yankees going 19-25 since taking that 10-game lead on July 18.
Here are a few more:
-- The Yankees are not young. The Yankees' position player average age is 32.7 years, which is the oldest in franchise history (and it's an old franchise). In fact, the last team with position players that old was the 2007 Giants, who went 71-91. One scout told Danny Knobler of CBSSports.com, pinpointing what may be the Yankees' biggest issue, "Old. Very old. And I'm old, so I can identify with them."
-- They are not very lucky with injuries (which may go along with being old). Alex Rodriguez, who used to play every game of every season, isn't a very quick healer these days, and the team isn't the same without him (A-Rod's .800 OPS would mark a career low, but the Yankees are 21-21 without A-Rod, Richard Justice of MLB.com pointed out). Andy Pettitte's return is going so slow it can't be counted on to occur this year (his old buddy Roger Clemens may be more likely to make a big-league appearance this year). And even the seemingly perfect Mariano Rivera couldn't perform a miracle to return this year.
-- They are slow. The Yankees' leader in steals is none other than A-Rod with 11, as Joel Sherman pointed out in the New York Post on Wednesday. And A-Rod is old (37) and built nothing like the player who came up with the Mariners about a million years ago (or so it seems). Plus, Raul Ibanez leads the team in triples with three, and he's older than A-Rod (40) and slower than A-Rod, as well. They of course miss Brett Gardner (another injury casualty) and Eduardo Nunez (an underperformance casualty who only returned recently from the minors). Perhaps by design as they rely on the home-run ball, Derek Jeter, Curtis Granderson and Ichiro Suzuki aren't big steal threats this year, either.
-- They are too dependent on dingers. According to Elias, the Yankees have scored the highest percentage of their runs on home runs (49.5 percent, 318 of 642 runs) in the majors. The Giants, incidentally, are the least homer dependent, with only 23.7 percent of their runs coming via the homer.
-- Girardi isn't having his best stretch ever. He's never a barrel of laughs, but lately he seems tight. He started to lose it a bit when asked a routine strategy question the other day about why he let a struggling Phil Hughes pitch to Mark Reynolds again after Reynolds had homered earlier in the game against him. Girardi's answer, about how he would have had to use several more relievers had he used one there, didn't sound like a very good one. Which might be why he didn't like answering.
-- Ichiro is little more than a big name now. Some Yankees people were stunned they could get Ichiro for next to nothing. But as it turns out, he's not worth much more than that. His batting average is a bit better in New York (.273 to .261 in Seattle) and his OPS is a bit better, too (.701 to .642 in Seattle), but since his two-homer game against the Red Sox in New York on Aug. 19 he has done almost nothing. Meanwhile, his rep as something less than a good-luck charm is gaining steam, with the Yankees 19-21 since acquiring Ichiro and the formerly down-on-their-luck Mariners 24-16 over that stretch. Although he has played with teams that are over .500 combined, Ichiro has managed to play in the second-most losses in the AL; he has played in 75 defeats to 76 for the Twins' Joe Mauer.
-- Robinson Cano isn't having a season to match his numbers. Some Yankees people are questioning whether he's the $200 million player he sees himself as after a season that isn't exactly filled with clutch hits. His overall numbers appear very Cano-like (.303, 29 HRs, 73 RBI) but with runners in scoring position, it's a different story. He is hitting .236 with RISP and his OPS, .913 overall, is only .737 w/ RISP. One scout said he doesn't look completely like himself lately, but Cano says he didn't hurt his hip until letting a grounder get past him for the game-winning hit Monday night (and he still played Tuesday). The upshot: He'll probably get that money, but he isn't having the big moments to justify it so far this year.
-- Their overall hitting isn't what you would think. They have now had five consecutive games with six hits or fewer (the club record is seven such games, done in 1970).
-- CC Sabathia hasn't been quite the ace he has been in the past. He has had two stays on the disabled list for elbow trouble, and while he says he's fine now, one scout said a lack of the usual sharpness on his breaking balls suggests Sabathia may not be completely confident in the pitch. His stats (13-4, 3.42), 1.20 WHIP) are in line with his typical season but Yankees people also have detected a bit of a dropoff.
-- Some of their other pitchers are having off years, too. Freddy Garcia "is a No. 5 starter on a non-contender," one scout said. David Robertson isn't quite the dynamo he was the past two years. And Ivan Nova struggled before going on the DL.
One scout neatly summed up the Yankees' problems: "Their pitching is mediocre, they don't do the little things to win ... and the injuries haven't helped."
It's a triple play, and not the good kind.
deGrom is set to become a free agent after the 2020 season

Perkins missed most of the last two seasons due to injury

Jonathan Singleton was suspended after a third positive test for a drug of abuse
Rodriguez will join Jessica Mendoza and Matt Vasgersian on the "Sunday Night Baseball" boo...

Jeff Wilpon talked about payroll on Tuesday, and it won't make any Mets fan happy

Yelich's agent recently asked the Marlins to trade him before the spring