Cliff Lee finally gets a win; what it means
Cliff Lee got his first win of the season Wednesday, in his 14th start of the season. His 'streak' was newsworthy due to being such an anomaly, but far too much emphasis was placed on it.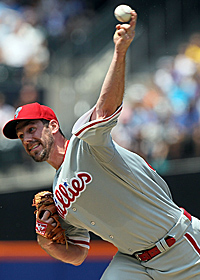 Phillies starting pitcher Cliff Lee picked up the win Wednesday over the Mets, working eight innings and allowing seven hits, one walk and two earned runs. He struck out nine.
The pitcher "win" is one of the most overvalued stats in baseball, especially in small samples. It's not nearly the best way to judge the performance of a starting pitcher, it can be misleading and it's a team stat. Still, it's near and dear to our hearts because it's an old-school standby and also a big component of fantasy baseball.
Thus, when one of the best pitchers in baseball finally gets his first win on July 4, that's news. Wednesday, Lee moved his record to 1-5 through 14 starts.
The "streak" was actually quite amazing due to the numbers behind it. Lee made 13 starts without recording a victory. Last season, in 32 starts, he recorded 17 wins. The previous three seasons, Lee had 48 wins in 93 starts.
In 2004, Lee went nine starts without a win. In 2011, he went six starts without a win. He also went six starts without a win in a "streak" from 2003-2004. Otherwise, Lee had never gone more than five starts in his career without picking up a victory. And this time around, it was 13.
Obviously this kind of drought is worthy of discussion on some level.
Then again, this most certainly doesn't mean Lee was terrible all season. Again, wins are a team stat. Lee had a 1.95 ERA, 0.76 WHIP and 34 strikeouts in 37 innings through his first five starts. That's the stat-line of an ace. Even through nine starts, Lee had a 2.92 ERA, 1.01 WHIP and more strikeouts than innings pitched. There were run support and bullpen issues costing him wins (once again: Team stat).
Lee had a few bad outings recently, but I can't help but wonder if he himself got caught up in this winless streak and started pressing or overthrowing. The overwhelming majority of big-league pitchers are still wired to believe W-L is the stat column that means the most.
So while the winless streak is newsworthy due to it being such an anomaly, let us take this opportunity to stop placing so much emphasis on pitcher wins. Lee was an ace through nine starts, yet all the emphasis was placed on his lack of wins. Now that he has a "W," let's move on.
For more baseball news, rumors and analysis, follow @EyeOnBaseball on Twitter, subscribe to the RSS feed and "like" us on Facebook.
The Twins have already fortified the bullpen with Addison Reed, and now they want to address...

The Orioles likely want pitching, and the Indians have plenty of it

Halladay died in a November plane crash off the coast of Florida
The power-hitting outfielder is headed to Toronto

Martinez could add some power to a Boston lineup void of it

It's almost that time of the year again, time for the Tebow madness to return