R.I.P., 2013 New York Yankees
The Yankees were officially eliminated from the postseason on Wednesday night. Let's pay our last respects.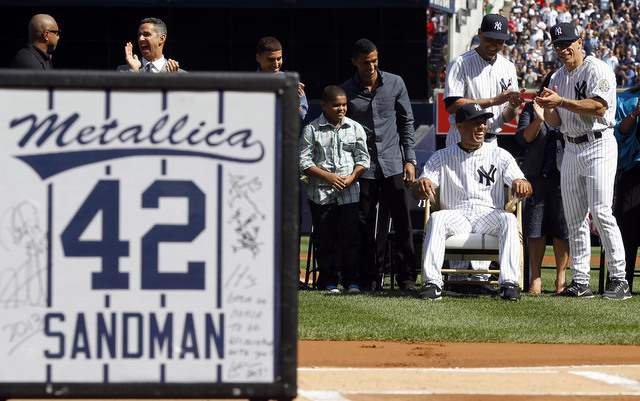 RIPs: Astros | Marlins | White Sox | Cubs | Brewers | Mets | Giants | Rockies | Twins | Phillies | Padres | Mariners | Blue Jays | Diamondbacks | Angels | Nationals | Orioles | Royals
For only the second time since the strike-shortened 1994 season, the New York Yankees will not be going to the postseason this year. They were officially eliminated from playoff contention on Wednesday night. Let's look back at their season.
What went right
Surprisingly little for a team that stayed in the hunt through 157 games. Robinson Cano remained a superstar and Hiroki Kuroda was in the Cy Young conversation as late as mid August, plus Ivan Nova shook off a rough (and injury-interrupted) first half to pitch very well in the second half. Brett Gardner and Mariano Rivera both rebounded after missing almost all of 2012 due to injury. Andy Pettitte was his typically solid Andy Pettitte self before announcing his retirement (again). Oh, and Alfonso Soriano was a monster after being acquired at the trade deadline. That's about it.
What went wrong
I guess we'll start with the injuries. The Yankees lost a bunch of important players to injury, some unpredictable ( Curtis Granderson , Mark Teixeira , Francisco Cervelli) and some completely predictable ( Alex Rodriguez , Derek Jeter , Michael Pineda, Kevin Youkilis , Travis Hafner ). Cano was the team's only everyday player to stay healthy and productive from start to finish this summer.
As for the guys who didn't get hurt, CC Sabathia had the worst season of his 12-year career by far. Phil Hughes was also awful, ditto Ichiro Suzuki and Vernon Wells on the position player side. Several young pitchers (Pineda, David Phelps , Vidal Nuno ) either got hurt, performed poorly, or both. Eduardo Nunez also failed to make a name for himself as Jeter's replacement. So not only did the regulars get hurt, but the young players who replaced them didn't play their way into the team's long-term plans.
On top of all of that, A-Rod received the longest suspension in baseball history (211 games) and was a pretty big distraction for a few weeks.
MVP: Cano by a mile. Flawless victory, fatality.
LVP: Sabathia. An 85 ERA+ and 0.3 WAR from your $23+ million a year ace is a total disaster. No way around it.
Free agents to be: 2B Robinson Cano, RHP Joba Chamberlain , OF Curtis Granderson, DH Travis Hafner, RHP Phil Hughes, RHP Hiroki Kuroda, SS Derek Jeter, LHP Boone Logan , 1B Mark Reynolds , SS Brendan Ryan and 3B Kevin Youkilis. Jeter has a player option for 2014 in his contract. Both Rivera and Pettitte are technically free agents but are retiring.
Gameplan heading into the offseason
First and foremost, the Yankees have to re-sign Cano. That's the top priority. They also need to come up with at least two starting pitchers and a handful of relievers at a minimum. Figuring out how to get Sabathia back on track is important as well. The Yankees are trying to get under the $189 million luxury tax threshold next season, so even though they have a ton of money coming off the books, they won't pump all of it back into the roster.
Ridiculously premature prediction for 2014
The Yankees have a knack for exceeding expectations -- they get buried before every season, don't they? -- but that luck might have run out. The core of their roster is old and their farm system isn't all that productive, plus free agency isn't what it used to be. The Bronx Bombers aren't suddenly going to turn into the Astros, but their playoff absence appears poised to last longer than one year. I'm going to a .500-ish record and a fourth place finish in 2014.