Some fun, lesser known, facts about Wrigley Field
Everyone knows about the ivy, scoreboard and rooftops as a part of the Wrigley Field experience. Here are some things you may not have known.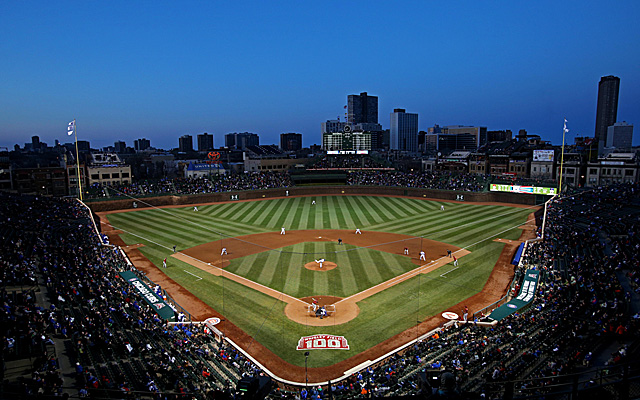 More: Happy 100th Birthday, Wrigley Field
Wednesday marks the 100th Anniversary of the first game played at Chicago's Wrigley Field. Everyone knows about the ivy, old-school scoreboard, rooftops and bleachers while most know about the lights not having been put in until 1988 and a few other factoids -- such as Babe Ruth's called shot (or alleged called shot, depending upon whom you ask) happening in Wrigley. I think lots of sports fans know the Bears played there from 1921-1970, too.
On the flip-side, though, here are five things that aren't as widely known (and if you did know, good for you, but that doesn't mean everyone does).
•The Cubs haven't been there for 100 years. Yes, Wrigley is now 100, but the Cubs didn't call it home until 1916. Before that, the Chicago Whales of the Federal League were Wrigley's tenants.
•It was home to a soccer team. The Chicago Sting of the North American Soccer League played in Wrigley from 1977-82 and again in 1984.
•It hosted a ski-jumping event once. Back in 1944, there was a ski-jumping event held in Wrigley, with a ramp in the upper deck and the jumpers landing in the area around second base. 
•The only ball that's ever been hit off the scoreboard is a golf ball. That scoreboard nestled deep in center is pretty safe from baseballs, but it was struck in 1951 by Sam Snead who hit a 4-iron from the area around home plate off the scoreboard. 
•Wrigley Field was the first place to allow fans to keep foul/home run balls. They first did so in 1915. 
The "W" flags are pretty in vogue among Cubs fans now, but many might not know the backstory, so we'll close with that. Basically, the Cubs hang a white flag with a blue "W" on the center-field scoreboard after games that the Cubs win. If there's a Cubs loss, they'll hang a blue flag with a white "L" on it. The tradition began all the way back in the 1930s as a way to tell riders on the nearby elevated train system (the "EL," as Chicagoans call it) to see whether or not the Cubs won during the day.
Happy 100th Birthday, Wrigley Field.
Where might the Orioles third baseman land?

Kinsler will slot in at second base for the Angels

The Marlins got a better return for Ozuna than Stanton or Gordon
The two teams are going about things in very different ways

The Marlins are indeed in teardown mode under new ownership

The Marlins still have more attractive pieces