The A-Rod Suspension: How does it impact the Yankees?
Although it has been expected for quite some time, Alex Rodriguez's suspension will affect the Yankees in a number of ways.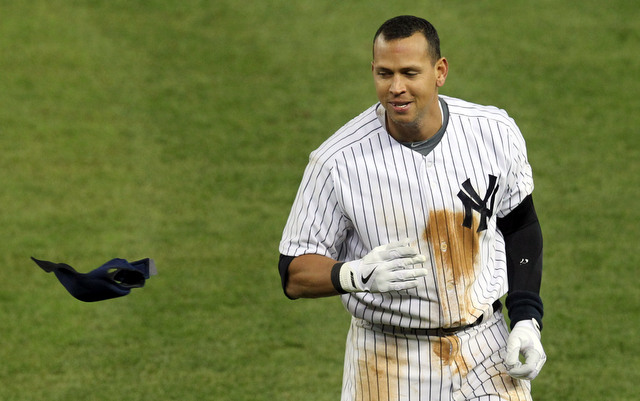 More Biogenesis: 13 suspended | Biggest scandal in history? | Suspension should deter PED use
Earlier today, Major League Baseball levied the harshest performance-enhancing drug penalty in history against Alex Rodriguez. The Yankees third baseman was suspended for the remainder of 2013 and the entire 2014 season for his connection to the South Florida anti-aging clinic Biogenesis as well as his attempts to interfere with the league's investigation.
This saga is far from over, however. A-Rod's camp will appeal the suspension and he will be allowed to play for the time being. In a twisted turn of events, Rodriguez will make his season debut on Monday night, only a few hours after officially being suspended. He missed the first 110 games of the Yankees season due to hip surgery and a quad strain.
The appeals process could take days or weeks or even months; no one really knows right now. The suspension could be upheld, reduced or overtuned, but what if it stands as is? It will have an impact on the Yankees in a number of ways, both short and long-term. Not all of it is necessarily positive, either. Let's break down how this historic penalty affects the team.
Cash Savings
The Yankees are completely off the hook for A-Rod's salary during the suspension, as are the teams or any suspended player. There is approximately $9 million left on his contract this year plus another four years at $86 million total left to go. Saving any of that is cause for celebrating in the team's front office.
That $95 million or so is real dollars, but for luxury tax purposes it is $27.5 million annually. The Yankees have made it no secret they want to get under the $189 million luxury tax threshold in 2014 and beyond, so saving that extra $27.5 million is rather significant. They basically have an extra 14 percent of payroll to play with from 2014-17. This is pretty close to a financial get out of jail free card.
Short-Term: Third Base
A-Rod has not played at all this season due to his injuries, but he is slated to return to the field in the club's series opener against the White Sox. New York's third basemen have been the least productive in baseball this year -- they've been out-homered by Cubs pitchers 5-4 -- so even a diminished Rodriguez will be a rather significant upgrade.
The Yankees did make an attempt to acquire Michael Young from the Phillies prior to the trade deadline, so it seems they were prepared to move forward without A-Rod. The team is obviously not happy Rodriguez will be around for the time being, but perhaps his return lessens their desperation to get help via waiver trade this month. New York's hands were tied in the short-term no matter what. Getting A-Rod back is probably the biggest upgrade they could have realistically made at the hot corner.
Long-Term: Third Base
The Yankees now know, with 100 percent certainty, they need to find a long-term solution at third base. They really needed to start looking for one this year, but there was still an outside chance Rodriguez could hold down the position for another year or two. Thanks to the suspension, they know for sure they have to look elsewhere.
Although he was far from the player he was during his peak, A-Rod was an above-average hitter as recently as 2012 (113 OPS+). Replacing him at third next season and beyond won't be easy, especially since the list of impending free agents is uninspiring. Young and Mark Reynolds will be the best available this winter, for example. New York will have that extra cash to spend but nowhere to spend it (at the hot corner, anyway).
David Adams is the only young player the Yankees have at the upper levels of the minor leagues who can step in and play third on an everyday basis, but he had a 50 OPS+ in his debut earlier this summer before being shipped back to Triple-A. The club did draft a college third baseman (Notre Dame's Eric Jagielo) with their first round pick this year, but he is still a few years away from the big leagues even if things break right. There's no third base help coming from within the organization, so replacing Rodriguez will take some creativity going forward.
No More Distraction?
Hah, good luck with that, Yankees. They -- meaning the players, manager Joe Girardi, GM Brian Cashman, pretty much everyone involved with the team -- will still have to answer questions about A-Rod ad nauseum. It'll take some time before the situation completely dissolves (even after the appeal is heard) and Rodriguez's shadow is no longer cast over the organization. Don't worry though, by then it'll just be something else. It's the circle of sports life in the Big Apple.
Plus the Indians are now 27-1 in their last 28 games. Here is everything you need to know from...

The soon-to-be 43-year-old Dickey said he wants to spend more time with his family

The two NL Central rivals opened a four-game series at Miller Park on Thursday night
The ballparks in Cincinnati, San Diego and Seattle will have expanded netting in place by Opening...

Mondesi spent six years as the mayor of San Cristobal in the Dominican Republic after reti...

The veteran skipper has been Mets manager since the start of the 2011 season