The Bobblehead Project: Earl Weaver kicking dirt
Here's our homage to the late, great Earl Weaver. It's The Bobblehead Project.
The Bobblehead Project: The Complete Collection
The latest entry in our esteemed Bobblehead Project is an homage to one of baseball's great hothead managers of all-time: The late, great Earl Weaver, kicking dirt toward an imaginary umpire in all his glory: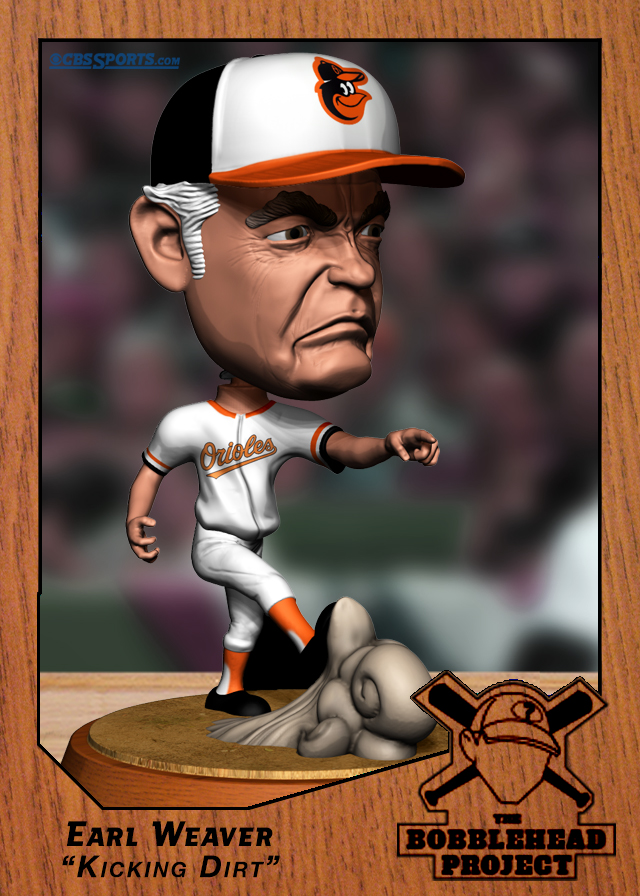 Excellent work, as usual, from our artist, Jarod Valentin.
Weaver was well known for his legendary outbursts, sometimes including him kicking dirt toward an umpire. Here's a good gathering of clips:
Also, for a version that is chock full of naughty language that will offend some people, click here. It is absolutely hilarious, both from Weaver and from the umpire, who is a feisty one.
Weaver was ahead of his time, as he went by the mantra of "a little pitching, a little defense and a three-run homer." That is, the so-called sabermetric concept of not wasting outs with bunts or potentially wasting an out with an stolen base attempt was Weaver's belief, too.
As manager of the Orioles for 17 seasons, Weaver won the AL East six times, the AL pennant four times and the World Series in 1970. He went 1,480-1,060 in the regular season and only posted a losing record in his final season. He won over 100 games five times, including a career-best 109 in 1969.
Weaver was inducted into the Hall of Fame in 1996. He died in 2013. Hopefully he would have loved our effort here.
For the complete collection of our Bobblehead Project, click here.
They're alive in the NLCS after their Game 4 win over the Dodgers

You never know what you might get from Arrieta, but what we got was brilliance in Game 4

The 2017 World Series begins Oct. 24
There will be a Game 5 after all on Thursday night

Tanaka shut the Astros down in ALCS Game 5 and has overcome a down season and past injurie...

The Yankees wouldn't chase Keuchel's bread-and-butter, those tempting pitches just at the knees...