2012 NBA Finals Heat-Thunder Game 5 Preview: One
Previewing Game 5 between the Miami Heat and the Oklahoma City Thunder in the 2012 NBA Finals.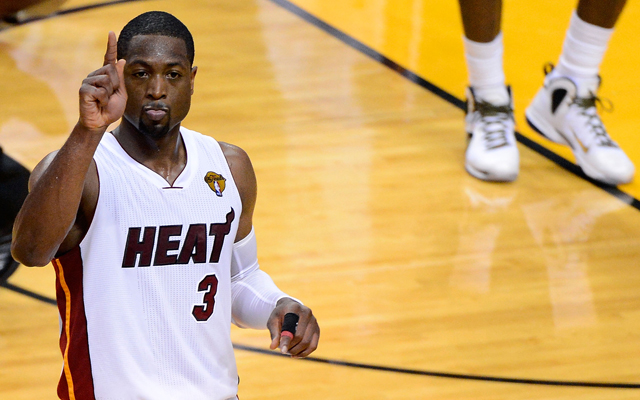 For the Heat, it's one win for a title. For OKC, it's one win at a time.
(Getty Images)
Previewing Game 5 between the Miami Heat and the Oklahoma City Thunder in the 2012 NBA Finals.
1. Where We're At: One win. That's it. LeBron James and the Miami Heat need one win to get everyone off their backs, at least a little bit. One win to cement James in the upper tier of players of all time (that's how good he has been). Three MVPs, an Olympic gold medal, an NBA championship and what would surely be an NBA Finals MVP. Everything changes with one win.
One win. That's all Oklahoma City needs. Get the one win, get back home to the friendly confines of Chesapeake Arena, and hope the momentum and the crowd carry you to Game 7, where anything can happen and you're still at home. Just stave off the daggers from Miami with the blade at the throat and get back to the Sooner State. One win, and you're still down, but you can get the miracle within sight.
One win.
Heat lead 3-1.
2. The Big Number: 109.5. That's the Heat's offensive efficiency in the third quarter this series. The Thunder are allowing just a 102.7 mark in the playoffs, but have been getting gouged by the Heat in that third frame. Coming out of halftime, Thunder leads have evaporated and Heat leads have grown. For the first two games, it was the start of the game. Now it's the third quarter that has become the issue.
Phil Jackon's Lakers teams had a remarkable ability to dominate third quarters. The fourth is the final one and most important, but the third sets up what you'll have to do to win the game. The Thunder are much better closing out a lead than pulling off a comeback. They need to get the lead in Game 5.
3. Key Adjustment: The Thunder have to get some ball movement going. They're scoring, just not quite well enough. The Heat defense is too good for the Thunder to keep going hero ball at them, no matter how great Russell Westbrook was in Game 4. They need to create open looks for their shooters and give James Harden some breathing room to make plays. They can't just go in there and try and hit contested jumpers off the dribble. OKC has to bring something new Thursday night.
4. The Big Story: Come on. This is obvious. LeBron James. A Ring. The End. Can he close it out when it really, really, really, no, for real, really matters?
5. The Facts: Tipoff at 9 p.m. ET. LeBron is expected to play after the cramp issue in Game 4. James Harden has a bruised hand but will play. Dwyane Wade suffered a stinger in Game 4, but is expected to play. If you can walk, you can play in this game. Which means Mike Miller's a game-time decision. (Not really. Wocka-wocka-wocka!)
Lakers rookie got his shot to fall, thanks in part to some of the worst defense you will ever...

The singer of the national anthem at the Nets game took a knee at the end

This was the Lonzo Ball people were expecting out of college
Antetokounmpo finished with 34 points, 8 rebounds, 8 assists, and 3 steals, but the Cavs won,...

John Wall is proud of his ability to block shots and thinks nobody at his position has been...

Giannis went at LeBron on a fast break, but LeBron won the matchup