2013 NBA Draft Winners and Losers
Who came out big from the 2013 NBA Draft and who missed out? Anthony Bennett, the Minnesota Timberwolves, New Orleans Pelicans and more.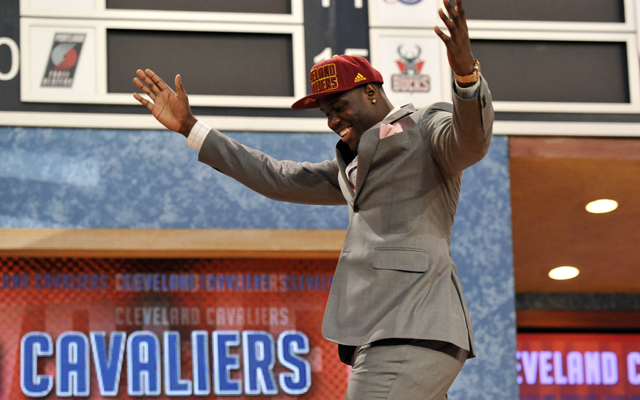 More Draft: Grades | Trades | 2014 Lottery Mock | Why this year's draft was the best ever
After a crazy 2013 NBA Draft, the dust has settled, we think, and what we thought going in isn't what we came to know at all. The brief recap: Cats and dogs, living together, mass hysteria. But as we start to look back at a draft in which 17 of the first 35 picks were traded, who really came out ahead Thursday night?
Anthony Bennett: Talking to the No. 1 pick in the draft on Thursday, you could tell he was stunned -- we all were. It was genuinely shocking, but he was thrilled at the opportunity. My biggest concern with Bennett was whether he would land somewhere with a good point guard. He landed with one of the best in the league. He should thrive in Cleveland next to Kyrie Irving. Not only did he go higher than expected, but he landed in a place where he can really have an opportunity to succeed.
New Orleans Pelicans: Yes, giving up a guy who might have gone No. 1 and a first-rounder in 2014 is a tall order. But Jrue Holiday is an All-Star player who makes their team instantly better. He combines well with Anthony Davis, and with Ryan Anderson, and with Eric Gordon. He can score, he can pass, he can defend. It works perfectly for them, and if they wanted to get ahead of the rebuilding process, this is a great way to go about it.
Portland Trail Blazers: Portland landed maybe the best overall talent in the draft in C.J. McCollum, and the biggest second round steal in Allen Crabbe. These should be major scoring upgrades for a team that needs them badly.
Detroit Pistons: Took a bit of a reach, getting Caldwell-Pope, but he's also got tremendous fit there.
Brooklyn Nets: Mason Plumlee. Brooklyn only drafted one guy, but it was still a great night for the black and white.
Minnesota Timberwolves: Made out like absolute bandits. Gorgui Dieng and Shabazz Muhammad. Minnesota reeled in two high-value guys and managed to squeeze out some cash as well. Great start to the new Flip Saunders era. Dieng has such potential either off the bench or as an emergency starter, and Muhammad was once considered the top pick in the draft. Just a stellar job.
Charlotte Bobcats: Well, at least they're used to being here. Not only did they reach for a player, but they reached for a guy who could wind up being a block magnet. And he may not be considerably better, at least immediately -- than Byron Mullens. Think about that. In a draft with so many good scoring weapons, they took a big with huge concerns about his ability to finish at the rim despite his size. Just not a great look with them taking Cody Zeller.
Atlanta Hawks: They had multiple first-round picks, and wound up trading back at one point and then took Lucas Nogueira who wasn't going to go that high anyway. He's big, which is great, but there's still a huge gap there in terms of fit with his rawness. Taking Dennis Schroeder was a terrific move, but you still feel like they could have done more with their assets.
Indiana Pacers: For a team that's this well run and does such a great job managing value, the Pacers continue to take bizarre first-round picks. Solomon Hill could have been grabbed easily in the second round. Why move up this high to get him? It's just puzzling for a team to continue to make these kinds of decisions when they've been so good overall.
Boston Celtics: Well, on top of blowing up the most successful era for them in 20 years, they also took a big man who is incredibly awkward. Not spectacular for a start to the rebuilding process.
Allen Crabbe: Really should have gone higher. Mystifying that he fell like that.
Ricky Ledo: Projected as a lottery guy at several points, but vanished into the second round.
Denver Nuggets: Traded out of the first round, and wound up with good value in Erick Green, but could have gotten an impact player. Just not a great job, and another sign the Nuggets are cutting costs.
Myck Kabongo: Once considered a lottery pick, he went undrafted. Stunning.
All sense of logic and reason: The trades were fast and furious, and seemed to signal complete upheaval of the draft order right from the start. A night of total chaos left analysts scrambling to figure out who was going where. We knew it would be unstable, and it lived up to every expectation thereof.
Shaq posted a picture of his 'Broken Rim Tree' to Instagram

SportsLine's Mike McClure, a DFS pro with more than $1M in winnings, gives optimal lineup...

Paul may be getting a late start in Houston, but he promises to unlock some key role playe...
Lonzo doesn't want to throw away money for a tech, which isn't a great look for the rookie

Davis left the Pelicans' game against the Nuggets in the third quarter

Popovich was upset about an out of bounds call